MTA Resolutions
Process for proposing new and revised resolutions
Proposed revisions to MTA Resolutions are now being accepted. Resolutions are the organization's statements of principle on issues relating to members, public education, the welfare of students and human and civil rights.
Who may submit revisions to MTA Resolutions?
A proposal for a new resolution or revision of an existing one may be submitted by any member.
MTA Bylaws, Standing Rules & Resolutions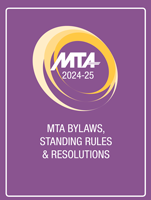 Filing process and deadlines
The deadline for submissions to the Resolutions Committee is the second Friday in January.
The committee may also propose resolutions.
How the process works
All resolutions submitted are considered by the Resolutions Committee and are also brought before the Board of Directors.
To become the official position of the MTA, a resolution must be adopted by the delegates to the Annual Meeting.