Union News: Celebrating our solidarity successes this spooky season
---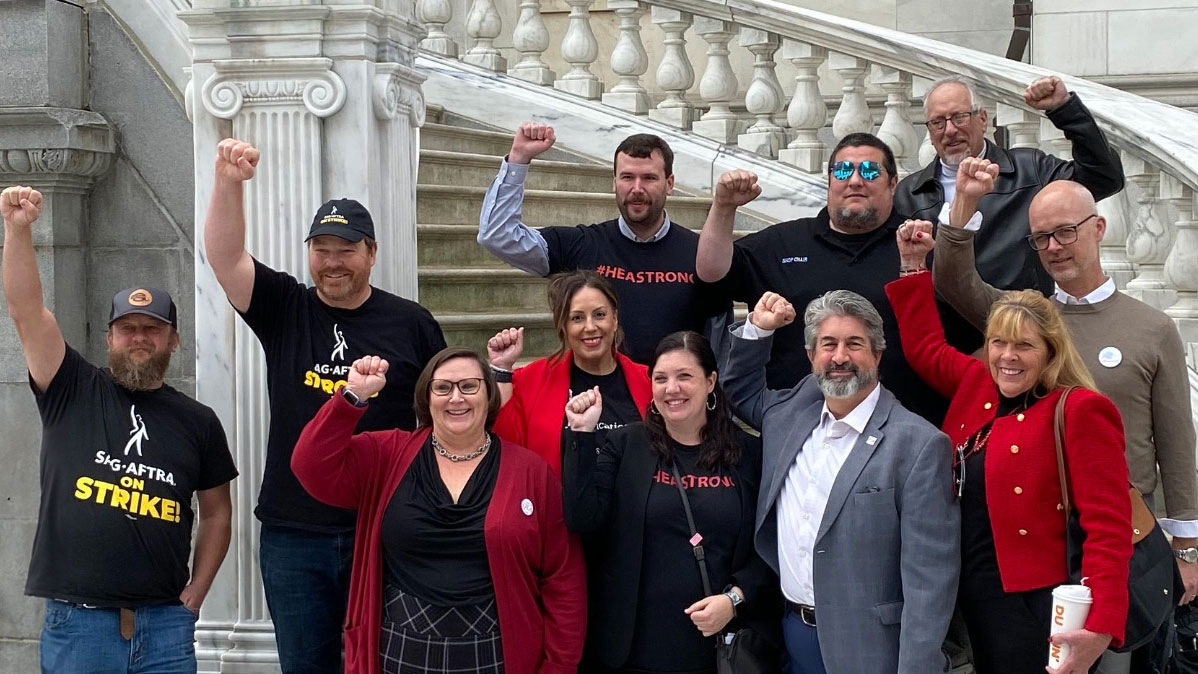 Greetings,
It's Halloween – the night of trick-or-treating.
With the "trick" of powerful contract fights and good organizing, we are winning the "treats" of better pay and working conditions for our members and better learning conditions for our students.
Powerful campaigns are on in Newton, where 1,200 people showed up last week. Andover and North Andover are showing up – in the hundreds – at school committee meetings and as silent representatives in bargaining. Our community college members are gathering thousands of petition signatures to secure a fair contract for their underpaid members.
At the State House, our local leaders from Quincy, Brookline, Haverhill and Malden showed up at a hearing last week (watch their brilliant testimonies) to make the case, alongside UAW and SAG-AFTRA workers, and our friend and union sister, Cecily Myart-Cruz from United Teachers Los Angeles (UTLA), that strikes are fundamental rights for workers, and they should be legal in Massachusetts.
Rumors are afloat that because of the pressure from below, the Lawrence school district will likely come out of receivership in the near future, with MTA locals in receivership in Holyoke and Southbridge to follow in the coming year or two. Our pushback against the destructive, high-stakes testing system has led Commissioner Jeff Riley to announce this past week that he will not name any new "underperforming schools" and to say what you all have been saying for years: that instead of applying a disdainful label, the state should provide support for districts that have had the least and need the most.
Finally, because of your incredible work, we are closing in on the goal of gathering at least 75,000 signatures to put our MCAS initiative on the 2024 ballot. Don't stop now; we need every member to push through the next two weeks and gather as many signatures as possible! When the dust settles, you will have collected more signatures for this campaign than we have ever before.
So, don't be spooked tonight – you are the jack-o'-lanterns that scare away the demons trying to haunt public education!
MTA Events and Solidarity Actions
Early Career Educators Conference
When: Saturday, Nov. 4 at 9 a.m.
Where: DCU Center in Worcester
You have just one more day to register for our annual conference for early career educators. Educators in their first five years and aspiring educators can choose from nine workshops on classroom management, family engagement, social-emotional learning, and more.
Retirement Plus Webinar
When: Tuesday, Nov. 14 at 5 p.m.
Where: Virtual
Join MTA and the Boston Teachers Union to hear about several bills under consideration by the Joint Committee on Public Service that would allow teachers hired before July 1, 2001, and who did not "elect" to join RetirementPlus, to have a second opportunity to do so. Register here
Retiree Virtual Speaker Series Kickoff
When: Wednesday, Nov. 1 at 3 p.m.
Where: Virtual
The first Wednesday Retiree Virtual Speaker Series kicks-off on Nov. 1, with NO MCAS: Organizing Stories and What We Can Do. Come to hear inspiring stories from five different local organizing efforts to fight high-stakes testing, as well as to learn more about the Thrive Act and the MTA's ballot initiative to end the MCAS graduation requirement.
Open Enrollment for a New High-quality Health Insurance Option
A new, high-quality health insurance option is available for adjunct faculty, ESPs, part-time educators and others who do not have employer-provided coverage or for whom that coverage is not affordable, thanks to the advocacy of an effective coalition led by Health Care for All that includes the MTA. You can read all about it and how to sign up here. Open enrollment starts tomorrow, Wednesday, Nov. 1.
Political Education
Here are two pieces about the moment we are in and have helped create – a time of a newly empowered labor movement.
First, here's a good New Yorker article on the United Auto Workers strike, which has netted two truly historic tentative agreements with Ford and Stellantis, with General Motors likely to follow very soon. Social studies teachers will be teaching about the "stand up" strikes of the 2023 UAW strike, just as we have taught about the heroic "sit down" strikes of the 1930s, which gave birth to the UAW and a model of union militancy.
And check out this op-ed in the Boston Globe about how the road toward greater equality must run both through taxing the rich to increase government support for working people (as we did with the Fair Share Amendment victory) and higher wages, which unions are winning through strikes and other powerful contract campaign actions.
In solidarity,
Max and Deb