---

Greetings,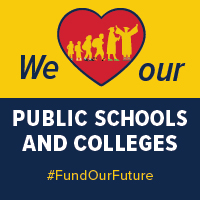 For Valentine's Day, let's trumpet how much we love our public schools and colleges and how much more we could do with additional funding. We've been distributing Valentine's Day-themed stickers and placards through our regional offices. Please ask your local president for materials if you don't have them yet. On Thursday, remember to take and post selfies showing your support for increased funding.
Charter Victory in Haverhill, but Fight Continues in New Bedford
Months of member organizing paid off in Haverhill! Haverhill Education Association members and their supporters, as well as local officials, spoke out against the 240-seat Wildflower Montessori charter school. On Friday, the commissioner of education announced that he would NOT recommend approval of the school. Meanwhile, the fight continues in New Bedford against an extortionate plan under which the city is being forced by the state to give a vacant school to a charter operator and add more than 400 seats.
Promise Act Does Much More Than the Baker Bill
As this article in The Boston Globe underscores, Governor Charlie Baker's school funding bill shortchanges many school districts and doesn't do nearly as much as the Promise Act - which is part of the Fund Our Future package — to provide our public schools with the resources they need. More information about how we're going to win will soon be migrating to www.fundourfuturema.org, so please bookmark that page.
Denver Teachers on Strike
Educator uprisings are truly on the rise. The latest example is from Denver, where the fight for fair pay is really a fight against damaging corporate "reform" policies such as bonuses that have accompanied a massive expansion of charters and other privatization approaches. Could Oakland be next?
In solidarity,
Merrie
Subscribe to MTA Headlines Read MTA Today
For an online archive of emails from MTA Leadership, visit massteacher.org/presidentsemails.