Vice President Max Page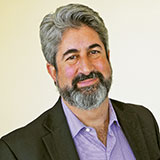 Max Page, vice president of the 110,000-member Massachusetts Teachers Association, is a public education activist who has long worked to strengthen alliances that build strong communities.
Page was elected MTA vice president in May of 2018 and took office in July. He is on leave from the University of Massachusetts Amherst, where he has been a professor of architecture since 2001. He also has served as the director of the Master of Design in Historic Preservation Program.
Page was president of his local association, the Massachusetts Society of Professors, from 2006 to 2009. He was elected to the MTA Executive Committee and Board and has served as vice chair of the Government Relations Committee and chair of the State Revenue Enhancement Committee.
Reflecting his dedication to coalition work, Page is a member of the Steering Committee of Raise Up Massachusetts, which was the driving force behind the enactment of legislation that will provide a $15 minimum wage and paid family and medical leave for Massachusetts workers over the next few years and is behind efforts to win progressive taxes for investments in education and transportation.
He is also a founding member of the Public Higher Education Network of Massachusetts. PHENOM brings together students, faculty and staff to advocate for increased state funding and the affordability of Massachusetts colleges and universities.
Page was brought to union work because he believes that public education is the cornerstone of democracy and that it is threatened by privatization and austerity budgets. As the largest labor union in Massachusetts, the MTA is the organization most capable of winning the public schools and colleges we all deserve, Page says.
He adds that the MTA has recently laid the groundwork to win important victories in the future. These include fully funding public schools, colleges and universities, defeating high-stakes standardized testing, and reasserting educators' professional autonomy.
Page is a resident of Amherst. He lives in his childhood home with his wife, Eve Weinbaum, an associate professor at UMass Amherst, who is the current president of the MSP, and their three children.