President Merrie Najimy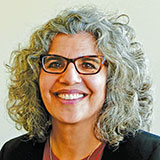 Merrie Najimy, president of the 117,000-member Massachusetts Teachers Association, is an ardent advocate for public education whose principles are grounded in her nearly three decades as a classroom teacher.
Najimy was elected to a second term as MTA president in May of 2020. She is on leave from the Concord Public Schools, where she has been an elementary school teacher for more than two decades. She served as president of the Concord Teachers Association for 11 years and as a member of the MTA Board of Directors for six years before becoming MTA president.
Najimy is a longtime union activist. As CTA president, she brought open bargaining — a transparent approach to winning contract campaigns that is based on a broad vision for education and encourages member participation at every step — to her local. She then introduced other locals to the concept through meetings involving members from throughout the state.
Najimy strongly advocates for full funding of public schools, colleges and universities. She believes that public education is foundational to democracy.
The impact of reduced funding comes in many different forms and affects educators and students at every level, she says. It can be seen in a general lack of resources for students, the reduction or elimination of vital services, limited or unequal pay for educators, unsettled contracts, staff cuts, work intensification and increased health insurance costs.
In her role as president, Najimy has led the union in the effort to win the schools and colleges our communities deserve.
A graduate of Berkshire Community College and Framingham State University, Najimy has a deep appreciation for accessible public higher education. She points to the contrast between her college years, when her father's teaching salary allowed her to graduate debt-free from the state university system, to circumstances today that often leave students deeply in debt upon graduation.
Najimy says her own childhood sensitized her to racial and social injustice. Growing up as an Arab-American student in Pittsfield, she felt alienated by the Dick and Jane Reader. "I did not see my family and my culture represented," she says. "I became a teacher to bring a wider world view to all students."
Najimy leads the resistance against austerity budgets, an agenda driven by standardized tests, and a prescriptive curriculum that robs students of meaningful learning. She fights for fully funding public schools and public higher education, autonomy and respect for educators, and building even stronger unions in the aftermath of the U.S. Supreme Court's decision against working people in the Janus v. AFSCME case.
Working in coalition with others will help build union power, Najimy believes. "When we join with our natural allies — labor, parents, students and progressive social justice organizations — we will advance all of our struggles," she says.