Union news: Over 115K signatures to end MCAS graduation requirement
---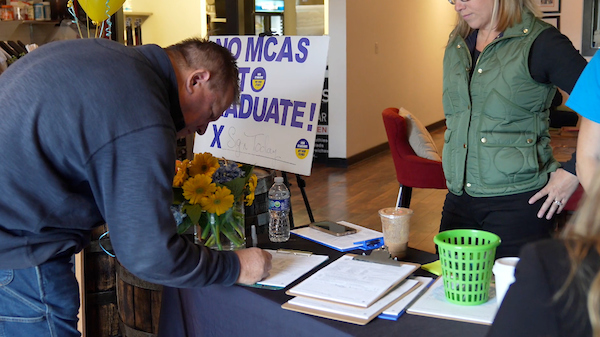 Greetings,
Here's some good news on Election Day – you've already won!
On Election Day last year, you won passage of the Fair Share Amendment, taxing the richest half of the one percent, in order to deliver billions for public schools, colleges and transportation systems, every year. Check out the new website of our coalition, Raise Up Massachusetts, which highlights what the FIRST billion dollars is paying for in our schools and colleges.
When it comes to gathering signatures for our MCAS ballot initiative – we are glad to report that you have won. Together with our allies, we have generated more than 115,000 signatures, more than enough to qualify for the 2024 ballot.
We are doing a last big push today, and are asking everyone to pass in any signature sheets they have to their local president or field rep/organizer by no later than Tuesday, Nov. 14. The more signatures we gather, the more we show the strength of our position to the public and the Legislature.
Now, today, let's help candidates supported by our locals win big.
MTA Events and Solidarity Actions
EMAC Conference
When: December 1 and 2
Where: Sheraton Framingham Hotel & Conference Center
Join the Ethnic Minority Affairs Committee at their 44th Annual Conference, themed "Cultivating Cultural Pride: Nurturing Cultural Identity and Heritage." The program features the Wampanoag Nation Singers and Dancers, Keynote Speaker Dr. Bettina Love, musician Emmanuel "Manny" Escobar, and many workshops and activities to engage in. Learn more and register here.
Started your career before 2001 and are not in RetirementPlus? Show up to this meeting!
When: Tuesday, Nov. 14 at 5 p.m.
here: Virtual
Join MTA and the Boston Teachers Union to hear about several bills under consideration by the Joint Committee on Public Service that would allow teachers hired before July 1, 2001, and who did not "elect" to join RetirementPlus, to have a second opportunity to do so. Learn more and register here.
Debating the MCAS Graduation Requirement
When: Thursday, Nov. 9 at 4 p.m.
Where: Virtual
Watch and cheer on Max as he debates Ed Lambert, head of the Walton-funded Mass Business Alliance for Education, about the MCAS graduation requirement. Register Here.
Facilitator Database
MTA's Training & Professional Learning division is beginning preparations for our conferences and events in 2024. Interested in presenting? We invite all members to add their information to the TPL Facilitator Database.
MTA Reads
Have you written a book? The MTA wants to feature the work of MTA educator on our library on the Libby app. Anything from a children's board book to a science textbook to a murder mystery is welcome. Even if your book isn't on Libby yet, we're happy to request that your publisher submit it. Go to MTA Reads and use our "Ebook/Audiobook Suggestion" form to provide us with the details. In the meantime, take advantage of our library on Libby by downloading the app, searching for Massachusetts Teachers Association in thelibrary section,, and entering your member number (without the zeros). Go here to learn more about the MTA Reads program and suggest a book.
Disability Insurance – Deadline Extended
This year, all new members are eligible to enroll in disability insurance for up to 60 days after their hire date, but the deadline has been extended through Thursday, Nov. 30. Disability insurance insures your paycheck by replacing a portion of your salary when you're out of work due to an illness or injury. Short-term disability can fill the income gap when you can't work, which is particularly valuable to new members who have few sick days. Short-term disability will also provide maternity benefits, but if you think you'll need maternity coverage, don't wait until you know you need it. By then, it's too late. Watch this video to learn about the importance of disability insurance. New members can get coverage now or wait until April 2024 for the last opportunity to enroll. Materials are available in English, Spanish and Portuguese. Learn more today.
Political Education
Before it falls out of the news cycle, here's a good piece on what the UAW won from the Big Three. It is a generational victory for members and the entire labor movement.
Portland educators are on strike. Read about what this strike is about and how you can support fellow educators facing the same challenges you are.
But, unlike in Oregon, where educators and other public employees can legally strike and withhold their labor, Massachusetts law prohibits public sector workers the fundamental right to withhold their labor. For more information about this unjust law and how it affects public educators, please see the MTA's FAQ on Public Sector Strikes In Massachusetts (located on the sidebar).
In solidarity,
Max and Deb