MTA Union News: A terrible step on MCAS
---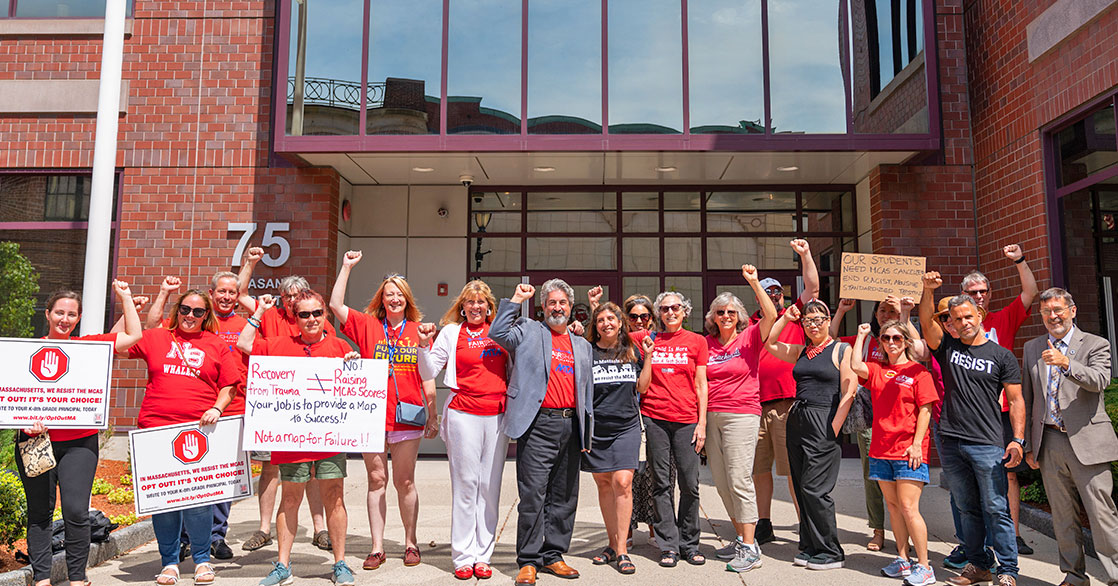 Last week, joined by a dozen MTA activists, we spoke to the Massachusetts Board of Elementary and Secondary Education about its terrible plan to raise MCAS cutoff scores for graduation.
While colleges are abandoning the SAT and ACT for admissions, and while the experience of our members shows the destructive impact high-stakes testing has on our students, BESE is doubling down on its magical — and dangerous — obsession with these tests.
But note that all three BESE members who actually represent a constituency — Darlene Lombos (labor), Mary Ann Stewart (parents), and Eric Plankey (students) — voted no. The eight others — all appointees of Governor Charlie Baker — voted in favor.
It is also worth underscoring that of the 229 comments submitted as part of this process, 225 — yes, all but four — were AGAINST the proposal from the commissioner. In other words, the board is out of touch with what educators, parents and students want. They want a kind of education that elevates the whole child — not one consumed with days spent on tests and drills, drills and tests.
MTA Events
The MTA Retired Members Committee is proud to bring you the 21st Annual Retired Members Gathering as an in-person event — for the first time in three years. Please join us for MTA's 2022 Retired Members Gathering, which is being held Sept. 29 at the DoubleTree by Hilton in Westborough.
Victories and Solidarity Actions
Take a look at the new Fair Share Amendment ad that went up on a television or laptop screen near you this past week. You'll catch glances of a couple of MTA members in the ad. More will be rolling out in September.
Props to our SMOs: 140 Summer Member Organizers celebrated the end of a truly phenomenal season of reaching out to members and other voters about Fair Share. Together they, along with our Senate District Coordinators, Political Action Leaders, and field and organizing staff knocked on more than 60,000 doors and made more than 400,000 phone calls.
Now it is your turn! Make sure to join a Fair Share canvass or phone bank. This is how we reach parents and neighbors. It turns out the multimillionaire class doesn't have an army of well-respected people knocking on doors. We do — and they are you! No one is more trusted on public education issues than you are.
Victory for Pentucket paras
Pentucket paraeducators notched a victory last week with a tentative agreement that would significantly improve the lives of Education Support Professionals. A major highlight is guaranteed salary increases (approximately 17 percent over the three-year contract). They'll hold a ratification vote Wednesday.
Political Education
Submit Legislative Proposals The process has begun to develop MTA priorities for the 2023-2024 legislative session. The MTA Government Relations Committee seeks your input so that the development of our agenda can be member-driven. Please fill out this form by Sept. 22 if you have a proposal for legislation to be submitted for the 2023-2024 legislative session.
Support the ESP Bill of Rights
Endorsing the MTA PreK-12 ESP Bill of Rights is critical to improving the lives and working conditions of all ESPs — and it's very easy to do. Endorsing this important document is as simple as taking a vote by your Executive Board or membership and showing your support for the hourly workers who help keep our buildings running and do so much else for our students and our communities.
Endorsing the ESP Bill of Rights is an explicit action we need to take as MTA members. The best way to win on these important issues is through coalition work. And endorsing the bill is the first step. Endorsing the ESP Bill of Rights is about collective action.
We cannot say we respect ESPs and not endorse the ESP Bill of Rights.
High-stakes Testing
Given BESE's terrible decision last week, it is worth reading a book about how high-stakes testing produces and reproduces inequality. Here's a quote from "Unequal By Design: High-Stakes Testing and the Standardization of Inequality," by Wayne Au, on Page 3:
"A central finding of the research is that, while all students are feeling some effects, the weight of the high-stakes testing environment falls heaviest on the shoulders of low-income students and students of color who are consistently found to be negatively and disproportionately affected by high-stakes standardized testing. … This finding has caused some researchers to conclude that high-stakes standardized testing connected to grade promotion increases drop-out rates, produces no lasting educational benefits, and impacts Latino and African American children disproportionately in schools."
Interested in joining a book group to read the book and then meet the author? Contact MTA Executive Committee member Cynthia Roy at cindyanneroy@gmail.com.
In solidarity,
Max and Deb