MTA Backs School Closure and Supports BCC Members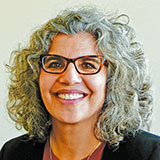 Merrie Najimy, President

---
Greetings,
COVID-19 is straining everyone's nerves and our communities' resources. As we settle in, we must understand this time not as a "new normal" but instead as a temporary state, while we find new ways to organize for the safety nets we need now and the society we will need after the coronavirus crisis abates.
As Dr. Anthony Fauci has said, "You don't make the timeline; the virus makes the timeline." That is why Governor Charlie Baker's only real choice this week was to close our public school buildings through the end of the year. We called for that Tuesday morning, and Baker announced his decision in the early afternoon. Massachusetts is one of the hardest hit states in the country. The safety of our students, staff and communities must come first.
Commissioner of Education Jeffrey Riley is planning to issue revised guidance this week. Though he has invited the MTA to review the draft, we are very concerned with his rushed process and failure to adequately understand and address the realities on the ground. We firmly believe that educators across the state at both the preK-12 and public higher education levels need to take a pause to assess what is working and what is not working with remote and online learning.
To that end, the MTA will host a Facebook Live event at 7 p.m. on Sunday to start the reflection process to find out how remote learning has been going and how you think we should be rounding out the school year. We would also like you to share your experiences by going here.
We need to keep letting Riley and others know how this is all going in the real world. Parents, like educators, are acutely aware that remote learning is no substitute for the real thing. We will keep you posted if and when member action is required to ensure that we make it through this year in as humane a way as possible.
In other news:
Bristol Community College
Despite receiving $4.6 million from the federal CARES Act, Bristol Community College President Laura Douglas is planning to lay off more than 130 employees this week, drastically cutting student support services during a difficult transition to remote learning. Some of our MCCC members are losing positions in this misguided action. Please sign this petition demanding that BCC halt the layoffs and to advocate for additional federal funding relief. Our community colleges, and all of public higher education, are vital to the state's economic recovery.
Celebrate Earth Day
Throughout this week we are observing events linked to the 50th anniversary of Earth Day. Check out the MTA Climate Action Network's action guide for educators to take the climate pledge of support, garner inspiration for activities, and get lesson plans for educators and students, from preK through higher ed. And congratulations to Newton educator Michael Kozuch for leading a successful Earth Day digital teach-in and rally on Saturday.
We Won a Hold on Evictions and Foreclosures
One of our Common Good demands has been to put evictions and foreclosures on hold during the COVID-19 crisis, and that has been accomplished. A law went into effect on Tuesday ensuring that landlords cannot carry out nonessential evictions and requiring mortgagees to grant forbearances to property owners hurt by the coronavirus economic tailspin we're in.
Partial Student Debt Moratorium
We've also advocated for student debt relief, and we have a small victory to report, though much more needs to be done. The Massachusetts Division of Banks has joined a multistate initiative to secure payment relief options for Massachusetts student loan borrowers and issued a consumer advisory with important information and resources. The DOB has secured relief options with 15 private student loan servicers to expand on the protections the federal government granted to federal student loan borrowers.
Tell Congress: More Funds Needed for Education
Although the federal government has passed several big spending bills related to coronavirus relief, public education is still at risk, and public higher education is hemorrhaging red ink. Please take action to urge your U.S. representative and two U.S. senators to promote legislation to provide funding for education.
Join a Conversation with MTA Members from Across the State
There is a lot we can learn from one another. To join our education communities conversations, start by creating a profile on MyNEA360.org. Once you have created your profile, type "MTA Member Online Community" or "MTA Higher Education Members" in the search box at the top right corner of your screen. Then scroll down and click on (+) Join.
Share Your Story
This is an unprecedented time in our history. Stories are one way to make sense of it all and to help you realize you are not alone. Read member stories about life as an active or retired MTA member during this pandemic and to share your own.
On a final sad note, I want to let you that our dear friend José A. Soler passed away on Monday. José believed in the liberation of all oppressed peoples and was a fierce fighter for Puerto Rican independence; for worker, labor and education rights; and for social, racial and economic justice. I am so happy that we recognized him with the Massachusetts Teachers Association Friend of Education Award last year.
In solidarity,
Merrie