Sign Up for MTA Bargaining Summit on October 26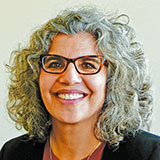 Merrie Najimy, President

---
Greetings,
We continue to work toward racial and social justice for our students, schools, colleges and communities — and to build our union muscle. Read on to learn more about current issues and events.
Racial Justice Summit
More than 60 years after the U.S. Supreme Court's historic ruling in Brown v. Board of Education, we still have not achieved racial justice for our students of color. Too often, our students of color are educated in underfunded schools and are subjected to highly racialized policies such as the development of charter schools, which deepen inequity in their school experiences. On Saturday, an amazing multiracial, multiethnic group of 80-plus MTA members gathered together for a Racial Justice Summit sponsored by MTA's Ethnic Minority Affairs Committee, the MTA Task Force on Race and ALANA Educators - Springfield. We explored ideas about racism on individual and structural levels, talked about how to move the conversation forward, and discussed how to collectively build schools and unions that are racially just.
Message to House: Pass the Senate's Student Opportunity Act
We are urging the House to approve the $1.5 billion education funding bill — now called the Student Opportunity Act — in the form in which it was passed by the state Senate on Oct. 3. Stay tuned for more information about House action on the bill, possibly on Oct. 23. We may need members to contact their representatives or come to the State House in person, depending on what is proposed. You can prepare by joining MTA members from across the state on a Tele-Town Hall this Thursday at 5 p.m.
Bargaining Summit Is Set for October 26
Effective bargaining and organizing efforts build strong unions and result in great contracts that benefit our students, members and communities. Bring a team of negotiators and members to this year's MTA Bargaining Summit, which will be held from 9 a.m. to 4 pm. on Oct. 26 in Devens. The summit has something for everyone, including training in contract campaigns and open bargaining, coordinated bargaining across locals and sectors, bargaining for racial justice and a new optional "fundamentals of bargaining" session from 8 to 9 a.m.
It's Time to Honk!
The 14th Annual Honk Festival will take place from Oct. 11 to 13, with parades, activist street bands and more. Honk! bands have performed at two different MTA-related rallies, including the May 16 rally for school funding. They are fun, loud and danceable. The event is in support of labor and progressive causes. This year's focus is on affordable housing. Bring the whole family!
Visions of Labor: Film and Worker Voices
Registration is open for a labor conference centered around films sponsored by the UMass Amherst Labor Center. The conference starts on the evening of Friday, Nov. 8, and ends at noon on Sunday, Nov. 10. The interactive event will include the screening of new and classic labor films followed by small-group discussions. Here's a partial description: "The films shown will reflect the diversity of the labor movement and working people and will raise issues of the many ways in which worker voices can be effectively heard, particularly through the power of the film and video medium."
Save the Date for Higher Ed Conference
Save the date for a multiunion higher education conference on Nov. 22-23 being organized by the MTA. More details and a registration link coming soon.
In solidarity,
Merrie