Union News: The power of collective action
---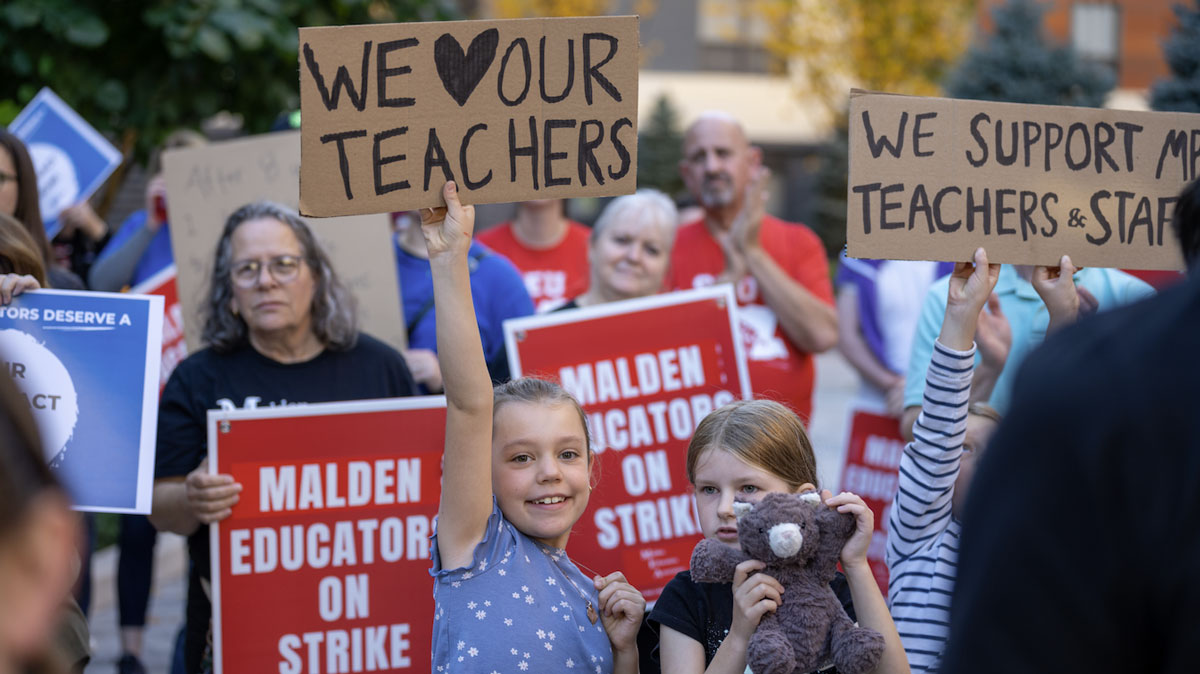 Greetings,
This past weekend — Oct. 14 to be precise — was the anniversary of the start of two historic strikes. On that day, just hours apart, Haverhill and Malden educators voted to go on strike after months of frustrating negotiations and years of stonewalling by districts on key issues of education justice in their schools.
After a week on strike for the Haverhill Educators Association and a day for Malden, with the overwhelming support of members, parents and the community, both locals won tremendous gains — on wages for ESPs, paid parental leave, safety in schools and housing security for residents. What they won was deemed "impossible" by the school committees … until it wasn't. These locals — and Brookline, Melrose and Woburn — set new standards in pay and working conditions. But as important as the historic contracts is the power built by these members for future contract and statewide campaigns.
As we write, we are in the final weeks of gathering signatures to put our MCAS initiative on the November 2024 ballot. We need your help. At the moment, we all need to model western Massachusetts, which is leading every region of the state in gathering signatures. Please redouble your efforts to gather signatures among your colleagues, family and friends.
Every local president and field rep has sheets ready and waiting to be signed. If you have events expected to attract large numbers of people — such as town fairs — and you need help, please contact one of our Grassroots staff members, pmcclory@massteacher.org or twarren@massteacher.org. If you are looking for ways to get involved, please visit our informational page on the campaign.
MTA Events and Solidarity Actions
On the picket line with Massachusetts UAW workers this Saturday
MTA educators will be on the picket line Saturday, supporting local United Auto Workers members who are striking for a fair contract. Following the MTA PreK-12 Bargaining Summit and Higher Ed Conference, many of our members will drive directly to Mansfield to stand in solidarity with our union siblings. Please join them!

When: Saturday, Oct. 21, 4-7 p.m.
Where: Mopar Boston PDC, 550 Forbes Blvd., Mansfield, MA 02048
MTA Fall Regional Member and Presidents' Meetings
Please join us for a regional membership and presidents' meeting at a regional office most convenient for you. This is a chance to speak to us about the issues affecting you in your workplace. This will also be an opportunity to hear about the statewide campaigns now underway, including the Cherish Act and Thrive Act campaigns.
We invite members to join us for dinner and discussion from 4:30 to 6 p.m., and then we'll have a Presidents' Hour from 6 to 7 p.m. Please register for one or more of the meetings.
Early Career Educator Conference
Join MTA's New Member Committee for the annual Early Career Educator Conference on November 4. Educators in their first five years and aspiring educators can choose from 10 workshops on classroom management, family engagement, social-emotional learning, and much more.
Be part of a focus group
We are conducting a study to better understand the demands on teachers' time, inside and outside of the classroom, and how they may lead to overwork. We are hoping to conduct focus group meetings with public school teachers in Massachusetts in grades 1-12. The focus groups will last 1 hour and will take place remotely via Zoom. We will also ask participants to complete an online survey prior to the focus group meeting, which should take around 20 minutes to complete. In recognition of your time, you will receive $40 for your participation in the study. Do you think you would be interested in participating in this study? If so, register here. Please contact us if you have any questions or concerns.
African American Studies: Teacher Enrichment Workshop Series
A free workshop series is being offered by UMass Amherst faculty in the W.E.B. Dubois Department of Afro-American Studies and in the Department of Teacher Education and Curriculum Studies. The series is designed to prepare local educators to teach African American studies content more broadly, or to offer the AP course. This workshop is the first of a two-part series. To earn professional development points, participants must attend both workshops. Learn more about this two-part workshop series.
When:
Part 1: Saturday, Nov. 4, at 10 a.m.
Part 2: Saturday, March 2, 2024
Where:
101 Furculo Hall
UMass Amherst College of Education
813 North Pleasant St.
Amherst, MA 01003
MCCC Members Deserve a Fair Contract
Our community college staff and faculty are at the bottom of the pay scale compared to most other states, and are fighting for a fair contract even as we fight for passage of the Cherish Act and the historic investments in public higher education it will bring. Please support them.
MTA Climate Action Network's Fall Mini-Conference
Theme: Advancing Climate Action in Schools and Campuses
Date: Saturday, Nov. 4, 10 a.m.
Where: Newton South High School
The conference will feature speakers and discussions about curriculum, bargaining, facilities and finances. Hear from students, educators, non-profit activists and more.
See more details and register here. The first 25 MTA members who register will receive $100 stipends.
Support Weymouth Educators
On Thursday, Oct. 19, at 6 p.m, Weymouth educators will gather at Weymouth High School to support ESPs who are working without a contract. They are continuing the fight that has taken place throughout the state for living wages for ESPs.
Disability Insurance
This year, all new members are eligible to enroll in disability insurance for up to 60 days after their hire date. Disability insurance insures your paycheck by replacing a portion of your salary when you're out of work due to an illness or injury. Short-term disability can fill the income gap when you can't work, which is particularly valuable to new members who have few sick days. Short-term disability will also provide maternity benefits, but if you think you'll need maternity coverage, don't wait until you know you need it. By then, it's too late. Watch this video to learn about the importance of disability insurance. New members can get coverage now or wait until April 2024 for the last opportunity to enroll. Materials are available in English, Spanish and Portuguese. Learn more today.

Student Loan Debt Forgiveness and Repayment Webinars
Student loan payments have resumed, and the deadline to receive retroactive credit for payments you've made toward loan forgiveness is quickly approaching. If either of these topics affects you or you're looking for general information regarding a student or Parent PLUS loan, join an informational webinar hosted by MTA Benefits and Cambridge Credit Counseling.
Political Education
Schools on military bases are not without their problems, for sure, but they also offer some insight into what works well and why. It is worth reading this New York Times piece about schools on bases: "For starters, families have access to housing and health care through the military, and at least one parent has a job."
The article focuses on several schools at Fort Moore in Georgia, a U.S. Army base.
"Having as many of those basic needs met does help set the scene for learning to occur," said Jessica Thorne, principal of E.A. White Elementary, a school of about 350 students.
In solidarity,
Max and Deb