Union News: Unmasking Tales of Liberation and Oppression
---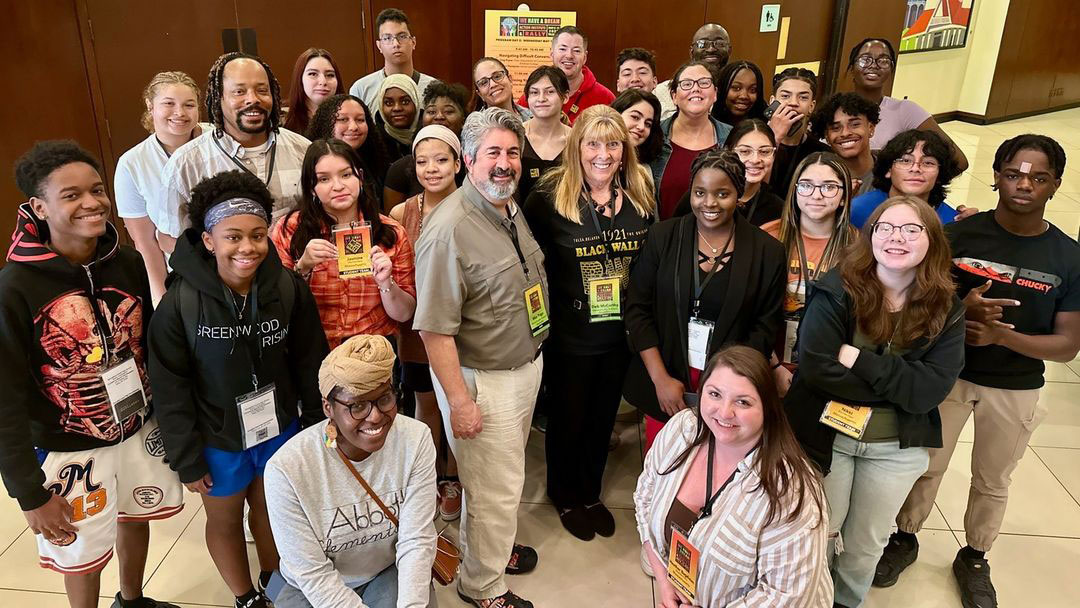 Greetings, MTA members,
We had the enormous privilege recently of joining our Worcester and Springfield members and students in Tulsa, Oklahoma, as hundreds of young people from across the country gathered to learn about one of the worst of the many murderous attacks on Black Americans and their communities.
The Tulsa Race Massacre of 1921 resulted in the death of as many as 300 Black American residents in what was then one of the most prosperous Black American business and residential districts in the country.
Thirty-five city blocks were burned to the ground, yet the story of the event was wiped from history books until activists demanded the history be confronted. Your Massachusetts students were so impressive in the workshops on social activism. We saw our future leaders beginning their journeys.
Our intent is to bring those groups of students, and others who want to join, together for a new project – learning about and reflecting on our own state's history of racial oppression and righteous campaigns for liberation.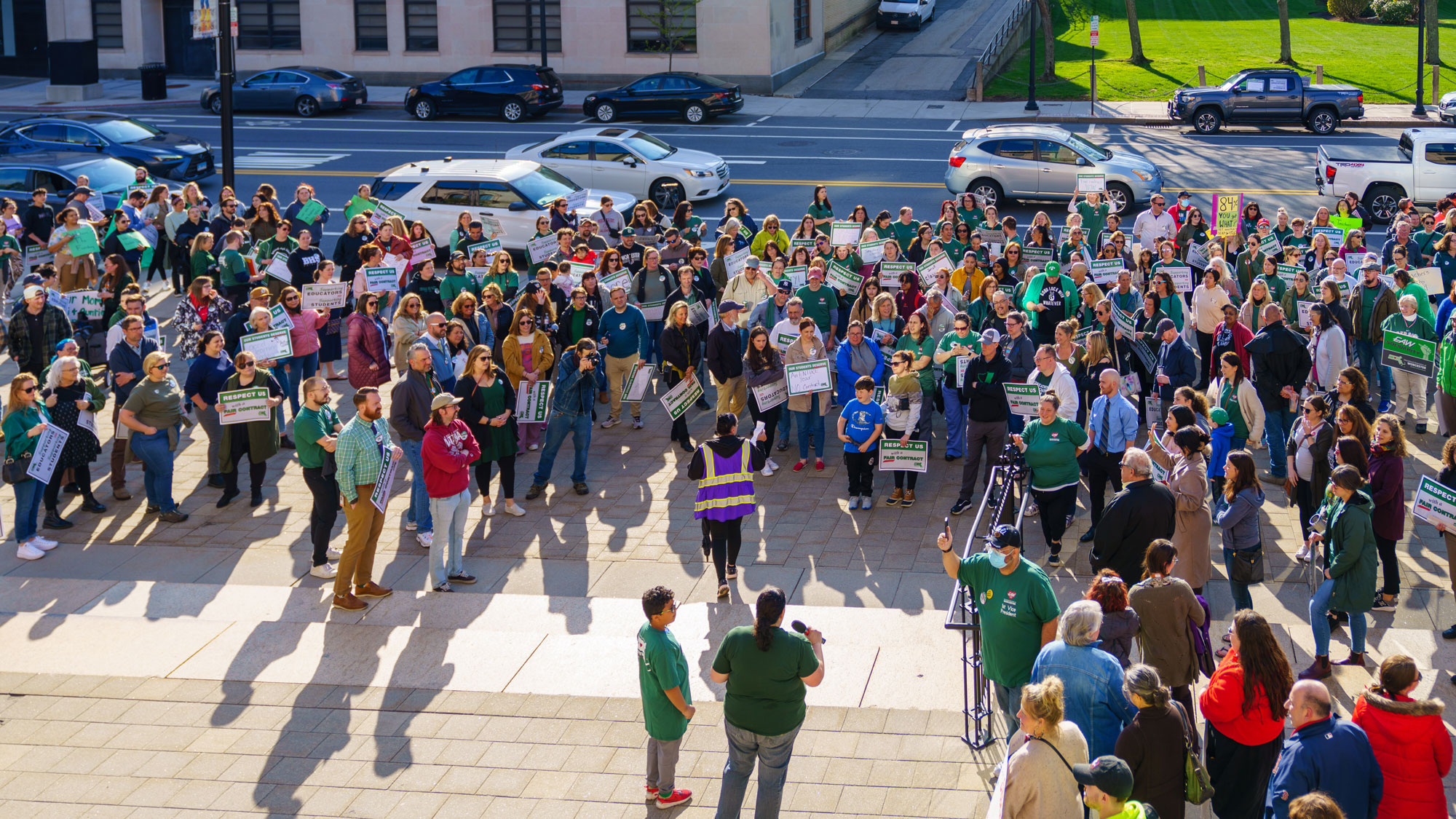 MTA Events and Solidarity Actions
As we finalized this weekly newsletter, we heard of excellent news in Worcester late Monday night. After a powerful contract campaign, paraeducators from the Educational Association of Worcester will start next year on a new scale – the former top step will become the new starting step.
The new scale leapfrogs the current one, bringing our Worcester ESPs closer than ever to a true living wage in the Commonwealth's second-largest city. This momentous victory comes on the heels of the EAW's Unit AB win earlier this month. Congratulations to the members of the EAW for a hard-fought campaign!
Be on the look out
Over the next week or so, you may get an invitation to take part in a survey about how the MTA can effectively communicate with you as a member. We hope you'll take the time to fill this out if you receive it: we value the opinion of our members! Your response is anonymous and will not be linked to your name or email address.
Support Your Union Siblings
Check out this list of upcoming actions. Please add your own to this form. The more we show up for one another, the greater the power we generate for local and statewide campaigns.
Our Northampton educators – from the Northampton Association of School Employees – came by bus last week to demand that the Legislature not give tax cuts to the 1 percent, but instead make sure that school districts get their fair share of the Fair Share Amendment.
Too many places – such as Brockton, but also Northampton and many other districts – are facing cuts when there is more than enough money to protect educator jobs in the Commonwealth. Take action here to ask the state Senate to improve its budget to take care of our schools and our members.
Here are some photos of NASE's State House visit.
There are so many important events coming up. Even as you begin to look toward the end of the school year, please join us for the following events.
Thrive Act Advocacy Day
When: 10 a.m., Wednesday, May 24
Where: State House
The Thrive Act would keep MCAS testing but end the MCAS graduation requirement. It would also stop state takeovers of local schools and districts based on MCAS scores. This is an opportunity for students, families, educators, staff and community activists to come together and connect with legislators about this important legislation. Learn more and sign up here.
MTA's PDP workshops available over the summer
When: Registration opens Thursday, June 1, at 4 p.m.
Where: Virtual and in-person offerings
The MTA is offering six Professional Development Workshops through the summer, which focus on special education, multilingual learners and anti-bias education. Depending on your preference, the format may be in-person or virtual. All courses are free to MTA members. To learn more, please visit Learn with the MTA.
MTA Forum on high-stakes testing
When: 6 p.m., Monday, June 5
Where: Virtual
A virtual forum on the Thrive Act, high-stakes standardized testing and state takeovers will be facilitated by MTA member Jack Schneider, who is co-founder of the Massachusetts Consortium for Innovative Education Assessment, as well as an education professor and author. U.S. Representative Jamaal Bowman headlines the forum. Register.
MTA Forum on race
When: 3:30 p.m., Wednesday, June 7
Where: Brookline High School
National bestselling author Heather McGhee joins us at Brookline High (and via livestream through MTA's Facebook page) to speak about her book, "The Sum of Us," and hear about the campaign for living wages for paraprofessionals in Brookline. Register.
Boston Pride For the People 2023 Parade
When: 11 a.m., Saturday, June 10
Where: Boylston Street
The Boston Pride For the People 2023 Parade is back, and MTA is a sponsor. Let's fill all 75 spots we have to march in the parade. Learn more and sign up here.
MTA Juneteenth Celebration
When: 10 a.m., Monday, June 19
Where: Polar Park in Worcester
Join the MTA's Ethnic Minority Affairs Committee and MTA members and their families for a Juneteenth celebration. Join us for barbecue, games and activities for children and adults, a DJ, and a commemoration of this important day in history. Register.
Election for Massachusetts Teachers' Retirement System
After years of lobbying the Legislature, the MTA and the Massachusetts Teachers' Retirement System (MTRS) successfully changed state law to allow many transferees** a one-time opportunity to participate in RetirementPlus (R+). An election ballot was sent by MTRS in mid-January and late March to those who qualify. The ballot must be returned by June 30, 2023. If you have not received your ballot, please email the MTRS at retirementplus@trb.state.ma.us.
** As a point of correction and clarification: transferees are individuals who previously contributed to a Massachusetts city, town, county, regional or state retirement system (other than MTRS) and whose funds from that system transferred over to the MTRS when they began work in an MTRS eligible position. Example: A paraeducator later employed as a teacher is a transferee. Individuals who move from a teaching position in one district to a teaching position in another district are not transferees. Questions can be directed to Bob Whalen, Retired Member Organizer and Field Representative, at RWhalen@massteacher.org or 617.878.8206.
Student loan forgiveness
If you have student loan debt (whether it's your own loan or a Parent PLUS loan), you might feel overwhelmed with all the talk about student loan forgiveness. The experts at Cambridge Credit Counseling will help break it down into manageable pieces for you in a one-hour webinar. If you're eligible for forgiveness, they'll help ensure you take all the necessary steps to have your loans forgiven. But don't wait. While you might be able to get retroactive credit for previously ineligible payments, that allowance is set to expire in December. Register for an upcoming webinar.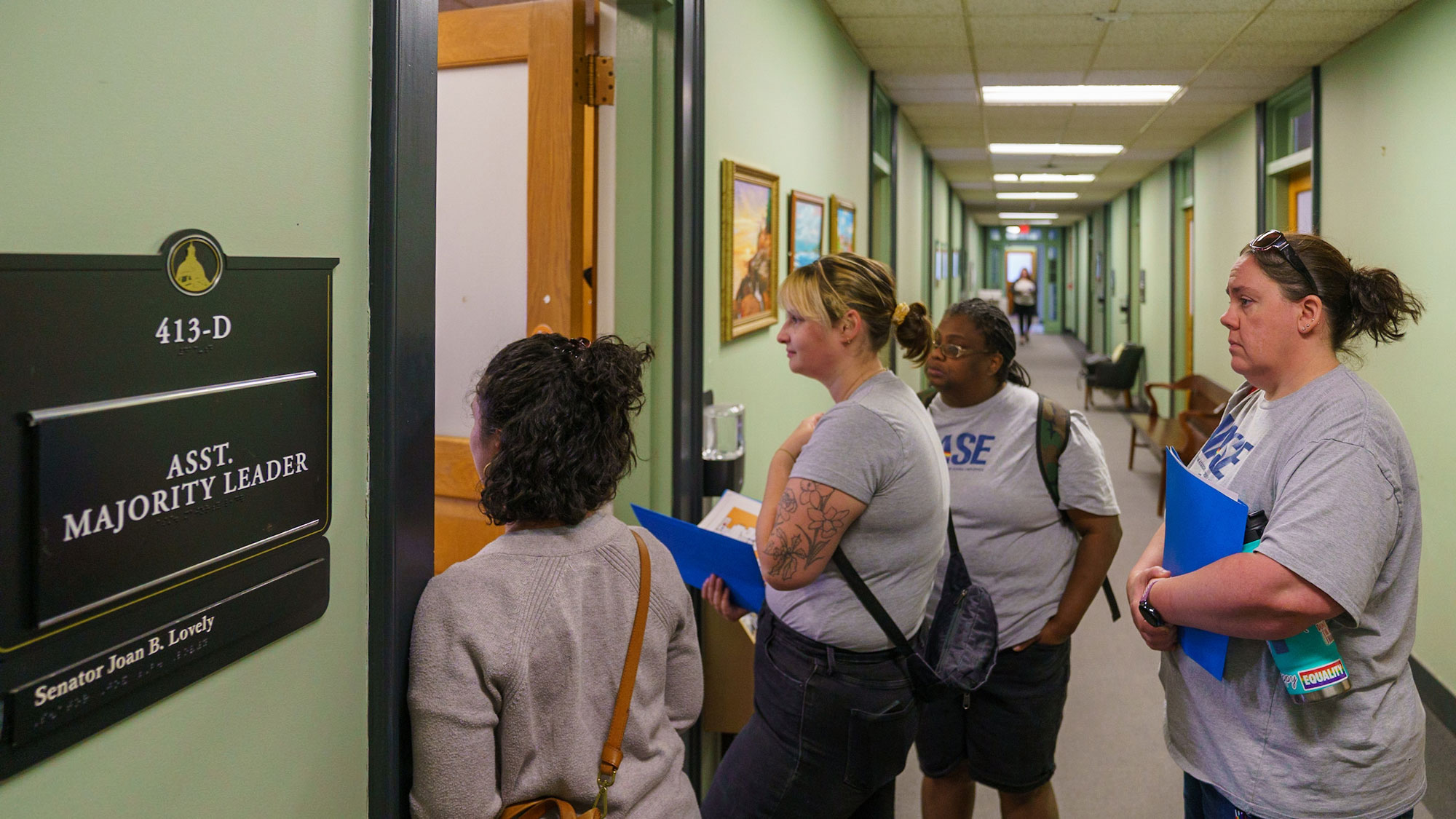 Political Education
We are anxiously awaiting decisions – but given the right-wing drift of the U.S. Supreme Court – we can expect that the court will dismiss both President Biden's executive order erasing $10,000 of student debt and any consideration of race in college admissions.
Here's a compelling report on why the case challenging student debt relief is faulty.
If the court rejects student debt relief, we will need to be ready to advance debt-free access to public higher education – as encompassed in the Cherish Act – at the state level, as partial amelioration of a terrible decision.
Universal guarantees of basic needs, including a decent job, housing, and, yes, public higher education, were at the heart of how leading African American thinkers and activists in the post-World War II era thought of racial justice, argues Adolph Reed in The Nation.
Please listen to this NPR "All Things Considered" segment on what has changed for educators in the five years since the #RedForEd movement took place in spring 2018 across our nation, a movement of educators fighting for the public education our students deserve.
And, finally, please read this story in the Sunday Boston Globe. The premise is simple: our Commonwealth must aim to level the playing field by offering free public college education and empower all Massachusetts residents to chase their dreams without the burden of student loans, because education should be a birthright, not a privilege.
The message is clear: public higher education for all is a public good.
In solidarity,
Max and Deb