174 locals endorse the MTA PreK-12 ESP Bill of Rights. Will your local be next?
---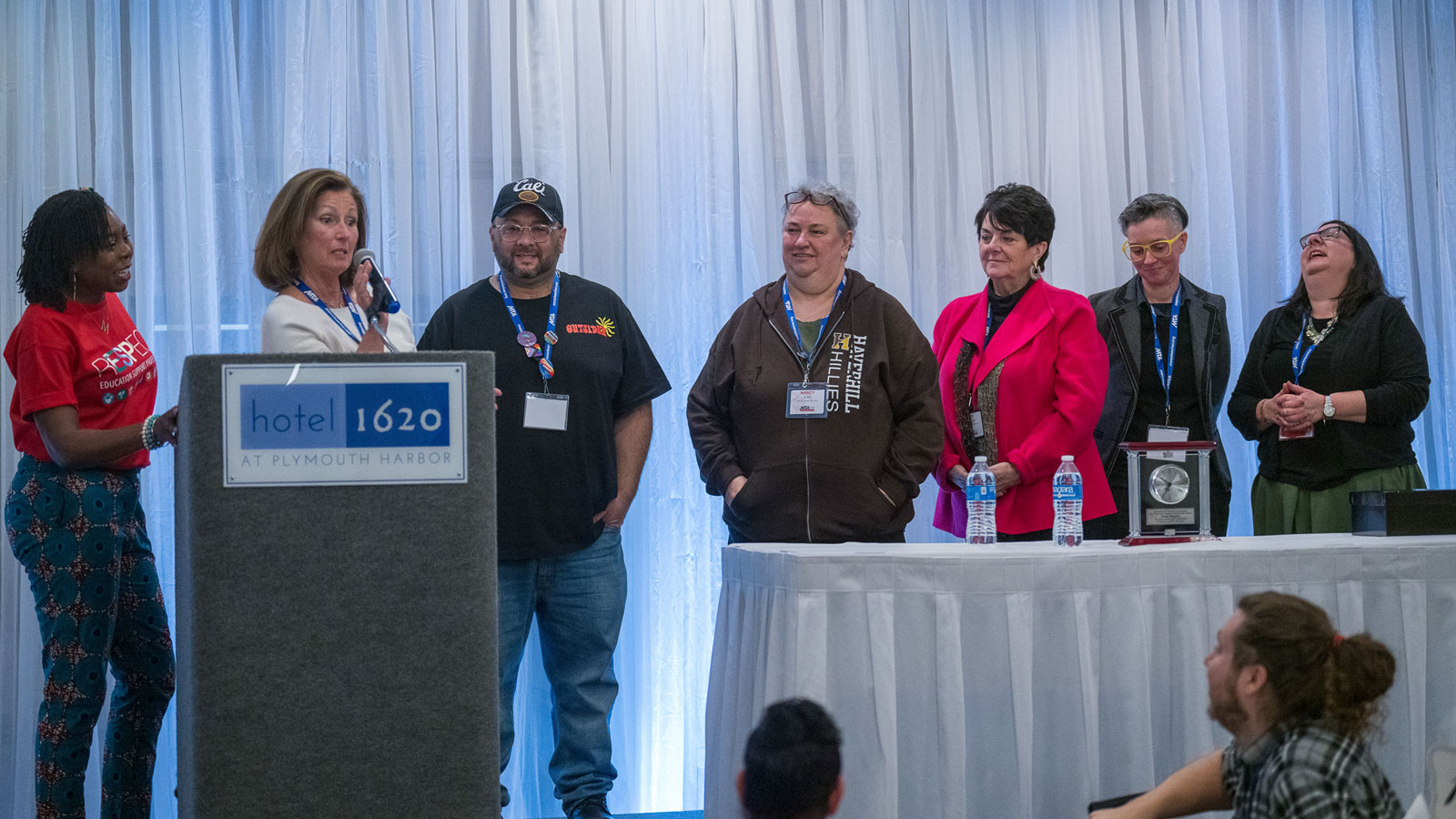 Greetings, MTA members,
The MTA ESP Conference, which took place this past weekend in Plymouth, was inspiring. Education Support Professionals are leading our union in saying "enough is enough" with unfair pay and disrespect – starting with MTA ESP of the Year Paula Higgins, of the Malden Education Association, the first ESP of the Year to come from a striking local.
Some of the strikes this past fall and winter led to huge gains by and for preK-12 ESP members, with teachers and ESPs uniting to bring paraeducators closer to a true living wage. We are also working hard to improve the pay and working conditions of higher education ESPs, who play the same foundational role in public colleges and universities, and who face their own unique inequities.
Here are some of the recent wins among our PreK-12 ESPs. After years of them having to accept scraps, local after local is winning major advances – 20 percent, 30 percent, even 40 percent increases in pay are not all they deserve, but these are a good start.
Some of these wins have come from ESPs publicizing and getting endorsements for the MTA PreK-12 ESP Bill of Rights. As of Tuesday, 174 locals have signed on to the Bill of Rights. But that's not even half of our locals! Please contact Sonia Fortin, our ESP Organizer, if you want help in getting your local board to sign on at their next board or membership meeting.
A true living wage should be a minimum for all educators. That's why the MTA Board of Directors endorses state Representative Erika Uyterhoeven's bill, which would update a decades-old law and raise ESP pay to a minimum wage of $40,000.
Finally, one of the exciting workshops at the ESP conference brought together ESPs from PreK-12 with those in higher ed (often known as classified staff), as well as adjunct faculty. The latter two groups are writing their own bill of rights, each modeled after the PreK-12 original.
MTA Events and Solidarity Actions
Support Your Union Siblings: Check out this list of upcoming actions. Please add your own to this form. The more we show up for one another, the greater the power we generate for local and statewide campaigns.
Fighting privatization at UMass
UMass unions are united against the effort by the university administration to unnecessarily privatize 100 good union jobs. The effective fightback has brought strong support from area legislators – state Senator Jo Comerford and state Representative Mindy Domb – as well as our labor allies on the Massachusetts State Retirement Board and State Treasurer Deb Goldberg. But the fight is not over. Please help by signing the petition.
Look for your PRIM Board Ballot – and vote by May 5
The Pension Reserves Investment Management Board is conducting an election to determine who will represent you. The PRIM Board seat is an unpaid position with a three-year term.
Bob Brousseau, an MTA Retired member, has more than 35 years of experience overseeing your pension funds. He is committed to ensuring the highest investment returns, fully funding the pension system and increasing retirement and COLA benefits.
The MTA Board recently endorsed Brousseau for reelection. Active and Retired members of the Massachusetts Teachers' Retirement System — the MTRS — are eligible to vote.
Solidarity with Rutgers University educators
More than 15,000 faculty, graduate workers, postdocs, staff and others at Rutgers University in New Jersey are still fighting for fair contracts nine months after their old agreements expired. Three unions representing 9,000 workers have taken an overwhelming strike authorization vote.
A group of distinguished scholars from around the country has written an open letter calling on the university president to rescind his threats to seek an injunction against unions in the event of a strike. Please support these union siblings by:
Signing this letter and sharing with higher ed members.
Contributing to their strike fund.
Achieving a fair contract for your local
Please join us for upcoming organizing and dialogue sessions. We will draw on the experience of the recent wave of past strikes and major job actions in Massachusetts that led members to win fair contracts and build their power. More details of each session are in the Zoom links below.
Major Job Actions and Escalating Campaigns
When: 4 p.m., Wednesday, April 19
Where: Zoom using this registration form
Organizing to Win MTA Right to Strike Legislation
When: 4 p.m., Monday, May 1
Where: Zoom using this form
Political education
Our ESPs are leading the charge to increase pay for themselves. But they are part of a national movement of low-wage workers demanding better pay.
That's the good news. But everyone should read Matthew Desmond's new book on persistent poverty in the United States, detailing how the nation has largely abandoned the effort to end poverty – even though we have all the money in the world to do it today. Here's an article he wrote summarizing the book's argument.
In solidarity,
Max and Deb