The latest news about upcoming public education campaigns, actions and events
---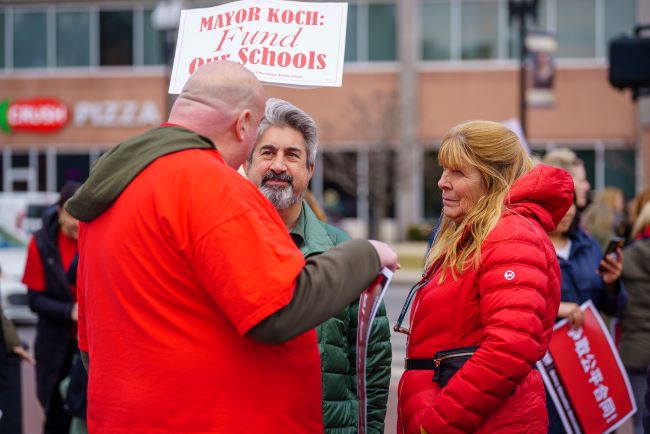 Greetings, MTA members,
Join us at 7 TONIGHT for a virtual meeting for all members to learn about our major campaigns – to win debt-free, high-quality public higher education for all, and rid us of the punitive high-stakes testing regime – and hear updates on recent victories and ongoing struggles in local contract fights.
We were thrilled to celebrate this past Sunday night with our members from Brookline, Haverhill, Malden, and Woburn as they received the Bread and Roses Award from the New England Jewish Labor Committee at their annual Labor Seder. No one received louder cheers than our members, who went on strike last spring and fall, and this winter.
In that vein, give today's Politico Playbook a read on the topic of educator strikes in Massachusetts. New polling data bolstered the data we released recently: Now two polls show that a clear majority of Massachusetts voters support letting public school educators go on strike. As I told Politico, educators never want to go on strike: they have done so when forced, after months or years of bargaining, to achieve better working and learning conditions.
Lastly, we've been holding some big news – the "ESPs by ESPs" Leadership Mentoring program just won a $400,000 grant from the NEA to support the outstanding program lifting up the next generation of ESP leaders.
MTA Events and Solidarity Actions
Support Your Union Siblings
Check out this list of upcoming actions. Please add your own to this form. The more we show up for one another, the greater the power we generate for local and statewide campaigns.
MTA Spring Brunch for Retirees
When: 10 a.m. – 1 p.m., Wednesday, March 22
Where: Virtual
The annual event for Retired members will include representatives with MTA Benefits for a presentation on health and wellness and programming on critical issues facing educators. The MTA Grassroots Division will also present the MTA's legislative priorities and discuss how Retired members can get involved. Register today.
Free Student Loan Counseling
When: 6 p.m., Wednesday, March 22, and future dates
Where: Virtual
Cambridge Credit Counseling continues to offer free student loan counseling webinars to members. There are eight opportunities to attend a webinar prior to the May 1 deadline to consolidate.
MTA Summer Conference Proposals
The Training and Professional Learning Division is requesting proposals for the 2023 MTA Summer Conference. The conference, which will be August 6 – 9 at UMass Amherst, provides an array of workshops related to union skills and leadership, instructional practice, racial and social justice, and other areas of professional interest. Presenters will receive a stipend in accordance with MTA policy. All proposals are due by March 26.
MTA Disability Insurance Open Enrollment
The MTA Disability Insurance Open Enrollment period begins March 28. All members in participating districts, as well as all new members in any district, are eligible to enroll in disability insurance during this time – and coverage is guaranteed.
Acquiring and Renewing Your Professional License
When: 4 – 5:30 p.m., Wednesday, March 29
Where: Virtual
This workshop is open to educators with three-plus years of employment. It will focus on moving from an Initial to a Professional license and the Professional License renewal process. Please register for this workshop today.
MTA ESP Conference
When: Friday, March 31 – Saturday, April 1
Where: Hotel 1620, Plymouth
The registration conference fee is $45. Please register now for this fun and educational gathering.
Capitalism 101: The Economy and Public Education
When: 4:30 - 6:30 p.m., Tuesday, April 4
Where: MTA's Holyoke Office (55 Bobala Road, #3)
Join MTA's Training and Professional Learning Division's free workshop, presented by Katherine Moos, assistant professor of economics at UMass Amherst. Light refreshments will be served. Please register in advance.
Political Education
We highly recommend Heather McGhee's The Sum of Us: What Racism Costs Everyone and How We Can Prosper Together. We hope to bring her to Massachusetts to speak about her young adult version of the book. In the meanwhile, here's a quote from W.E.B. Du Bois in the book's chapter on the importance of unions in the struggle for racial justice:
"Probably the greatest and most effective effort toward interracial understanding among the working masses has come about through the trade unions…As a result [of the organization of the CIO in 1935,] numbers of men like those in the steel and automotive industries have been thrown together, fellow workers striving for the same objects. There has been on this account an astonishing spread of racial tolerance and understanding. Probably no movement in the last 30 years has been so successful in softening race prejudice among the masses." (p. 111)
In solidarity,
Max and Deb