ESP Conference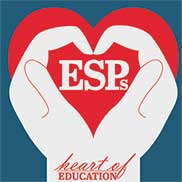 Designed for MTA education support professionals, this conference offers professional development, networking and fun. It's a great experience ––  a chance for ESPs to have the space to explore their roles in public education, their workplaces and their unions.

Held annually in April, this conference is tailored for both Higher Ed and PreK-12 ESPs and their allies.
MTA Today: ESPs enjoy a chance to meet in person
By Mary MacDonald
They came for the camaraderie, for networking and skill building. And many of the Education Support Professionals who gathered in April for the in-person 2022 MTA ESP Conference say they gained valuable information about how to negotiate better contracts and assert their rights.
Virginia Stepper, a paraprofessional in Bedford, said she appreciates talking to fellow ESPs about their districts, their contracts, and what is happening across the state.
"I come every year," Stepper said. "I come for the professional development. I come for the friendships I develop. I find it very insightful. I've learned that all districts are certainly not the same."