MTA PreK-12 ESP Bill of Rights is a framework for contract gains
---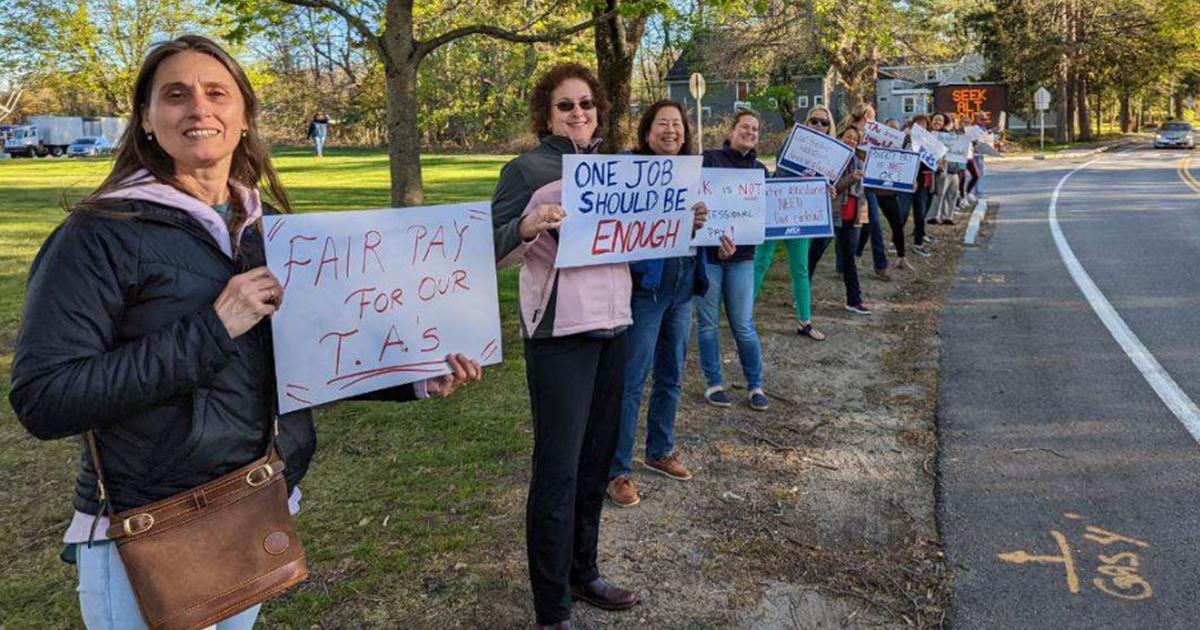 The days of getting crumbs in new contracts have ended. Education Support Professionals are organizing and bargaining for strong contracts using the framing of the MTA PreK-12 ESP Bill of Rights.
And work is progressing on a comparable version of the Bill of Rights for those who work as ESPs in higher education.
When bargaining for contracts, rather than seeking a percentage increase in pay, which may result in a modest real gain, many locals instead are seeking specific dollar amounts and a minimum floor for salaries – all aimed at reducing the significant gap between what ESPs typically earn and the median living wage for their communities.
That gap is a continuing challenge, because inflation has dramatically increased the cost of living throughout Massachusetts. The salary required for a single person to reach a living wage in several counties increased by more than 25 percent in 2022, according to an annual update by the Massachusetts Institute of Technology.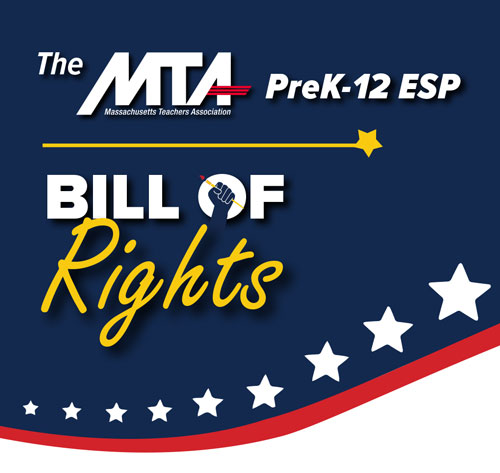 Norfolk and Suffolk counties both have a living wage salary for a single person that exceeds $50,000.
To help ESPs bridge that significant gap, the MTA is advancing a living wage campaign as part of its Bill of Rights. Much more effort is aimed at organizing.
Five educators in recent months have been newly hired as regional ESP Member Organizers. The part-time work will require them to collaborate with local leaders and representatives to advance the directives of the living wage campaign and the ESP Bill of Rights.
Jessica Stimpson, an adjunct professor at Westfield State University, and a member of the Massachusetts State College Association, is one of the new ESP member organizers. She's also involved in the work to create a Bill of Rights for adjuncts and other part-time workers in higher education and recognizes the common bonds between preK-12 ESPs and adjuncts, particularly on workplace rights. Stimpson works three jobs, including as a full-time paralegal and as an adjunct at two institutions.
"I definitely have that comradery and I really understand where the ESPs are coming from," Stimpson said. "They do so much important work and they're not receiving what they should be for that. They're struggling to have the pay scale where it should be and they don't have the benefits that they need, and the Bill of Rights hopefully will be able to change that for them."
"The people in my union – the people that actually hit that minimum standard of living that MIT has said is the minimum for your district – they have an average of 20 years of experience."

ESP Organizer and Wachusett member Julie Bishop
Julie Bishop, a speech language pathology assistant and a member of the Wachusett Regional Education Association, started working as an ESP member organizer in December. She knows how important a livable wage is for ESPs. After 11 years, she still isn't making the minimum, livable wage for Worcester County.
"The people in my union – the people that actually hit that minimum standard of living that MIT has said is the minimum for your district – they have an average of 20 years of experience," she said.
To strengthen contract bargaining, local presidents and teams are expanding member involvement by using a combination of open and expanded bargaining, which allows all members to participate in negotiations. The asks are being framed around the pillars of the ESP Bill of Rights, which includes a living wage, affordable health insurance, job security and paid family and medical leave.
In recent months, several locals have scored big wins for ESPs in new contracts.
In Taunton, newly organized therapy assistants got a $9,500 raise in the first year, which represented a 20 to 30 percent increase for members. It is their first contract.
Westford ESPs will have starting wages increased by 38 percent, and the maximum wage will rise 11 percent over the three-year contract.
In Worcester, bus drivers will see a wage increase of five to 17 percent over three years and a reduction in steps, as well as bonuses of between $500 and $1,000. Some of the bus drivers have reached a minimum wage of $30 an hour.
Part of the new approach boils down to not taking 'no' for an answer when an administration or school committee waves its hand and says there isn't enough money.
Donna Trumpler is president of the Saugus School Clerical Association. Her tiny local – it has just 17 members – fought for almost two years for a new contract. A tentative agreement reached in December includes a salary increase of 7 percent over three years, as well as a first-year COLA boost of $1,250, followed by two years of $1,100 each. The combined impact means some members will see nearly a 23 percent increase in pay, Trumpler said.
"Why can't we go for the gusto? Why not go for whatever we need to ask for?"

Saugus School Clerical Association President Donna Trumpler
The new deal came after a change in mindset. "The last several years, like 10-plus years, we've been settling for a contract based on whatever the superintendent suggested, and that was it," said Trumpler, who became president last year. Her first priority was getting a COLA.
"Why can't we go for the gusto? Why not go for whatever we need to ask for?"
This story appeared in the Winter 2023 edition of MTA Today.