Union News: All Eyes on Higher Ed for All
---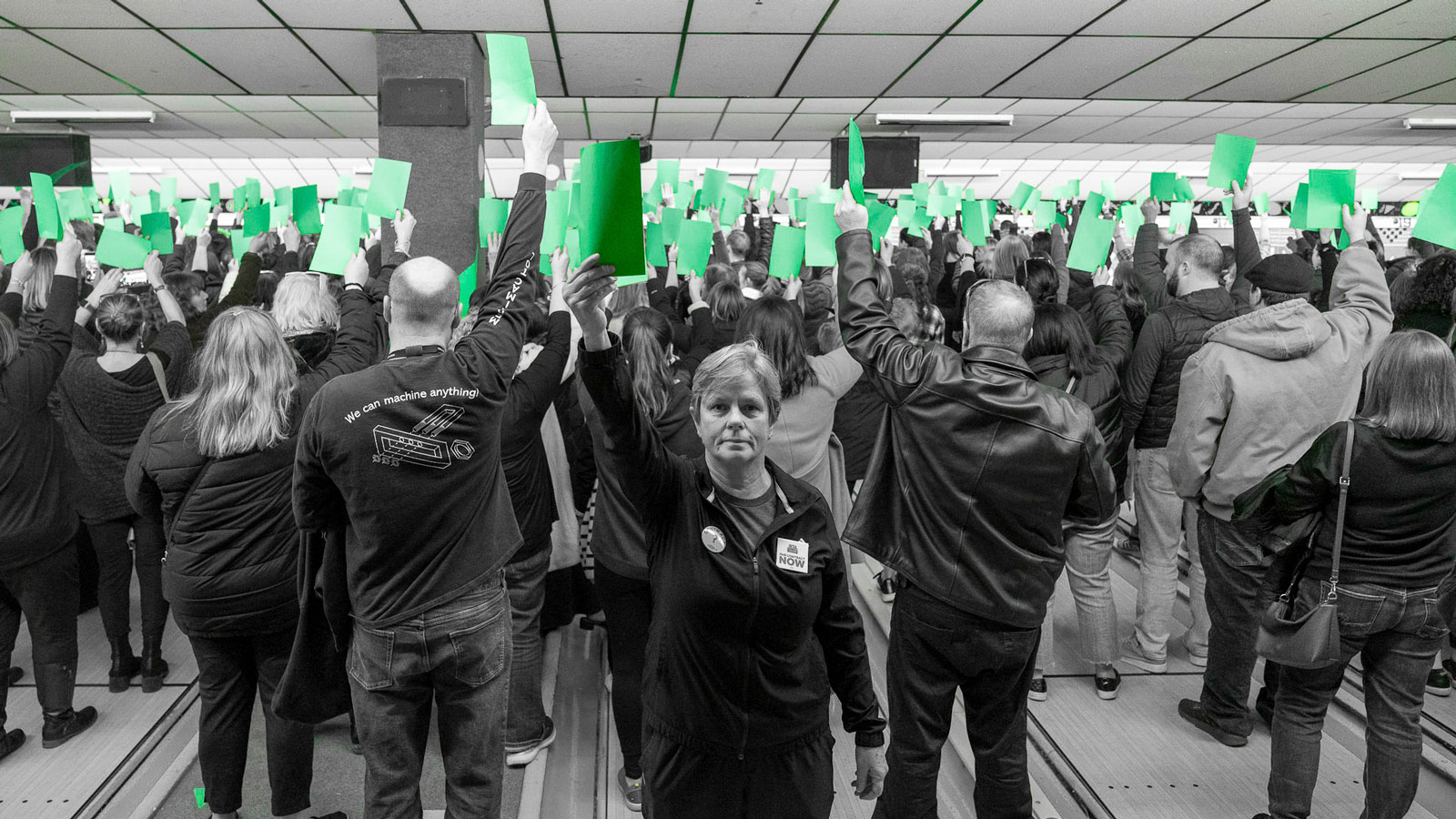 Greetings, MTA members,
Last night, the NEA joined U.S. Senator Bernie Sanders in leading a town hall on the issue of educator pay. This included the perspectives of national leaders, but also of educators from around the country who spoke about the impacts of low pay and disrespect. Watch the whole event.
We were pleased to hear how your efforts to raise educator pay were highlighted, including by our own U.S. Senator Ed Markey, who said:
"In Massachusetts, led by our great leaders, we have already had many strikes this year, and we've seen raises in the salaries for teachers wherever those strikes occur, and I've been on the lines with those teachers as they strike because we need higher wages for teachers, for teaching assistants, for early educators, for paraprofessionals."
"I was a paraprofessional, while in my first year out of college. I will tell you this: I didn't get paid enough then and they don't get paid enough now. They're always overlooked as the substitutes, for real teachers, but real teachers know they can't do it without the paraprofessionals there to help them. So we know this and we have to do something about it."
MTA Solidarity
Support your fellow educators! Check out this list of upcoming actions. Please add your own to this form. The more we show up for one another, the greater the power we generate for local and statewide campaigns.
MTA Events
Elections for MTA Board and Executive Committee
This year, elections will be held for seats on the MTA Board of Directors and Executive Committee. These elections will take place at the 2023 Annual Meeting of Delegates, and nominations are due to MTA by March 3. View the full list of openings and find out more about becoming a candidate. Contact MTAGovernance@massteacher.org with any questions or to request nomination papers.
MTA Committees and Task Forces
Get involved today! We have several opportunities for members to be appointed to MTA committees and task forces. These groups are vital to our work and our mission. To volunteer for a possible appointment, view the list of committees and task forces and apply to be considered.
Local Delegate Elections
It is time to start thinking about serving as a local delegate to MTA's Annual Meeting, which will be held April 28-29 in Springfield, and the NEA-RA, scheduled for July 2-6 in Orlando, Florida. The nomination process and election for these delegate seats are handled by each local association. Contact your local president or election officer to find out the details and timing of your local processes.
Higher Ed For All!
Debt-free, high-quality public higher education is essential to expand opportunity in all of our communities and create a more equitable and prosperous Commonwealth. Higher Ed For All is advocating for fully funded community colleges, state universities and UMass campuses to knock down the barriers that restrict too many potential college graduates. Lunch will be provided. Bus transportation will be available from several locations across the state. Sign up for the bus here.
Higher Ed For All Coalition Advocacy Day
Tuesday, Feb. 28, 2023, 10:30 a.m. to 2:30 p.m.
Register here.
Massachusetts State House, 24 Beacon St., Boston, MA 02133
Virtual Higher Ed For All Advocacy Training
Thursday, Feb. 16, from noon to 1 p.m. OR Tuesday, Feb. 21, from 6 to 7 p.m.
Register here.
Get ready for Higher Ed For All Advocacy Day! We have passed the Fair Share Amendment, and now it is time to make sure that the Legislature understands the importance of providing affordable, high-quality public higher education in Massachusetts. Whether you have been to advocacy days at the Legislature before or are a first-time attendee, this training will get you ready to have a big impact on the future of public higher education in Massachusetts for students and workers alike. This event is sponsored by the Higher Ed For All Coalition.
Bargaining for the Common Good workshop
Thursday, March 9, from 4 to 5:30 p.m.
Join us this March for an in-depth BCG training and discussion on how to approach negotiations when you're bringing common good demands to the bargaining table. This training will be led by some of the most experienced negotiators and organizers in the country who have bargained for common good demands, went on strike, and won big for union members and the community. The discussion will include how to bargain for permissive subjects, how to educate union and community members about public-facing bargaining demands, how to prepare members to hold out for common good demands, and what to do when the boss shuts out the community.
This training is for folks with a high level of experience with bargaining and campaigns. We encourage organizations to come as cohorts of staff, bargainers, elected leaders, members and community leaders who will be at the bargaining table together. Some groups might also choose to attend as a cohort across a specific geography or issue. For that reason, we are asking your organization to apply as a group.
For questions or more information, you can reach BCG organizer KB Brower at kb.brower@gmail.com.
To learn more about Bargaining for The Common Good, visit their website.
Political Education
Everyone in our union cares about high-quality, debt-free public higher education. Probably about a third of you attended a public college or university in Massachusetts. Another large percentage have sent your children to one of our 29 public colleges or universities. And ALL of you work with students who go on to one of those colleges and universities.
This new report is an excellent summary of what is wrong with our financial aid system, explaining how it is insufficient, confusing, and racially and economically unjust.
The MTA-supported Cherish Act is a blueprint for the kind of public higher education system we need. Read about it and all of our legislative agenda.
Sincerely,
Max and Deb