Push Back on MCAS and Test-Driven Summer Programs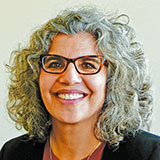 Merrie Najimy, President

---
Greetings,
We had a good — albeit partial — win with our #BackWithTheVax campaign. Although Commissioner Jeffrey Riley had said he would only approve a very limited number of waivers to the April 5 and April 28 full-return deadlines, in the end he had granted waivers to at least 64 districts as of yesterday. That's thanks to MTA members and others who pushed back against the artificial deadline. More than 5,000 members and supporters signed a Massachusetts Education Justice Alliance petition, and MTA members held #BackWithTheVax standouts and posted their support for letting school districts decide when to go back. Collective action works! But the pandemic is still far from over, as everyone is aware. Read on.
MTA Members Hold Sit-In at DESE
Yesterday, several locals, led by Malden and Wakefield, banded together to hold a "sit-in" in front of Department of Elementary and Secondary Education headquarters to protest how Riley's forced return-to-school plan rode roughshod over local decision-making — and how DESE's failure to oppose federal mandates means that students will be further traumatized by and lose valuable learning time to MCAS tests, whose results will be meaningless.
MCAS Action Steps
We are doubling down on our efforts to help parents learn their rights to opt out of the MCAS.
Several educator and parent groups have been joining forces to oppose high-stakes testing this year. It is becoming ever more likely that the federal government is not going to grant blanket waivers to standardized testing, as it did last year, so we are doubling down on our efforts in Massachusetts to help parents learn their rights to opt out of the MCAS, along with taking other Action Steps. These include:
Asking your School Committee to pass a resolution.
Making sure parents and students know how easy it is to refuse to take the test.
Calling the U.S. Department of Education in support of allowing states to cancel testing this year.
Supporting MTA-backed legislation to end the state's test-based graduation requirement.
Member Meeting Set for March 30
The MTA is challenging the wholly misguided and destructive "learning loss" narrative that is driving DESE's decisions for summer school and beyond. Join us at our March 30 Regional Member Meeting to discuss our draft principles for meaningful learning and our recommendations for summer programs that go far beyond academics. Breakouts will be organized by region. If you do not know your region, go here. To weigh in on that issue before the meeting, go to MTA's Facebook page.
Funding for Public Higher Education and Schools
We have good news and bad news on funding. The good news is that both preK-12 schools and public higher education will be receiving significant new one-time funding through the federal American Rescue Plan Act to help students recover from disruptions caused by the pandemic, implement more safety measures, and reverse any furloughs and layoffs that have occurred.
The bad news is that the governor's budget does not include a long-term commitment to public education, preK through college, by supporting full funding of the Student Opportunity Act or any funding under the proposed Cherish Act. In the Boston area, higher education union members from Bunker Hill Community College, Roxbury Community College, MassArt and UMass Boston are invited to join a conversation about opportunities and challenges ahead.
In addition, the MTA's Grassroots Campaigns Division is holding a series of in-district meetings with legislators to build support for our legislative agenda, including for funding needed to guarantee students the public schools and colleges they deserve. Our planning includes strategies to make sure the Fair Share Amendment, which would raise money for public education by increasing taxes on annual income over $1 million, goes to the ballot next year. Here are links to two upcoming meetings, one for the South Shore on March 29 and the other for the Berkshires on April 8.
In solidarity,
Merrie