Educators Gain 10 Days to Plan Resumption of Learning!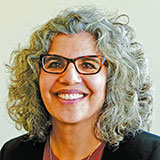 Merrie Najimy, President

---
Greetings,
You achieved a huge victory! Today the state's educator unions reached an agreement with the Department of Elementary and Secondary Education reducing the student school year to 170 days to give educators crucially important time to plan. When we fight, we win!
This is just the first major victory, however. We need much more from DESE to ensure that our school buildings are safe when in-person learning become feasible.
Last Wednesday, we told you that not only were talks on the resumption of learning stalled — but they were unilaterally canceled by Jeffrey Riley, the commissioner of education. (Note that I call it "resumption of learning" and not "reopening schools" because I don't want to imply that the buildings need to be physically reopened for learning to take place.) You responded by flooding the commissioner's office with emails and phone calls – filling the DESE voicemail box and triggering an automatic response that your message was received and appreciated. On Thursday, we reached an agreement in principle on the 170 days, along with a reduction in time-on-learning hours.
Despite that agreement, without advance warning Commissioner Riley released new guidance late Friday citing regulations establishing the 180-day school year for students. This language once again led to confusion and unnecessary anxiety. But today it will become official: I and the presidents of AFT Massachusetts and the Boston Teachers Union are signing the MOU, and the commissioner will be revising the guidelines. The MOU concludes with the following two points:
"1. DESE agrees that school districts will have 10 additional days at the start of the 2020-2021 school year before instruction of students begins, to work with educators to prepare for the new school year.
"2. The Commissioner will reduce the 180-day and student learning time requirements for the 2020-2021 school year to 170 days and 850 hours (for elementary schools) and 935 hours (for secondary schools) so long as districts begin providing instruction to students no later than September 16, 2020. If a district is unable to meet the September 16, 2020 requirement, it may apply for a waiver."
Despite this victory, DESE has not yet agreed to other major demands the unions have been making:
Cancel the requirement for fully in-person learning plans.
Cancel MCAS.
Issue a requirement that there has to be an environmental health and safety assessment of every building.
Tie the reopening of school buildings to COVID-19 public health benchmarks.
As explained in a previous email, we will be discussing these issues and seeking feedback from members at an all-member meeting on Wednesday. Information about that meeting is below.
MTA Membership Meeting
Wednesday, July 29, 4 – 5:30 p.m.
REGISTER NOW for the July 29 Membership Meeting through this link: https://us02web.zoom.us/webinar/register/WN_y3ItEabNRB-bPWVtSI0FCQ
Note that this meeting is for MTA members only and is limited to the first 10,000 registrants. You may feel free to share the above registration link with your fellow MTA members, but not beyond that audience. Only MTA members will be given meeting access.
DEADLINE: YOU MUST REGISTER BY NOON ON WEDNESDAY, JULY 29
The deadline for you to register using the above link is noon on Wednesday, July 29, to give staff ample time to verify the membership of participants and provide the necessary meeting access. After that time, there is no guarantee that the verification and access processes can be completed in time for the meeting's 4 p.m. start, due to the other meeting preparation needs.
Approved registrants will receive a confirmation email with unique meeting access. It will be sent to the email provided when you registered and will be from: "MTA Governance no-reply@zoom.us."
That confirmation will not be immediate. We will begin the approval and confirmation process today and continue through Wednesday, but it will take some time. Please be on the lookout for that email and check your spam folder for it.
Your confirmation will contain the information on how to join the July 29 meeting. Do not forward your meeting link to anyone else. Each attendee must register and then receive their unique meeting link. In addition, for security reasons, because this meeting is for MTA members only, phone dial-in will NOT be enabled. You must join the meeting via the Zoom link provided in your confirmation email. You may join from a computer, smartphone or tablet. From a PC or Mac, when clicking on your "Join" link, you will be prompted to download and install the Zoom app when joining your FIRST Zoom meeting on that device. For smartphones and tablets, please go to the App Store or Google Play to find and install the free "Zoom Cloud Meetings" app for your device prior to joining your first Zoom meeting on that device.
In solidarity,
Merrie