Many needs for new school funding
Laura Barrett, Communications Specialist

---
Educators continue activism after signing of Student Opportunity Act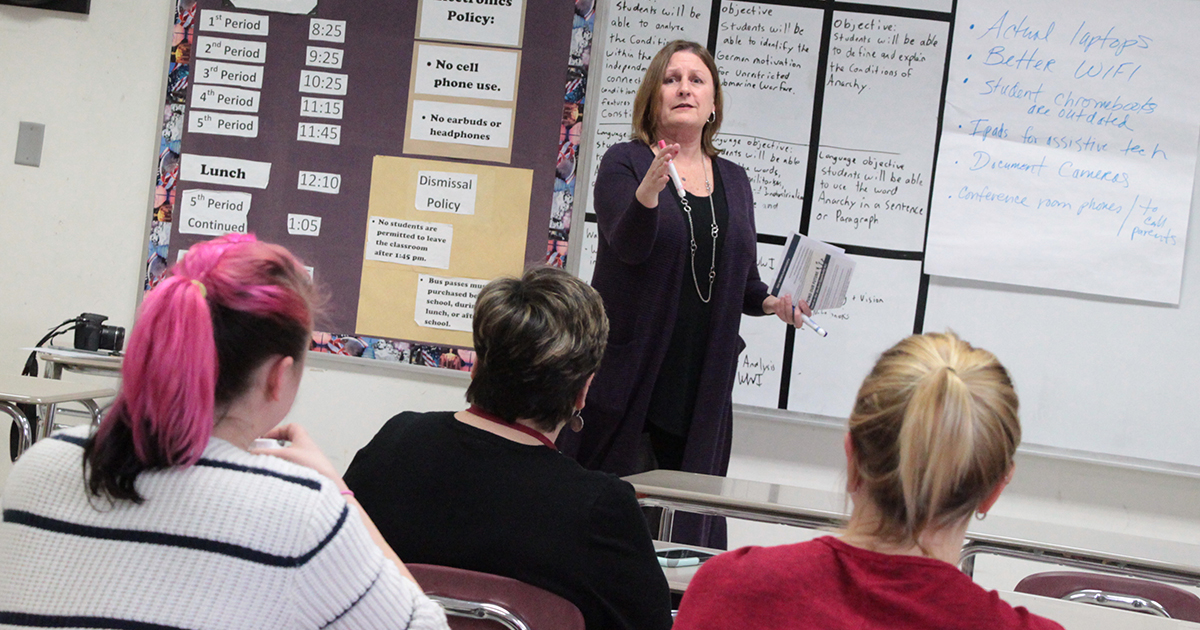 Malden educators would like the city's high school to offer enough courses so that students don't have to sit in directed studies attended by 75 to 100 young people.
Springfield educators have testified about the need for more special education and English learner teachers, art and music instruction, wraparound services and paraprofessionals.
Fitchburg educators say they need increased support for English learners, more adjustment counselors, smaller class sizes and raises for substitute teachers.
Students speaking at a Revere event advocated for more wraparound services, after-school youth programs and, in the words of one teen, courses that teach them "actual life skills" such as financial literacy.
These voices were heard in just four of the many communities in which MTA local associations are already working to ensure that educators have a say in how new funds resulting from the Student Opportunity Act should be spent.
Based on the recently signed law, Governor Charlie Baker has proposed increasing Chapter 70 school aid by $304 million next year over the current fiscal year — and a projected $2 billion over this year's allocation when the bill is phased in as of fiscal 2027. In addition, many districts will benefit from two other changes: increasing the special education circuit breaker and moving to full funding of charter school reimbursements.
"We won this bill by engaging in community forums, rallies, petitions, letter-writing and School Committee resolutions, and by making a lot of noise on Beacon Hill," said MTA President Merrie Najimy.
Also contributing to the victory was a lawsuit filed by the Council for Fair School Finance, a coalition spearheaded by the MTA. The suit, Mussotte v. Peyser, was filed on behalf of plaintiffs from seven school districts, the NAACP New England Area Conference and the Chelsea Collaborative.
It asserted that the underfunding of Massachusetts public schools violated the state Constitution's Equal Rights Amendment, by discriminating against students of color and low-income students, and the Education Clause. The council announced on Jan. 27 that the lawsuit would be withdrawn in light of passage of the Student Opportunity Act. But the council will remain active to monitor the state's implementation of the law.
"MTA members in our under-resourced communities know that this act is a once-in-a-generation chance to fundamentally alter the conditions in their schools," said MTA Vice President Max Page. "They intend to have their voices and the voices of the community heard."
Assessing the size of the increase requires context. The governor's proposal to add $304 million represents about a 6 percent increase over the current year. Of that total, $103 million is to cover inflation and changes in enrollment; the rest is for new services.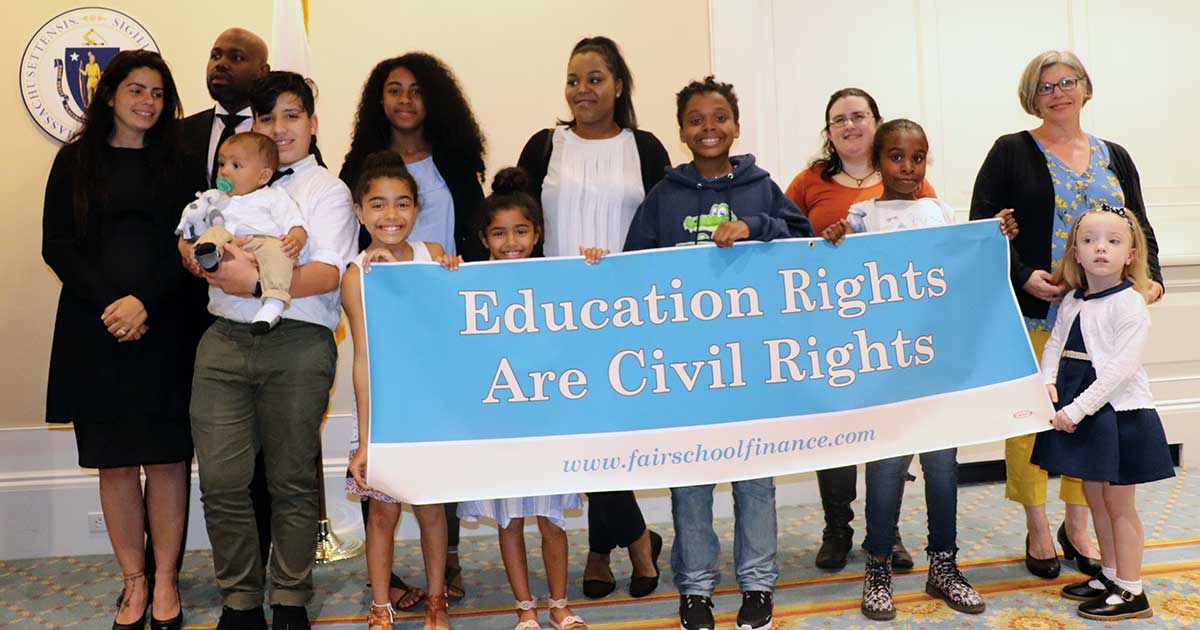 While significant, the proposed amount is lower than earlier projections that were based on a different method. Under those estimates, the phase-in would have been front-loaded, with more than $400 million allocated in the first year but less later on. The method the Baker administration chose is designed to smooth out the increases, leading to approximately the same additional funding each year for seven years.
By the final year, the total increase and distribution across districts should be about same: approximately $2 billion, or about 40 percent over the current year.
While the approach appears to be consistent with the law, some legislators and advocates expressed concern because they had pinned their hopes on the earlier projections.
"Now that we've won the bill, we have to continue our activism at the local level to make sure the money goes where educators and parents know it is most needed."

MTA President Merrie Najimy
Senator Sonia Chang-Díaz (D-Boston) was particularly vocal, saying she felt that the $304 million was fine but that it should be distributed in a way that provides a larger share to districts such as hers that have high concentrations of low-income students. Under the governor's budget, almost 80 percent of the money would go to the poorest 18 percent of districts — those with the highest proportion of low-income students.
Others argued that the first-year funding should higher, perhaps by as much as $100 million, even if that means less in the later years. This debate is likely to play out during the upcoming House and Senate budget debates.
No matter what, many districts will be receiving significant increases in fiscal 2021 and beyond.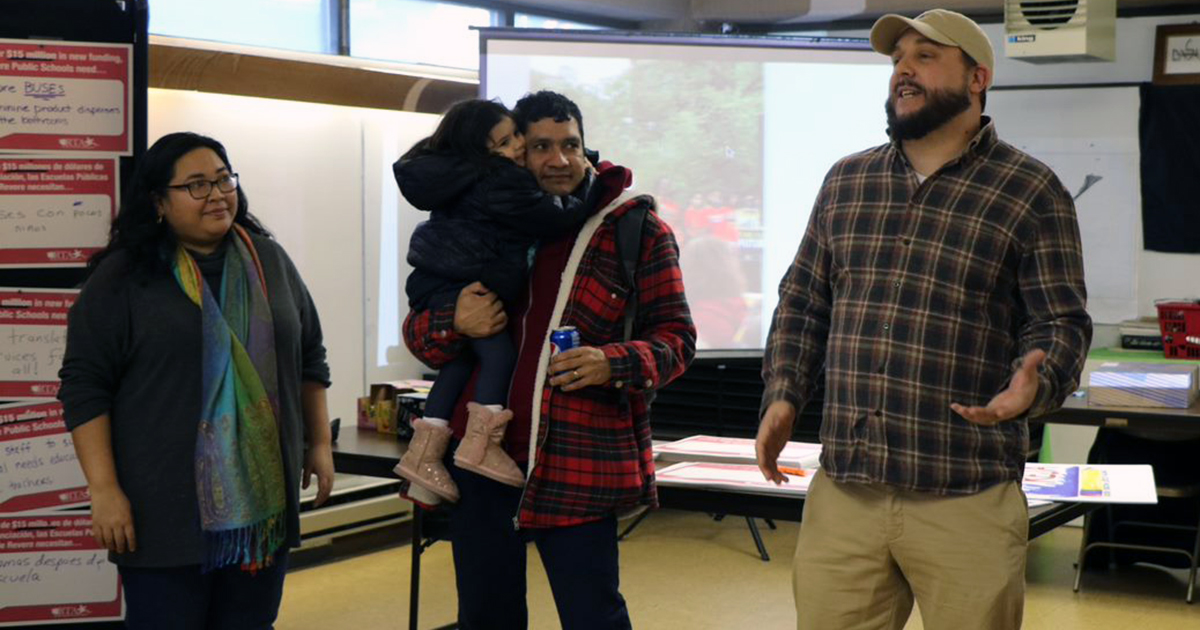 "Now that we've won the bill," said Najimy, "we have to continue our activism at the local level to make sure the money goes where educators and parents know it is most needed." The new law includes a provision for district improvement plans to include such input.
To amplify that voice, the MTA and its Fund Our Future partners recently held two major training sessions for local leaders and community allies. Among other things, coalition members are being counseled to guard against cities and towns using the infusion of state Chapter 70 funds as an excuse to shift local resources from schools to other municipal services.
MTA members are taking action on that front and others. "It's great that we are providing input on how this money can be best spent," Fitchburg High School educator Tristen Scott said during a building meeting on Jan. 22. "Ninety percent of educational decisions should be made by teachers."
In December, 28 Springfield Education Association members testified about their priorities at a School Committee meeting. "Of course our members want to be paid fairly," said President Maureen Colgan Posner. "But not one of them talked about raises at that meeting. They talked about all the services our students need."
The SEA is holding a community event in late February that will include local and state elected officials who supported the funding bill. Malden is holding a similar event on Feb. 26 at which members will join Senator Jason Lewis, co-chair of the Legislature's Education Committee, at a community bill-signing event.
"It's great that we are providing input on how this money can be best spent. Ninety percent of educational decisions should be made by teachers."

Fitchburg High School Educator Tristen Scott
Meanwhile, some locals are "bargaining for the common good," meaning they are using a more open negotiating process to advocate on issues that affect student and community well-being in addition to the more traditional subjects covered at the table. For example, Colgan Posner said her local plans to support reducing counselor-to-student ratios, seeking more librarians and asking for funding to hire paraprofessional substitutes in the SEA's upcoming contract talks.
Gladys Olivares, speaking at an event organized by the Revere Education Justice Alliance, made it clear that parents also have a lot to say.
"There are so many things that our schools need — we need more translators so that people who speak a different language can feel more connected," said Olivares. "My son has a great teacher, but she has 23 third-graders in her class. That's too many."
Gina Garro, a special education teacher at the Garfield Elementary School and an officer in the Revere Teachers Association, summed up why the community effort is so important.
"We came together a year ago to fight for our students and our schools," she said. "Now we want to make sure that our voice — that of educators, parents and students — is included in the plan for how to use the new education funds."
"We want to make sure that our voice — that of educators, parents and students — is included in the plan for how to use the new education funds."

Revere Teacher Gina Garro