Strike ends with a settlement for Dedham teachers
---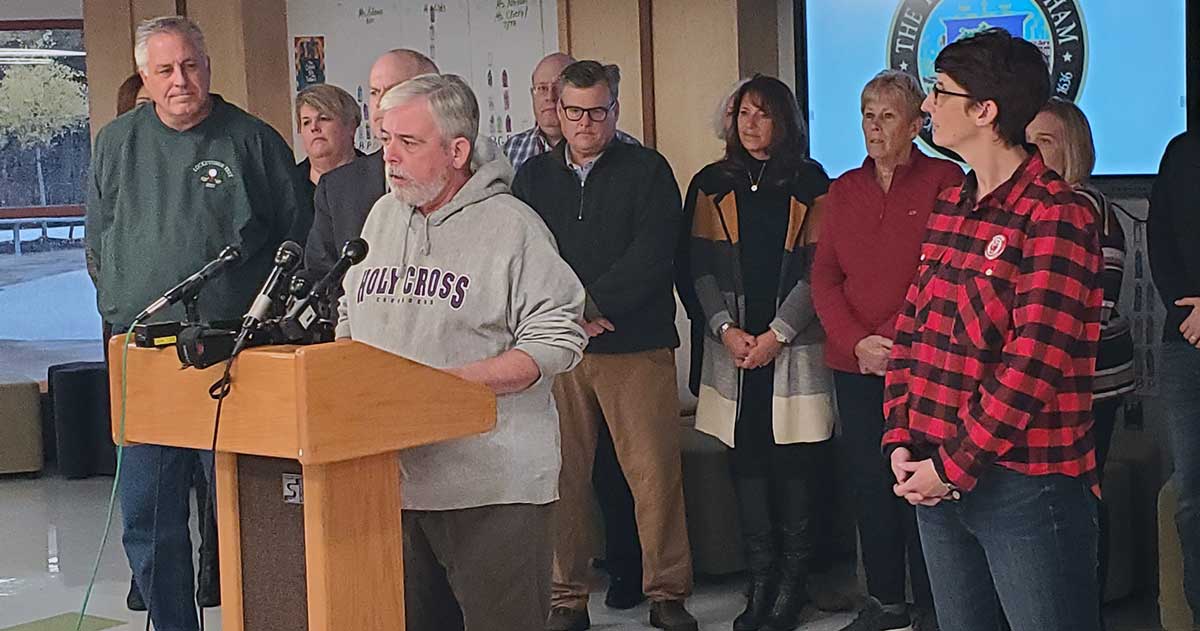 Striking Dedham Education Association members and the town's School Committee reached a tentative agreement today after bargaining for many hours over the weekend.
"This agreement is a major victory for Dedham educators and their students," said DEA President Tim Dwyer.
Members of the union, which has been without a contract for nearly two years, went on strike Friday after an overwhelming vote on Thursday afternoon to do so. The educators' initial day of picketing was followed by a community rally that drew labor leaders and other supporters from throughout the state.
"This agreement is a major victory for Dedham educators and their students."

DEA President Tim Dwyer
The strike attracted support from U.S. Senators Bernie Sanders, Elizabeth Warren and Ed Markey, as well as from U.S. Representative Joe Kennedy III.
The new agreement — which will allow schools to open tomorrow — is a four-year contract covering the previous school year and three years moving forward.
At a news conference announcing the tentative accord, Dwyer expressed appreciation for the support the DEA received from the community, colleagues from other towns and cities, and fellow unionized workers.
"We are here today because of solidarity," Dwyer said.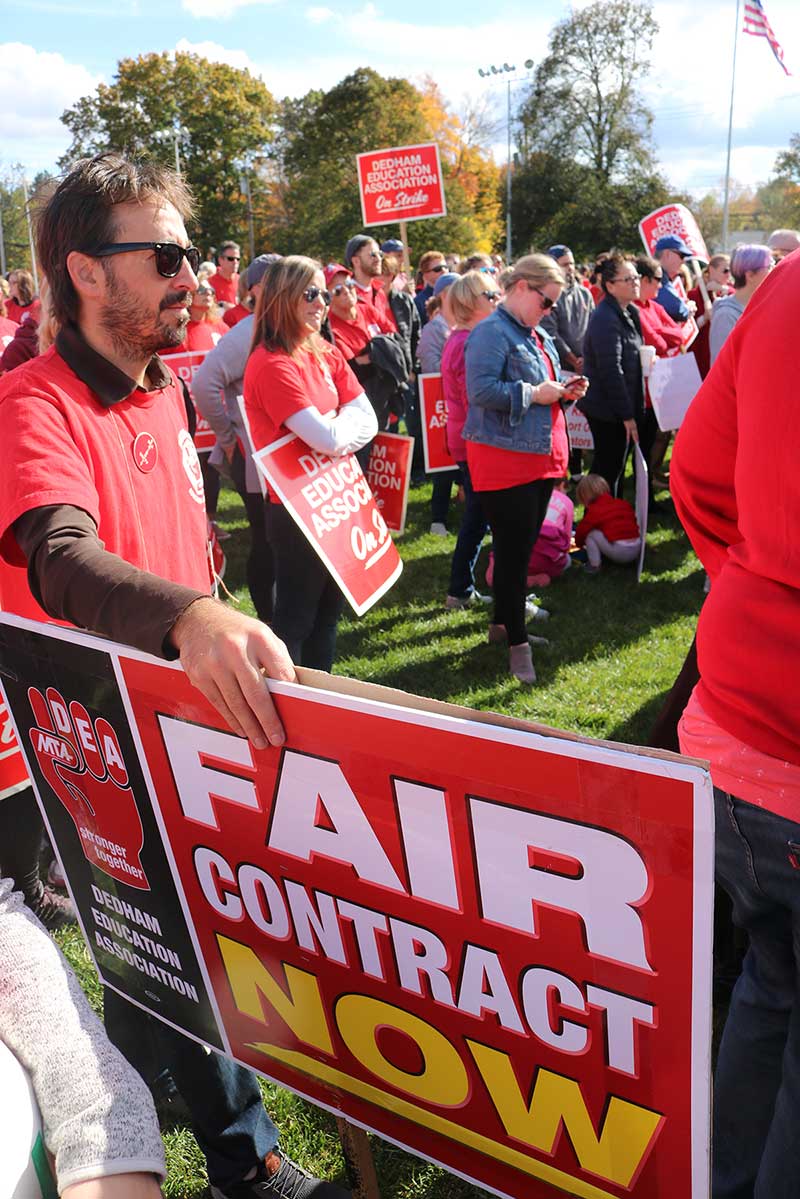 The DEA has scheduled a ratification vote for 4 p.m. tomorrow. Educators will return to the classroom Monday morning.
Highlights of the contract include the following:
An avenue to grieve sexual harassment claims and a complete overhaul of sexual harassment policies to include training for leadership and staff.
There will be no additional professional development meetings.
Up to 10 days of paid Family and Medical Leave Act leave.
There will be no new restrictions on personal days.
There will be new policies on the use of personal technology in the classroom and the changing of grades.
There is a non-reprisal clause that protects all DEA members from all units, along with a promise from the School Committee that no employees from other labor unions will face reprisals.
A fair compensation package.
Rachel Dudley, chair of the DEA's bargaining team, said the agreement was worth fighting for even though it meant defying the state's ban on strikes by public employees.
"As we have been saying, educators' working conditions are students' learning conditions," Dudley said. "DEA members stood up for their profession and for their students."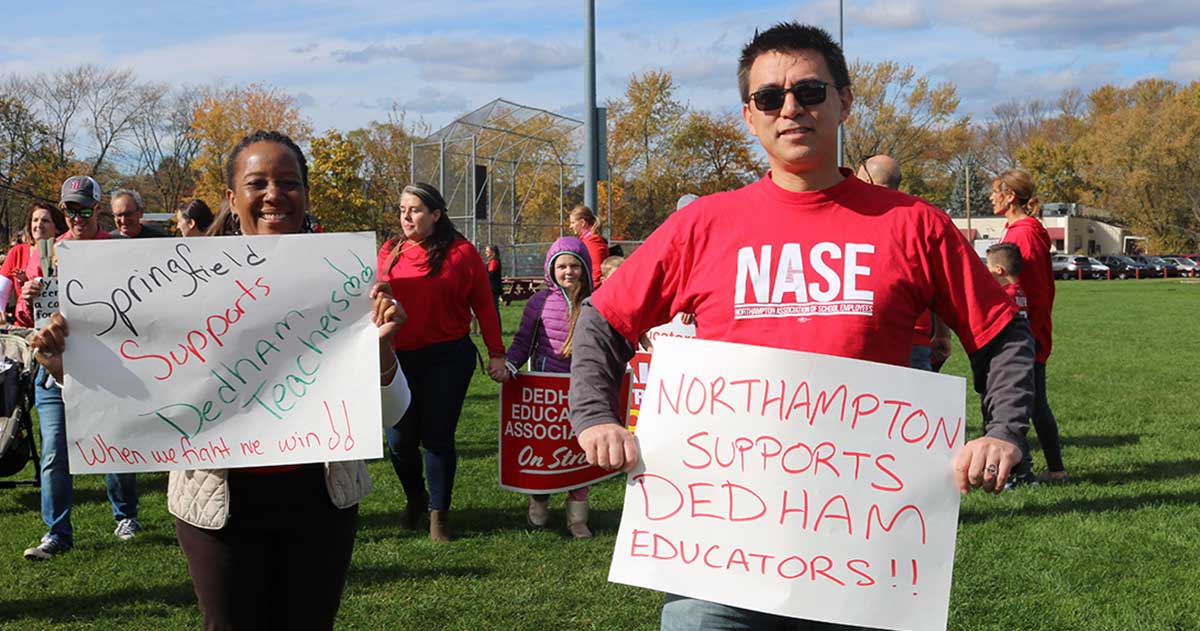 MTA President Merrie Najimy and MTA Vice President Max Page issued the following statement in response to the tentative agreement:
"We congratulate the members of the Dedham Education Association for reaching a tentative agreement on a new contract. They stood up for their students, their schools and their community. While seeking a fair contract for themselves, they advanced the common good.
"Educators in Dedham deserve to have a fair and effective way to address complaints of sexual harassment; all workers do. Educators in Dedham deserve to be treated as professionals and compensated appropriately for their time; all workers do. Educators in Dedham deserve access to quality health care; all workers do.
"In fighting for acceptable working conditions, Dedham educators are creating better learning conditions for students.
"Like so many other educators across the country, members of the DEA have shown profound resolve. They challenged the false premise that public schools must always be prepared to do more with less.
"Public school educators everywhere are proud of and inspired by their colleagues in Dedham for their willingness to fight for the schools that all of our students deserve."
"Public school educators everywhere are proud of and inspired by their colleagues in Dedham for their willingness to fight for the schools that all of our students deserve."

MTA President Merrie Najimy and Vice President Max Page