Fair Share Amendment wins initial vote in the Legislature
---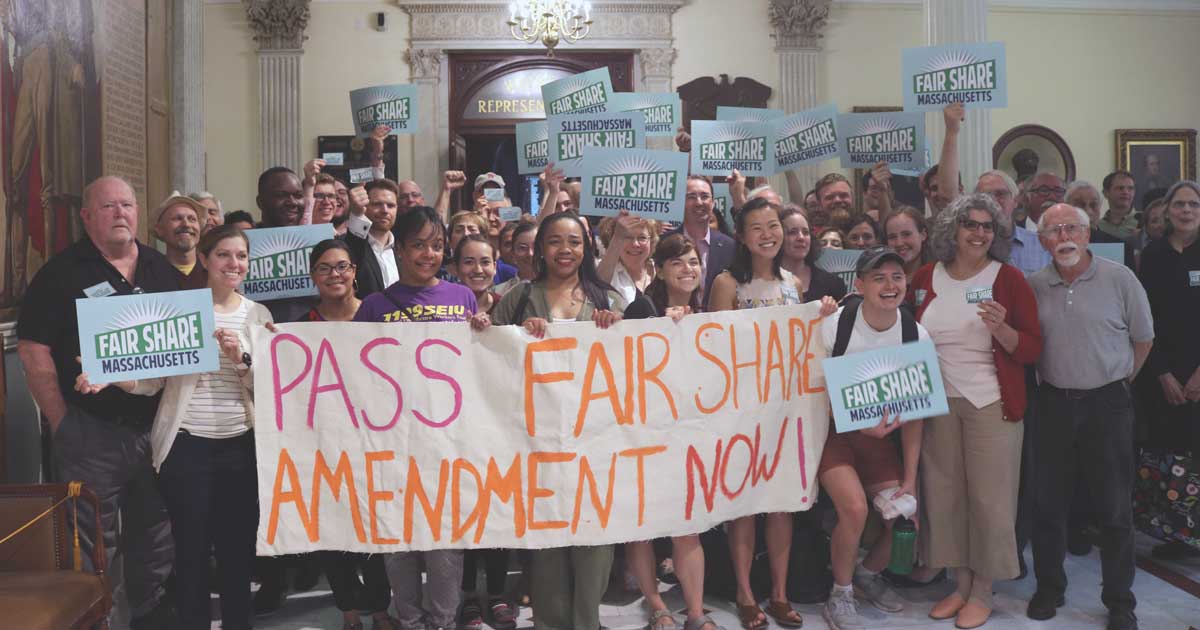 Amendment would generate $2 billion in new revenue for public education, transportation
Legislators gave overwhelming initial approval today to a proposed constitutional amendment that would place an additional tax on incomes over $1 million in order to provide funding for public education and transportation.
House and Senate members, in the first of two constitutional conventions, voted 147 to 48 to endorse the Fair Share Amendment. A second constitutional convention comprising both chambers must again approve the amendment in the next legislative session before it can be placed on the 2022 ballot.
Senator Jason Lewis (D-Winchester) and Representative James O'Day (D-West Boylston) are lead sponsors of the bill, which would amend the state Constitution to allow for the 4 percent tax on annual income above $1 million.
The Raise Up Massachusetts coalition collected more than 150,000 signatures in support of the Fair Share Amendment ballot question that was approved at constitutional conventions in 2016 and 2017, but the state Supreme Judicial Court disqualified it based on the "relatedness" requirement in the Constitution — that is, that all matters in the petition be "related or mutually dependent."
The present bill filed in January, a legislative amendment, is not subject to the relatedness requirement.
The Fair Share Amendment will provide Massachusetts with approximately $2 billion more each year to fund public education and transportation.
"The fight for education funding is the MTA's top priority," said MTA President Merrie Najimy. "Today, the Raise Up coalition made an important step toward passage of the Fair Share Amendment, which can ensure that students across the state are attending public schools and colleges that are sufficiently and equitably funded.
"With its emphasis on education and transportation," she continued, the Fair Share Amendment is about promoting the common good and making sure that a high quality of life is accessible to everyone in Massachusetts."
Before the vote, O'Day lamented the crumbling and clogged transportation infrastructure that makes it difficult for some residents to take advantage of good employment opportunities.
Lewis cited the gross underfunding of public schools and high levels of debt that students face when graduating from public colleges. Those issues are among the reasons why the Fair Share Amendment is needed, he said. "We have many unmet needs that this amendment will address."