Retirees ready to share expertise
Scott McLennan, Communications Specialist

---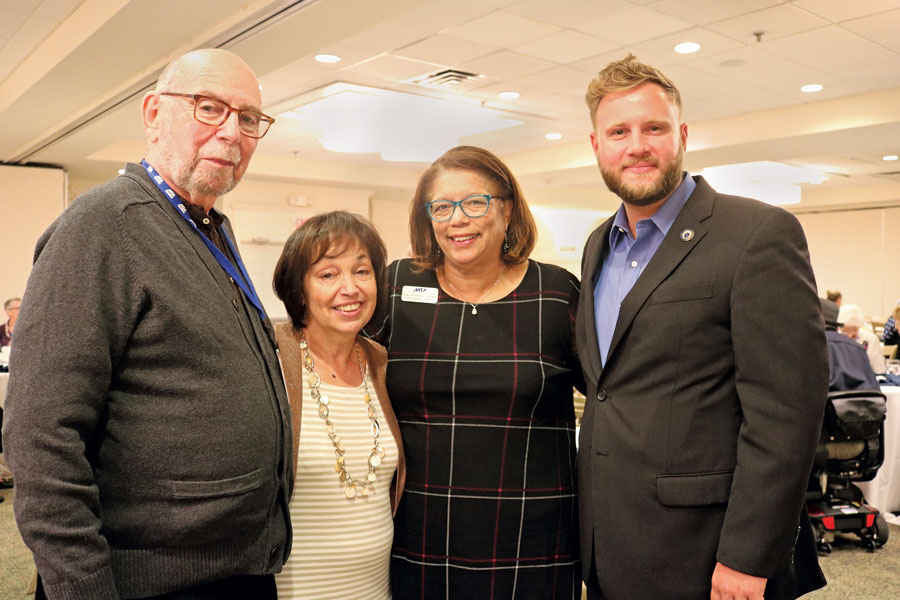 The 2018 MTA Retired Gathering included calls to action on many issues, including fighting for greater education funding, engaging in the November election and serving as a vital link to support union solidarity amid increased attacks on organized labor.
Retired educators from across the state who attended the annual conference responded overwhelmingly, filling out so many All In union commitment cards that Jacqueline Gorrie, chair of the MTA Retired Members Committee, looked like she was hoisting a brick when she showed off the stack of pledges.
"We are ready to share our expertise and experience," Gorrie said at the dinner on the first night of the gathering, which took place Sept. 24 and 25 at the Sea Crest Beach Hotel in Falmouth.
Participants were also ready to celebrate and learn.
The event's opening dinner served as the occasion to present Dr. Charles Levenstein with the 2018 Honor Our Own award. Levenstein, a professor emeritus at UMass Lowell, combined research and social justice to forge a career of activism aimed at making schools and other workplaces safe and healthy.
Levenstein, who was nominated for the award by fellow UMass Lowell professor emeritus Craig Slatin, is considered a pioneer in the worker safety and environmental movements. He oversaw the state's Work Environment Justice Fund when it was established in 1994, and he helped assist more than 50 communities with projects supported by the fund.
Levenstein opened his acceptance speech by noting that the union job held by his father allowed him to attend college. He went on to criticize the state's failure to fully fund public education.
"When you talk about the shortfalls in the foundation budget, you're not even talking about building costs related to health and safety."

Dr. Charles Levenstein
The shortfalls in school funding hit home when MTA Executive Director-Treasurer Ann Clarke handed out oversized "checks," made out in the amount that each public school district would receive in additional funding once the foundation budget formula is finally fixed to reflect the true cost of educating students. She welcomed the retirees' activism in the MTA's Fund Our Future campaign, which is aimed at getting the state Legislature to make proper and ongoing investments in public education funding, from prekindergarten through college.
State Senator Julian Cyr (D-Truro), who represents the Cape and Islands District, delivered the evening's keynote address. In introducing him, Retired Members Committee member Julia Monteiro Johnson noted that Cyr was just 16 years old when he took on a student leadership role in a Proposition 2½ override campaign to win increased school funding for Nauset.
Cyr elaborated, explaining that he joined the fight because budget cuts were going to hit the choir program in which he was active in high school, and the job of the choir teacher was going to be cut.
"I got into this work because of a teacher," said Cyr, who held various positions in the field of public health before winning his Senate seat in 2016.
Cyr called the Supreme Judicial Court's decision in June to block the Fair Share Amendment question from the November ballot a "wrenching disappointment," but he vowed to stay in the fight for increased funding for public education.
Former MTA President Anne Wass, a member of the Retired Members Committee, added to the discussion by explaining the MTA's support for Ballot Question 3, which keeps legal protections in Massachusetts in place for those who identify as transgender, and Ballot Question 1, aimed at ensuring safe staffing levels for nurses working in hospitals.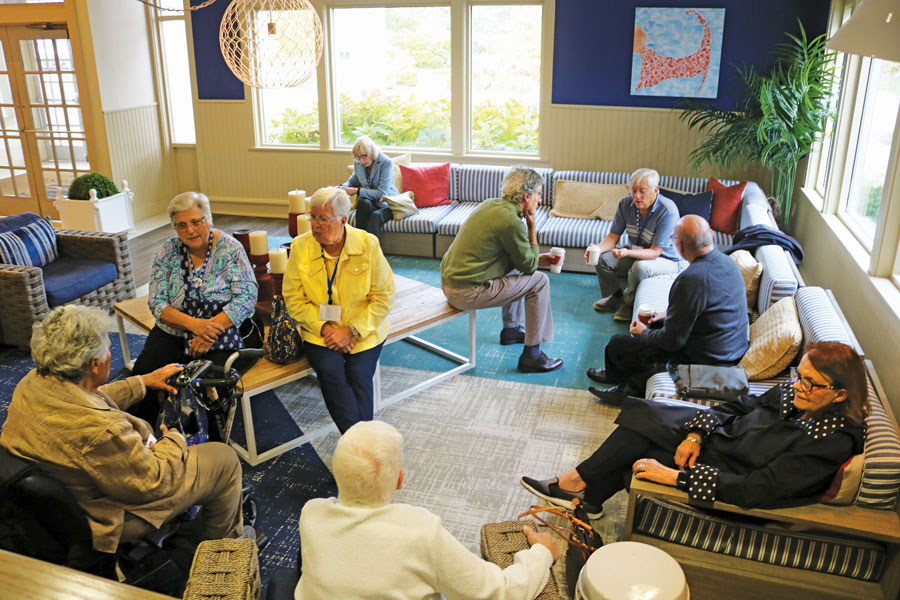 Both days of the gathering featured a wide assortment of workshops covering topics ranging from financial planning to popular works of art. Giveaways of prizes supplied by MTA Benefits also enlivened the event
The retirees themselves gave generously in the form of donations collected for the Wareham Public Schools.
Tables were piled high with pencil sharpeners, markers, notebooks, boxes of tissues, rolls of paper towels and other classroom supplies that the retirees brought with them to the gathering.
Wareham Education Association President Deanna Semple was both overwhelmed by and thankful for the donations.
"Your passion, your love for your students and your professionalism built the schools."

MTA President Merrie Najimy
It is not surprising, however, to see MTA retirees still making important contributions to public education and students.
"You built these public schools. Thank you for the schools I inherited from you," MTA President Merrie Najimy told the crowd on Sept. 25. "Your passion, your love for your students and your professionalism built the schools."
Attacks on unions continue on many levels, she noted. For example, before arriving at the gathering, Najimy and MTA Vice President Max Page met for coffee and doughnuts with Everett Teachers Association members outside the Parlin School — and the group of educators was told to disperse by Everett police. The police had been called by school administrators.
Najimy further detailed ongoing attempts by wealthy, conservative organizations to privatize public education and weaken unions.
"We need you to be part of the movement," Najimy said. "You have the ability to tell people what schools were like when you were teaching and how that is different from what schools are like now. You can say without fear of retaliation what public education can be again."
This story appeared in the Fall 2018 edition of MTA Today.