ESPs focus on empowerment, solidarity
---
Empowerment and union solidarity were the watchwords of the 2018 MTA Education Support Professionals Conference.
ESPs from across the state gathered April 6 and 7 at the Sea Crest Beach Hotel in Falmouth for the annual event, now in its 19th year. The conference featured opportunities for learning, union-building and camaraderie, along with speeches and other highlights.
Workshops such as "Legal Rights of ESPs," "Best Contract Language," "All In/BRAG: Is Your Association Ready for Voluntary Membership?" and "Grievances 101" addressed the growing demand for organizing and leadership skills.
Others — including "Helping Traumatized Children Learn, Succeed and Avoid Substance Abuse" and "Survival Skills for Superheroes: Understanding and Intervening with All Students" — focused on enhancing ESPs' effectiveness in the classroom.
At dinner on Friday evening, the more than 300 conference participants honored the 2018 MTA ESP of the Year, Kathleen Meltsakos, an instructional assistant at Andover High School.
In the past, the identity of the ESP of the Year honoree was a closely guarded secret until the award was announced during the ESP Conference. But this year the ESP Committee decided to do things a bit differently, surprising Meltsakos with the award at her school on Feb. 28 during a ceremony at which she was surrounded by students and community members.
At the conference, before Meltsakos was honored for a second time, ESP Committee Chair Leslie Marsland hit upon a key issue on the minds of many participants as she welcomed the crowd. "I'm sticking with the union," Marsland said. "Are you?"
That became a common refrain throughout the event.
As a decision nears in the Janus v. AFSCME U.S. Supreme Court case, Marsland said, organized labor continues to come under assault "by people with too much money and way too much time on their hands who have nothing better to do than attack public education and bust our unions."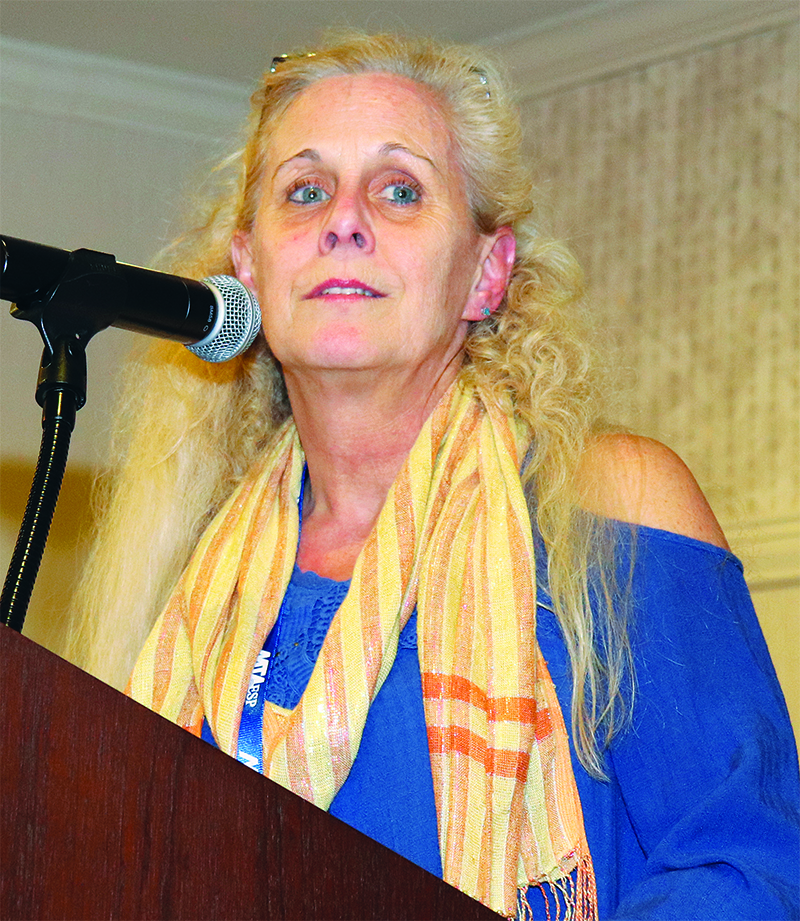 She added that while most believe the Janus case will be decided against unions, "likely making public employees right-to-work-for-less employees," she believes collective action will prevail. "I feel we can still rise victorious by sticking with our unions," she said.
She asked all participants to go back to their local associations after the conference and talk to at least two co-workers, including agency fee payers. "I want you to talk about the value of being an active and empowered union member," Marsland said.
MTA President Barbara Madeloni picked up on Marsland's remarks, adding that while waiting for the Janus decision "can lead us to significant anxiety about how our union is going to survive, in a crazy, contradictory way it's also breathtaking" to see the solidarity of striking educators around the country standing up and using their power.
"If you look at the faces of those educators, they look so joyful and happy," Madeloni said. "It's an amazing time to be a unionist." Madeloni also urged members to join other activists in the coming months in fighting for a $15 minimum wage, the Fair Share Amendment, and paid family and medical leave.
As he addressed the participants, MTA Vice President Erik J. Champy began with a bit of MTA history. Champy said, "In 1845, a group of 85 Massachusetts educators met at Brinley Hall in Worcester to ensure that we would have an association that promotes public education and commits to all the principles we still hold dear today."
Champy emphasized the importance of ESPs to our students, schools and communities and the MTA, and he expressed the need for ESPs to earn better pay and benefits for the work they do.
Meltsakos was introduced by Nancy Burke, the 2017 MTA ESP of the Year, who lauded Meltsakos' "energetic spirit" as well as her commitment to her local, the Andover Education Association, and her special needs students.
"Keep telling your stories. Keep doing what you're doing — and someday we will be paid what we deserve."

MTA ESP of the Year Kathleen Meltsakos
Meltsakos acknowledged the crowd's enthusiastic applause, saying her career as an educator began 18 years ago when she was working as a family day care provider. As she dropped a few of the children off at school one day, Meltsakos said, the principal told her, "You'd be perfect in our behavior room."
"That started my career," Meltsakos continued, acknowledging the physical, financial and emotional challenges of the job. Despite the obstacles, she said, "We go back every day because we love our students, and every person in this room is here because they love what they do."

In addition to deep involvement in her union at the local, state and national levels, Meltsakos is active on the political front in her town. "Though I don't really like politics," she said, "I know how important it is to all of us as educators.
"Don't be afraid to speak up to your School Committee and everybody else," she told the crowd. "Keep telling your stories. Keep doing what you're doing — and someday we will be paid what we deserve."
During meals throughout the conference, prizes sponsored by MTA Benefits were awarded. The giveaways are a popular feature of the conference, and this year 25 members received prizes from MTAB that included Fitbits, Kindles, tablets and other items.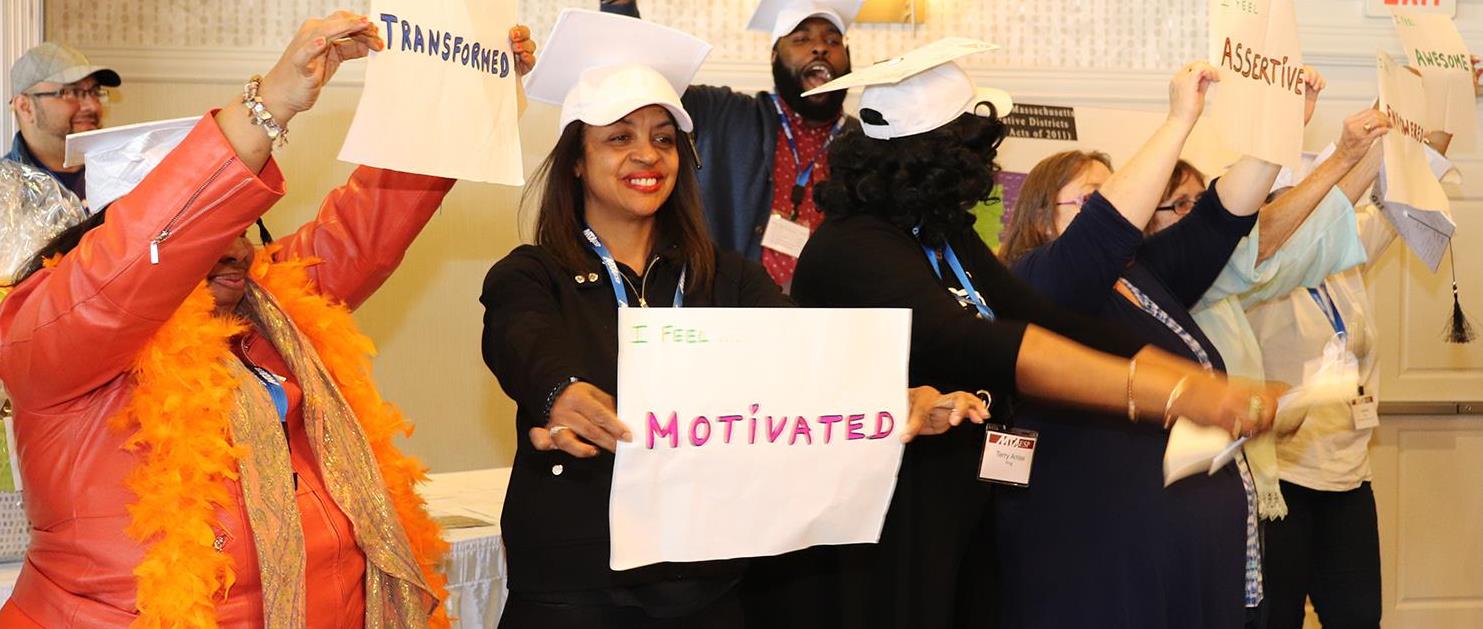 Before the conference wrapped up on Saturday afternoon, participants honored graduates of the inaugural MTA ESP leadership program, which is modeled on the National Education Association's Leaders for Tomorrow program.
"Let me take you back to a cold night in January — January 19 to be exact," said paraeducator Janice McKeown, one of the graduates.
"It was still getting dark before 5. We were tired after a long week, and some of us were wondering, 'What am I doing? What did I sign myself up for now?' We have families. Second or third jobs. Outside commitments. Lives! And yet we all took a chance that this three-weekend leadership program would make us stronger as individuals and within our union."
McKeown continued, "We came from five different districts. We come from diverse backgrounds. Some of us are career-changers relatively new to education, while some are veteran educators. Some of us are well known in our unions and some of us are just getting started. Most of us were strangers on that night we met. But now we are friends. And we hold ourselves accountable to be the best that we can be."
The group of 12 graduates included Burke and Susan Markievitz, both of the Haverhill Education Association; Tina Gaffney, Shannon Smith, Yahaira Rodriguez and Elsa Trinidad of the Educational Association of Worcester; Roylene Hunte, Wendy MacMillan and McKeown of the Brookline Educators Union; Lisa Irvine of the Waltham Educators Association; and Terry Anise King and Valerie Price of the Classified Staff Union at UMass Boston.