Andover instructional assistant named 2018 MTA ESP of the Year
---
Colleagues, other community members and students were on hand today in the auditorium of Andover High School to celebrate Kathleen Meltsakos — a longtime special education instructional assistant who has been named the 2018 MTA Education Support Professional of the Year.
Meltsakos, who works at the high school, was presented with a huge bouquet of flowers and balloons to mark the occasion. The announcement was a surprise for Meltsakos, who said she was "overwhelmed" by the honor.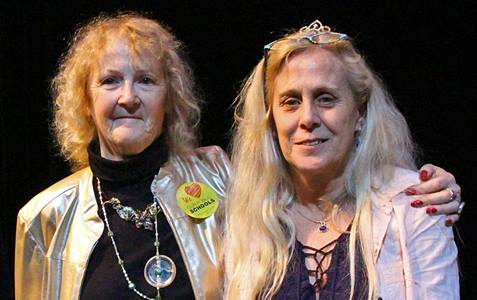 Meltsakos said it was "great" to have many of her students present, but added: "I prefer being in the background to being in the limelight."
She said that years ago, when she was working in child care, a school principal noticed how Meltsakos communicated effectively with children and suggested that she take a job working with special education students. "She said, 'You'd be perfect for this,'" Meltsakos said. "That started it."
Meltsakos has worked in public education for close to two decades and in the Andover Public Schools since 2011.
Kerry Costello, president of the Andover Education Association and a psychologist at the high school, presented the award.
Costello said one teacher sent her an e-mail recently when she learned that Meltsakos would be honored. The teacher wrote that "having Kathy in my class with me and my students is a gift. We work together. I feel so lucky to have her in the class — and the kids love her."
Costello also pointed to Meltsakos' commitment to union activism — in her local association, the MTA and the National Education Association — and to the tremendous energy and passion that she brings to whatever she is involved in.
In 2013, Meltsakos was elected secretary of her local association. When teachers were bargaining a new contract that year, Meltsakos stepped up to hold signs, write postcards and attend School Committee meetings on their behalf. Meltsakos is now serving a third term as second vice president of the AEA.
Meltsakos served for five years as a member of the MTA Executive Committee, two years on the MTA Board of Directors and six years on the MTA ESP Committee, as well as on the MTA Benefits Board of Directors and the Campaigns and Elections Policy Review Task Force.
Meltsakos has been a delegate to all MTA Annual Meetings and NEA Representative Assemblies since 2011. She is currently the Northeast Regional Director for the NEA National Council for ESPs.
Testaments to Meltsakos' tenacity and commitment were voiced by many at today's assembly.
MTA President Barbara Madeloni pointed out that while "Ms. M" is known around the school as a leader, she is not only a leader there; she is also a leader in the union. "That's a big part of why she is getting this award today," Madeloni said.
"The other part," Madeloni added, "is what she brings to her students every day in the classroom. She builds relationships with you. She comes to know you and work with you. And this award shows how deeply committed she is to each of you and to the schools of Andover."
MTA Vice President Erik J. Champy highlighted Meltsakos' energy and passion for public education and her years of deep involvement in the MTA. Her commitment to "really wanting to make a difference within our association is second to none," he said.
Champy added that Meltsakos "never loses sight of what's most important," and he recounted that his respect only grew when he learned that Meltsakos had turned down a personal opportunity because she had made a commitment to attend the school prom with a student.
School Superintendent Sheldon Berman called Meltsakos "a terrific problem-solver."
"She cares deeply about people, and she wants the system to be the best it can be," he said.
Andover High School Principal Philip Conrad said Meltsakos is "the kind of person who just jumps in."
"No matter whatever kind of job needs to be done, she's there to do it," he said. "She is always in motion. She always has a smile on her face, and she's always thinking about what's best for the kids."
The identity of the ESP of the Year honoree is usually a closely guarded secret until the award is announced during the annual MTA ESP Conference in the spring.
But this year, said ESP Committee Chair Leslie Marsland, the committee decided to do things a bit differently.
"Two of our committee members, who themselves are winners of the ESP award, suggested surprising Kathleen when she was among her peers and her students," she said. "We wanted to showcase ESPs and all the work they do and bring the award out into the community."
Learn more and register for the upcoming 2018 ESP Conference, which will be held April 6 and 7.
Register