2017 EMAC Conference: 'Getting Real About Race'
---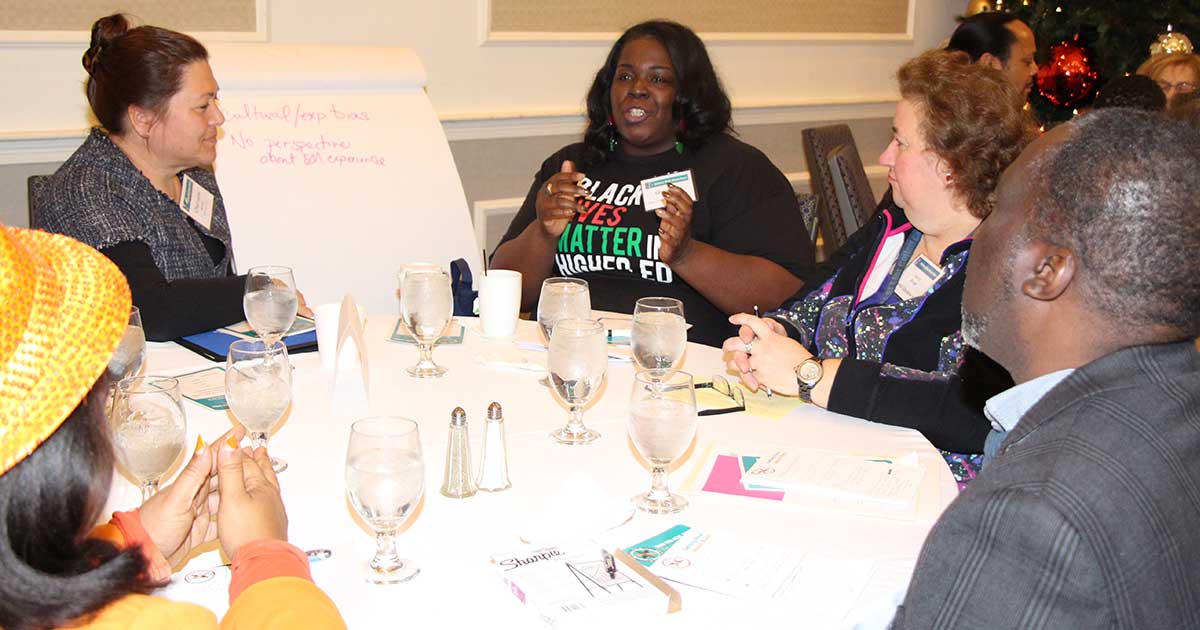 Building relationships of trust, breaking through fear in order to bring about change and actively resisting attempts to turn back the clock on immigrants' rights were themes that ran through the 2017 Ethnic Minority Affairs Committee Conference.
The two-day event, titled "Getting Real About Race," was held Dec. 1 and 2 in Framingham. It featured speeches, discussion and workshops on helping students and their families cope during a time of open racism and hostility toward ethnic minorities and other groups.
EMAC Chair Yan Yii opened the conference with a charge to stand up to racism.
"Being silent just isn't an option anymore, so I implore each and every one of you here to get involved, get talking and get woke," she said.
Yii told the crowd that workshops and discussion topics were chosen by the committee to "help us all get real about race, diversity and public education."
"We hope that this will inspire you to bring these conversations back to your communities," she added.
As MTA President Barbara Madeloni welcomed participants during a dinner on Friday night, she recalled that during the 2016 EMAC Conference, many in attendance were in a state of shock about the recent national election. One year later, she said, many of the fears expressed have come true.
"We are in a dangerous moment — a moment in which the racism and violence that people of color in this country have experienced for hundreds of years are now not only out there for all of us to see every day, but are being promoted and fed by our president," Madeloni said.
She congratulated the committee, the presenters and participants for being willing to speak bluntly about racial issues.
"Use the time this weekend to ready yourself for the work we need to do — and to build relationships of trust that are going to carry us through these hard times," she urged the crowd.
The six workshops at the conference and a world café discussion centered on matters of equity and racial and social justice. And the entertainment on Friday night — a performance by students from the Boston-based cultural arts center OrigiNation — fit the theme of empowering people during difficult times.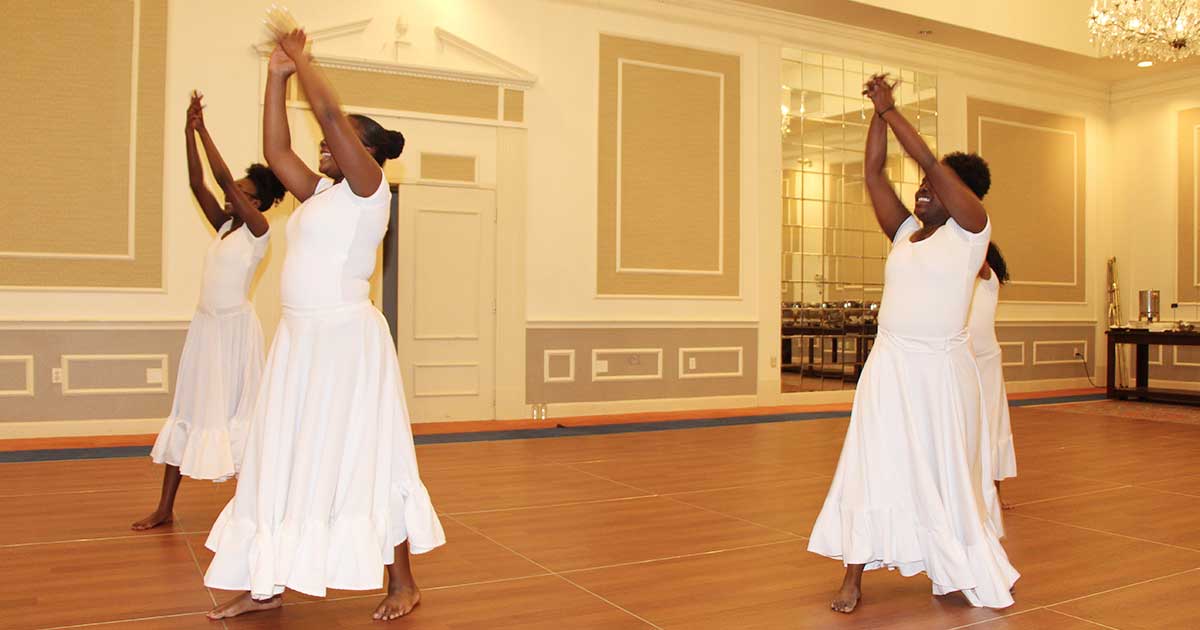 Noting that this year's conference marked EMAC's 38th year, MTA Vice President Erik J. Champy recalled the names of many of the ethnic minority pioneers in the association, including longtime activist Louise Gaskins, who was in attendance.
"I believe that our commitment to ethnic minority affairs is commendable," Champy said.
But challenges persist, he noted. "We still have so much more work to do: increasing resources, improving curricula to build greater understanding of ethnic minority history and issues, and organizing and identifying ethnic minority members for leadership positions within the MTA," Champy said.
"I am confident that we will embrace these efforts and the many incredible individuals who make our community so rich," he added.
Rocío Inclán, director of the National Education Association's Center for Social Justice, presented one of two keynote addresses.
As a child, Inclán would get up at 3 a.m. and wait for more than two hours each day with her mother and siblings to cross the border from Mexico so the children could attend school in Arizona. Inclán  said the hard work her family did to make a life in the United States was built on her mother's dream of providing all of her children with a great public education.
Inclán's own dream was to "lift up others" by becoming an educator. She also saw teaching as a way to right some of the wrongs she had experienced at a time when immigrant students were routinely told to speak only English in school.
She said her childhood prepared her for "especially hard" political times.
"We didn't create these times," she told the audience. "We didn't create a time when racism is the champion in many places. But we are the solution. We educators — education support professionals, teachers, counselors — together we are here because we are needed. We are the resistance."
Inclán urged her fellow educators to take care of themselves and be ready for a long fight. "Every day, we are tasked with building up our courage muscle," she said. "It matters to our students. It matters to our communities."
She also asked for educators' assistance in the fight to pass the DREAM Act. "Every day, 122 kids are losing their DACA status," she said, referring to the Deferred Action for Childhood Arrivals program.
"Call, send postcards to senators," she urged her listeners. "If enough people do this, I believe that we will win."
Her message was reiterated on Saturday by Kent Wong, who offered the second keynote address. Wong has been the director of the UCLA Labor Center for the past 25 years. He is a longtime labor leader and an author.
"When we wake up every day amid the barrage of hate speech," he said, "this is the time we need to appreciate the power of ourselves, resistance, and the necessity of gathering at conferences like this one — to plan our work to build the resistance and to advance the broader fight for social and economic justice."
"This is the time we need to appreciate the power of ourselves, resistance, and the necessity of gathering at conferences like this one — to plan our work to build the resistance and to advance the broader fight for social and economic justice."

Kent Wong, director of UCLA Labor Center
Wong got his start in the labor movement as a boycott organizer for the United Farm Workers of America under Cesar Chavez.
"I saw firsthand how this movement of poor undocumented immigrant workers in the fields of California captured the warmth and enthusiasm of millions of people throughout this country," Wong said. "And to this day, millions of people think about it every time they see table grapes."
He said that a centerpiece of President Donald Trump's agenda has been bashing immigrants. "So it is no accident that we are witnessing a huge attack on the rights of immigrants as we speak, and in particular the rights of immigrant students," Wong said. "As educators, we represent the first line of defense. We need to tell our immigrant students that they are not alone in this."
He said the hard part for educators and students is often "breaking through the fear." But "that's what finally happened with the farm workers," he continued. "That's what happened during the civil rights era, and that same trajectory is happening as we speak with immigrant youth, who are now proclaiming that they are undocumented and unafraid. This is a sign of resistance, a sign of courage and a sign that they have been able to break through the fear."
He offered personal stories — some harrowing, some powerfully uplifting — about young immigrants who have stepped up to become heroes of the movement. Educators and "everyone with a conscience" must stand with them, he concluded. "We must stand with students and their families to make sure all can live with dignity and justice — and without fear."