.

The MTA Ethnic Minority Affairs Committee Conference offers participants the opportunity to engage in discussions about racism, ethnic and racial identity, and economic and social justice. The conference uses workshops, presentations and entertainment to inspire participants to work on ideas for action back in their locals, classrooms and communities.
Friday Evening Keynote Speaker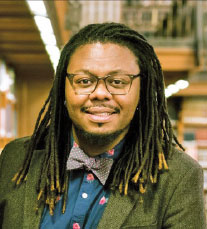 Durryle Brooks, Ph.D., is an interdisciplinary scholar, social justice practitioner and the founder of Love and Justice Consulting, an organization that provides leaders with diversity and social justice learning opportunities. His current research on contemporary discourses of love has informed his approach to pedagogy, social change and liberation. His work centers on dismantling systems of oppression through examining the everyday ways that power, privilege and oppression work together to limit our human capacity for greatness. For more information about Dr. Brooks, please visit durryle.com.
Saturday Workshops
Durryle Brooks
Love and Social Justice
Jarib Rahman and Ashlan Ahmed
How Educators & Allies Can Fight Back Against Surveillance of Muslim Students
Candace Shivers
Dismantling the Workplace Hierarchy in the Higher Ed Workplace
MTA Task Force on Race
How to Be an Ally in the Fight for Racial Justice
Claudia Foxtree
Decolonizing Our Minds: Expanding the Dominant Narrative to Include First Nations (Native Americans)
Tom Chang
Education Equity and Racial Justice Book Club Discussions
2018
2017
2016
2015
2014
2013
2012