Retired Gathering focuses on contributions to public education
---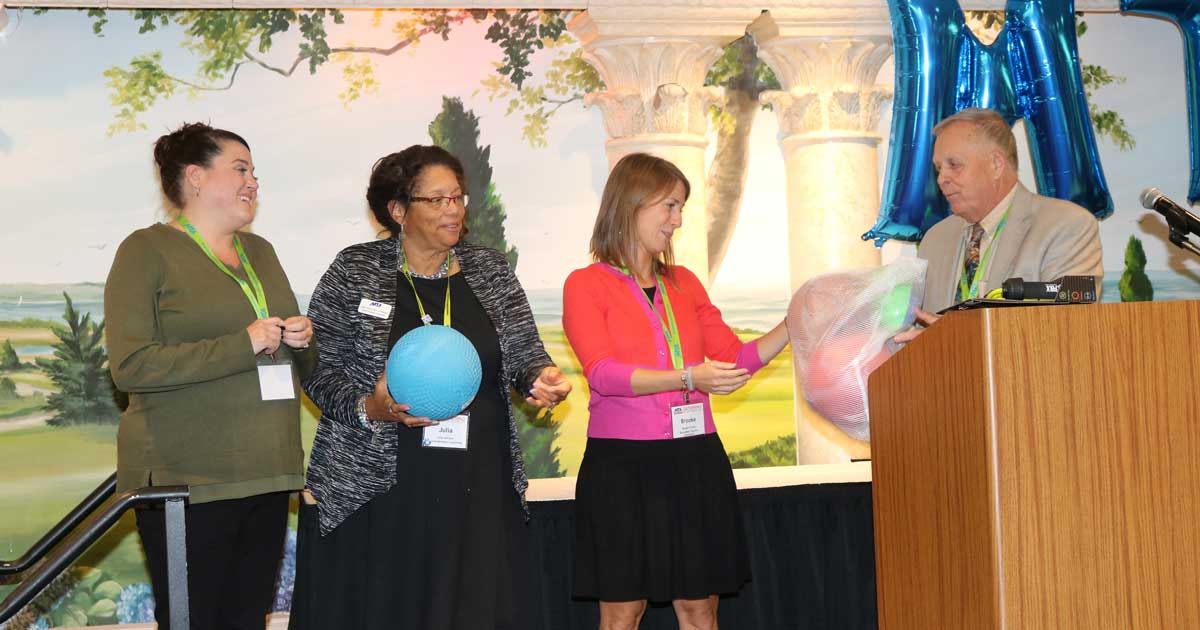 Although most of them are no longer in the classroom, the MTA's retired members are still having a significant impact on public education, as they showed this week when they attended a conference in Hyannis.
Now in its 16th year and expanded to a two-day format, the MTA Retired Gathering was held at the Cape Codder Resort on Oct. 17 and 18.
The event, organized by the MTA Retired Members Committee, offered those who attended numerous workshops and opportunities to socialize. The conference also demonstrated the many ways in which retirees are still contributing to public schools, colleges and universities.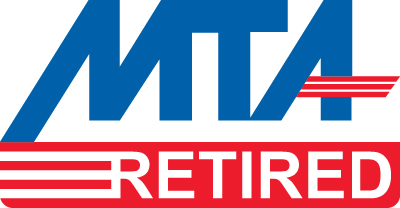 A call had gone out in advance asking MTA Retired members to bring items such as soccer balls and jump-ropes to be donated to the Barnstable United Elementary School. As is the tradition at each gathering, a school or district is selected to receive items that the educators there say will benefit their students.
The Barnstable Teachers' Association wanted to emphasize the value of recess by making sure that students have equipment for games and activities. The retirees responded with an assortment of basketballs, soccer balls and kick balls (more than 60 in all), duffle bags to store the equipment and about a dozen jump-ropes, as well as classroom supplies and monetary donations.
Honoring Springfield retirees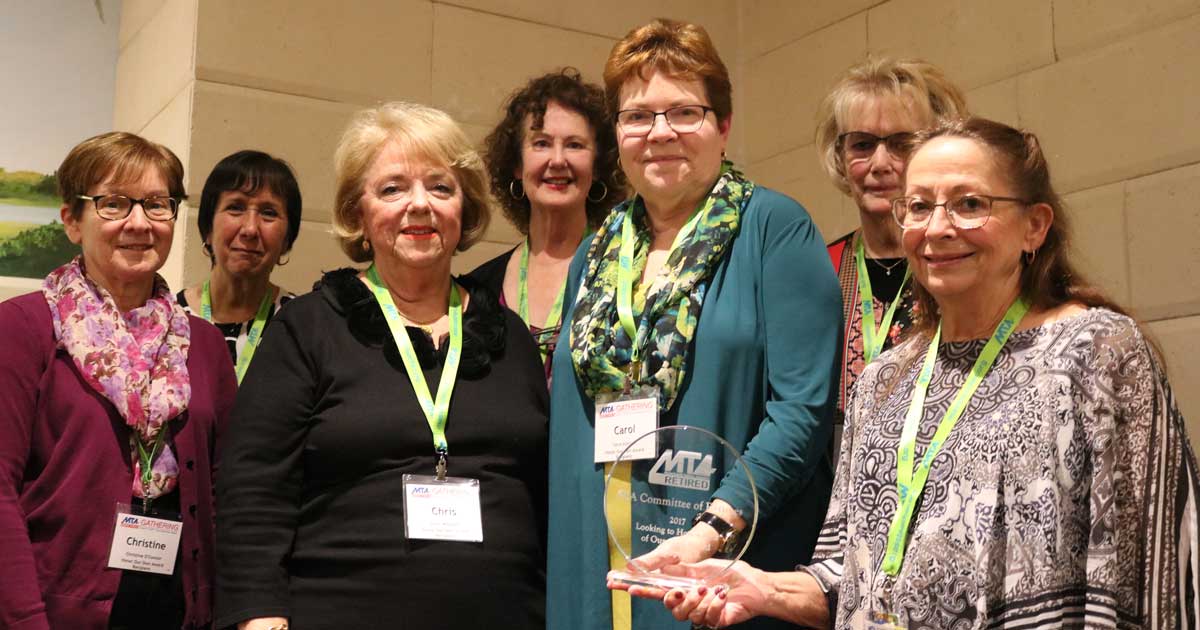 Another important annual tradition is the Honor Our Own award, which recognizes outstanding work by an active or retired MTA educator. This year the award went to the members of the Springfield Education Association's Committee of Retirees in recognition of their successful Tools 4 Teaching program.
The committee started Tools 4 Teaching in 2013 to collect materials from educators who were retiring or changing grade levels and getting them — at no cost — into the hands of colleagues who could use them.
The committee has expanded Tools 4 Teaching to the point where it leases space in a municipal building to house books, furnishings and many other useful classroom items.
SEA educators can visit the "recycling store" to pick up items when it opens twice a month. The committee also actively solicits donations such as pens, notepads and binders from private businesses and other sources to keep them from ending up in the trash.
"We wanted to help teachers, help students and help our planet," said SEA retiree Chris Williams. The goal now, she said, is to see Tools 4 Teaching replicated in other districts.
Those recognized with the award were Nancy Meyer, Sue Fielding, Dawna Jenne, Carol Alminas, Chris O'Connor, Ronnie Tillman, Norma Alejandro, Jean Haley, Gail Healey, Linda Kingston, Mary Scherpa, Pat Sullivan and Williams.
Remember to ask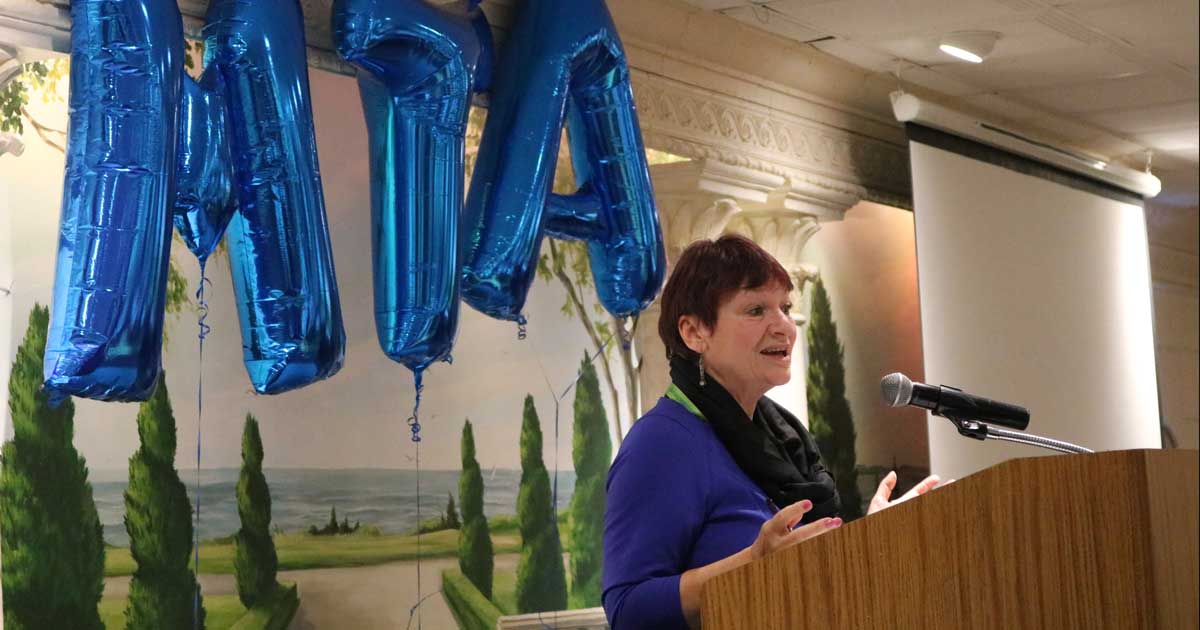 Christine Blower, a leader in Britain's recently constituted National Education Union, offered a keynote address that touched upon the valuable role of public education in a healthy society and the challenges facing trade unionists.
The NEU was formed from the merger of two large teachers' unions, and Blower stressed the value of solidarity in accomplishing goals. "Ask not what your union can do for you, but what you can do for your union," she said, borrowing from President John F. Kennedy's famous quote.
Her comments also touched upon the MTA's All In campaign. Blower said that membership in Britain's trade unions has been completely voluntary since the era of Prime Minister Margaret Thatcher. One of the main guides her members use to ensure robust and active membership is titled "No One Ever Asked Me."
"When we talk to teachers who do not belong to the union and we ask why, the most common answer is, 'No one ever asked me,'" Blower said.
In emphasizing the importance of fighting for well-funded public schools and respect for educators, Blower stated: "Education is a human right, a civil right and a public good."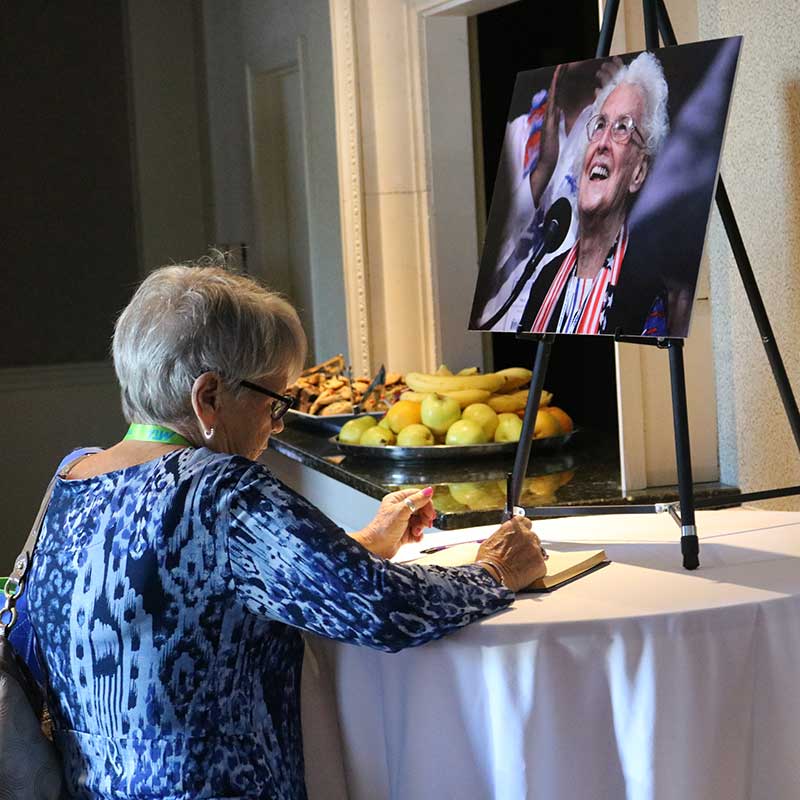 We need your knowledge
Richard Liston, chair of the Retired Members Committee, thanked conference attendees for their continued activism throughout the years, saying that many retired members are as active now in union initiatives as they were when they were in the classroom. He noted retirees' continuing commitment to assisting new educators, giving a nod to a mentoring program between MTA retirees and student members.
"Massachusetts' public schools are the best in the country because we did a great job," Liston said, adding that retirees continue to support new and future educators. "Their success will be our success."
Liston also expressed the sorrow of many in the room for the death of Kathleen Roberts, his longtime co-chair on the committee. Roberts, a past MTA president and active unionist for more than 70 years, died in September at the age of 103. Many at the gathering signed a condolence book that will be given to Roberts' family, and an MTA documentary, "Kind Kay," was shown.
MTA leaders also addressed the gathering, acknowledging all that the retirees have done to build their union.
This is a crucial time to share wisdom with current members as the labor movement comes under attack, said MTA President Barbara Madeloni.
"As elders of the education and labor movements, you have experiences others do not have, and we need that knowledge," Madeloni said.
She drew a comparison between the victory at the ballot box last fall that kept the cap on charter schools and the role that the MTA and other unions played in preserving prevailing-wage laws 30 years ago.
"It's not about getting one win and then it's over. It's a way to live," she said.
MTA Vice President Erik J. Champy told the retirees that they "set the tone for what it means to be brothers and sisters in an association."
"You have shown us the value of standing shoulder to shoulder to fight for the issues important to our students, our colleagues and our communities," he added.