Union News: Educators share their experiences at the Thrive Act hearing
---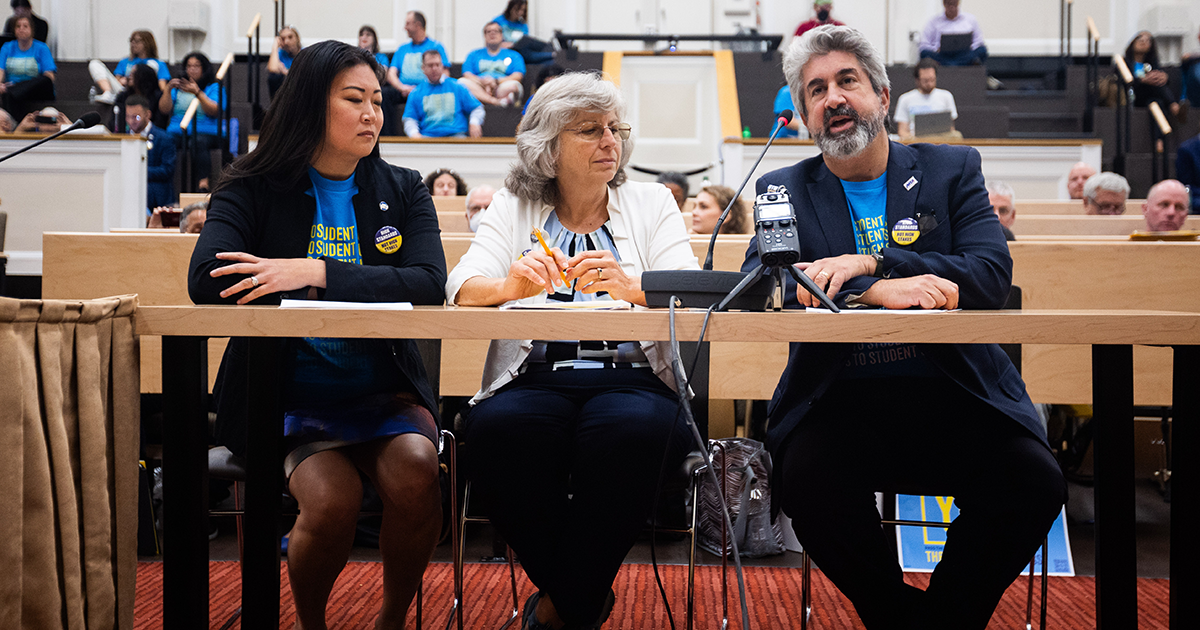 Greetings,
Hundreds of members, students and parents attended and testified at our State House hearing on the Thrive Act, to end the high-stakes testing regime. Their testimonies were truly incredible, and at times heartbreaking – parents whose children with disabilities could not graduate with a diploma; educators who were forced to focus on test prep rather than the curriculum; students deprived of a full education because of the overemphasis on high-stakes tests.
Take a few minutes to read highlights from the hearing.
And it is not too late to take action to win passage of the Thrive Act, and to help collect signatures for our MCAS initiative, which will be on the statewide ballot in November 2024. Can you commit to gathering just 10 signatures from colleagues, friends and family in your town? We only have a month left to gather 100,000 signatures. We are well on our way, but need everyone's help to assure success.
MTA Events and Solidarity Actions
Support UAW Workers on Strike in Mansfield
Fighting for fair wages for the lowest paid. Fighting for fair pensions and benefits. Fighting to reclaim billions of dollars given back in tough times. Fighting against continued use of non-union labor, a race to the bottom. Do these sound familiar?
The United Auto Workers is leading a generational strike, not only on behalf of its own members, but for the entire working class. The UAW is demanding its share of the enormous wealth that members have produced, and which the Big Three auto manufacturers are either hoarding or giving out in multimillion-dollar salaries to executives.
Please keep an eye out of upcoming events from local UAW workers, even for just 15 minutes, including at their picket line in Mansfield. They are there 24/7. If you need further inspiration, listen to UAW President Shawn Fain deliver his latest, brilliant explanation of the meaning of this strike for everyone (minus the billionaires).
Student Debt: Confronting Our Crisis Event
Join Max Page, U.S. Representative Ayanna Pressley and state Representative Natalie Higgins for a panel discussion, "Student Debt: Confronting Our Crisis," on Tuesday, Oct. 10. The event begins at 6 p.m. in Room 425 at Suffolk University Law School, 120 Tremont St., Boston.
National Coming Out Day
Oct. 11, 2023 is the 35th anniversary of National Coming Out Day, a day to celebrate LGBTQ+ people who are living their lives openly and support those working to come out.
It is also an opportunity to reflect on what it means to be openly LGBTQ+ and how our understanding and expectations of coming out have changed over the years. Check out these resources:
MTA Fall Regional Member and Presidents' Meetings
Please join us for a regional membership and presidents' meeting at a regional office most convenient for you. This is a chance to speak to us about the issues affecting you in your workplaces. This will also be an opportunity to hear about the statewide campaigns now underway, including the Cherish Act and Thrive Act campaigns.
We invite members to join us for dinner and discussion from 4:30 to 6 p.m., and then we'll have a Presidents' Hour from 6 to 7 p.m.
Please register for one or more of the meetings
.
MTA Prek-12 Bargaining Summit
Saturday, Oct. 21, 8:30 a.m., registration and breakfast, 9:30 a.m. to 3:30 p.m. Over the past few years, MTA members have achieved significant settlements, worked through some of the most challenging years in education, and won millions in new funding for our schools. The 2023 MTA Prek-12 Bargaining Summit will help bargaining teams by planning where to go next at the bargaining table and in our communities. Please register here. We invite members to join us for dinner and discussion from 4:30 to 6 p.m., and then we'll have a Presidents' Hour from 6 to 7 p.m. Register and learn more.
MTA Higher Ed Conference 2023: Reconnect, Celebrate, Organize!
Saturday, Oct. 21, 8:30 a.m., registration and breakfast, 10 a.m. - 4 p.m. Join us for our Higher Ed Conference! Catch up with higher ed leaders from across the state, celebrate achievements over the past year, and get organized for the year to come. Learn more and register.
Disability Insurance
Important deadline! This year, all new members are eligible to enroll in disability insurance for up to 60 days after their hire date. Disability insurance insures your paycheck by replacing a portion of your salary when you're out of work due to an illness or injury. Short-term disability can fill the income gap when you can't work, which is particularly valuable to new members who have few sick days. Short-term disability will also provide maternity benefits, but if you think you'll need maternity coverage, don't wait until you know you need it. By then, it's too late. Watch this video to learn about the importance of disability insurance. New members can get coverage now or wait until April 2024 for a last opportunity to enroll. Materials are available in English, Spanish and Portuguese. Learn more today.
Student Loan Debt Forgiveness and Repayment Webinars
Student loan payments have resumed and the deadline to receive retroactive credit for payments you've made toward loan forgiveness is quickly approaching. If either of these topics affects you, or you're looking for general information regarding a student or Parent PLUS loan, join an informational webinar hosted by MTA Benefits and Cambridge Credit Counseling.
Political Education
Billionaire "philanthropists" have been exerting undue and often destructive influence on public education for decades – it is one of the many impacts of the growing inequality in our country.
Listen in as professor Jack Schneider (MTA member from UMass Amherst) and journalist Jennifer Berkshire talk with a researcher about those impacts on their Have You Heard podcast.
It is worth noting that the three organizations who spoke in defense of the high-stakes testing regime at the Thrive Act hearing on Oct. 4 – Democrats for Education Reform, the Massachusetts Business Alliance for Education and Massachusetts Parents United (part of the National Parents Union), plus another pro-MCAS group, Educators for Excellence, together received nearly $21 million dollars between 2017 and 2021 from none other than the Walton Family Foundation.
Yes, that Walton Foundation, the one which fought to privatize our schools in 2016 in the Question 2 charter fight, and which has worked throughout the country to undermine unions and public education. Read all about it in a book by retired MTA member Mo Cunningham, Dark Money and the Politics of School Privatization.
In solidarity,
Max and Deb