Summer Conference draws MTA educators to UMass for learning and union building
---
The MTA Summer Conference came to a close this week, wrapping four days of learning, fun and thought-provoking discussions.
The conference, held on the University of Massachusetts Amherst campus, featured expanded offerings designed to provide targeted professional development for busy educators.
As happened last year, the conference included the traditional-track workshops, such as for new presidents and early-career educators. But this summer the program was broadened to include more single-seminar options for educators, offered in a three-hour format, and designed to give them tools and strategies for strengthening their careers and local unions.
The entire program was offered free-of-charge for Education Support Professionals and adjunct faculty for the first time, to encourage them to take advantage of professional development specifically designed for them.
Maggie Prickitt, a member of the Nauset Education Association, attended the conference for the first time, as a newly elected representative for ESPs at Nauset High School. The conference was an opportunity "to learn and collaborate about how I can make a change, what I can do to help," she said.
Prickitt said she took several things away from the conference, including to try to reduce the number of steps in her local's 17-step contract, and to evaluate contract terms in surrounding communities. She worked as a one-on-one ESP for one student for many years, spending hours weekly on unpaid prep time.
"There are a lot of reasons to get our wages increased, and to get the respect [we deserve]," Prickitt said.
The conference is an opportunity to learn and collaborate about how I can make a change, what I can do to help.

Maggie Prickitt
In addition to the professional development sessions, the conference had plenty of opportunities for people to relax and enjoy themselves, including dances hosted by the MTA Ethnic Minority Affairs Committee and LGBTQ+ committees.
Conference highlights included a screening of "Agents of Change," a documentary film on the racial conditions on college campuses and protests led by Black students in the late 1960s and early 1970s, as well as two keynote addresses by influential educators.
Loretta J. Ross, Ph.D., an activist and professor at Smith College, opened the conference with a lively discussion about human rights, and how the prevalent "calling out" culture needs to be replaced with a "calling in," to encourage people in social justice movements to overcome differences so they can be united.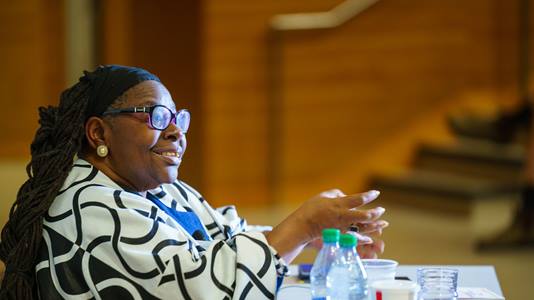 Adolph Reed Jr., a professor emeritus of political science at the University of Pennsylvania, spoke in a keynote address about the rollback of social protections now taking place nationally, and the need for more solidarity.
He congratulated the MTA for leading efforts to pass the Fair Share Amendment last November, which is a form of economic justice. "The MTA has shown it's possible to fight and to win, and how to do it," Reed said.
The conference included more than 100 offerings for educators.
The traditional training for new presidents attracted more than 60 people to the Campus Center, most of them new presidents in their first three years of service. They examined information about how to use Robert's Rules of Order to guide meetings, how to evaluate grievances and how to build a strong, member-led local. They peppered the instructors with specific questions.
In a session on impact bargaining, union officers learned what it means and how to go about it. If a change in working conditions takes place, attendees were told to always reserve their right to impact bargain.
Caitlin Dugre, who is moving into the vice president role for the Falmouth Educators Association, said they learned the union has to be proactive, and consider how it wants something to happen and have that in mind, whether the issue is compensation or working conditions. "We have to be proactive as a union and demand to bargain as a default."