Union News: Battling injustices, SCOTUS decisions & our work at NEA RA
---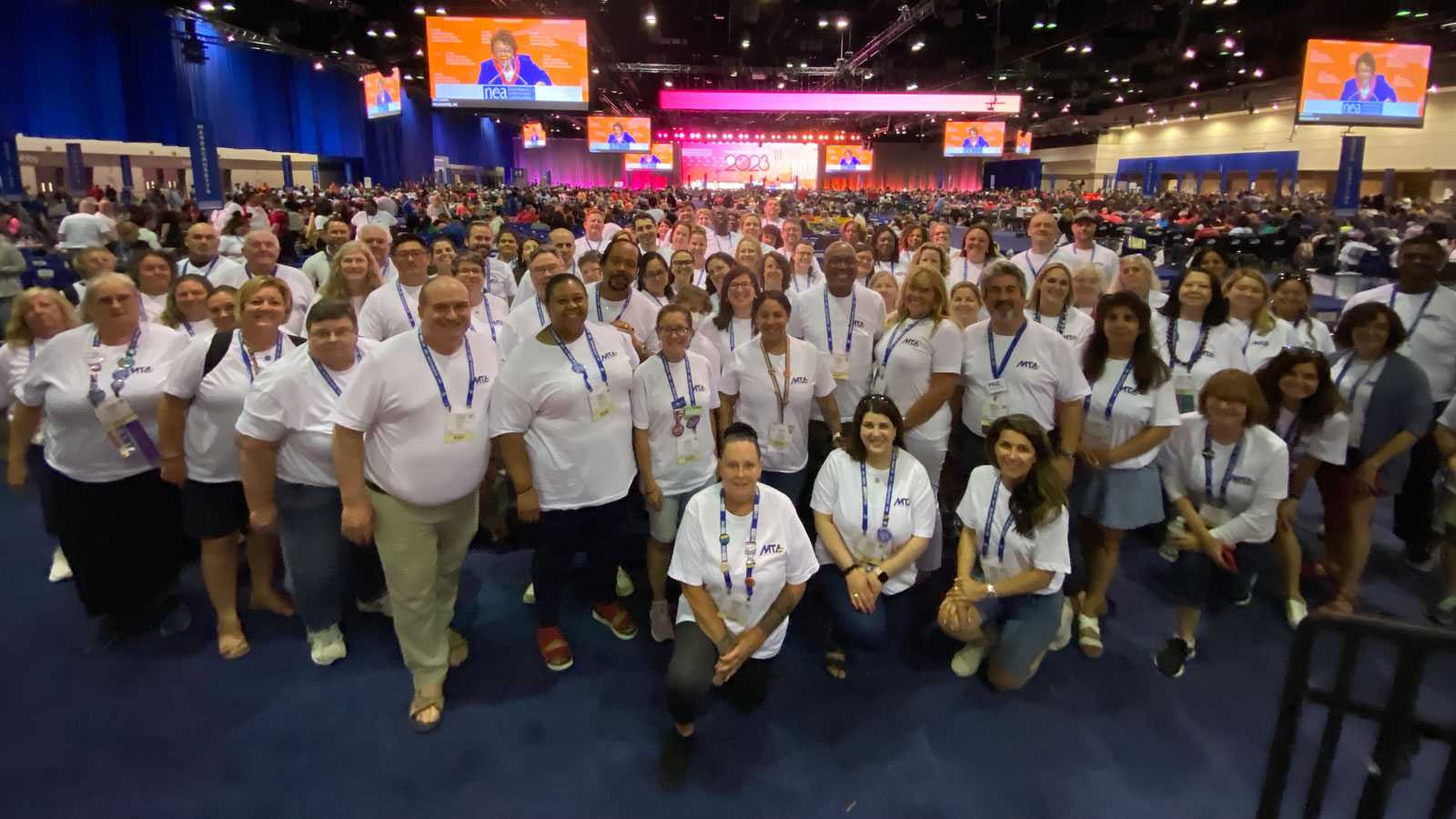 Greetings, MTA members,
It has been nearly a week since the U.S. Supreme Court rendered several terrible decisions. We urge you to read and share our positions on affirmative action, student loan forgiveness, and discrimination against LGBTQ+ people.
There is much work ahead to repair the latest damage created by a right-wing majority on the Supreme Court.
We have spent this week in Orlando, with our MTA delegation, at the NEA Representative Assembly, which is 7,000 strong. We have debated dozens of new business items to guide the work of the NEA, with our own members leading on the work of the NEA legislative program and putting forth new business items on building strike-ready locals, preventing gun deaths and disassociating from union-busting companies like Amazon. Before the RA, several of our members gave excellent presentations at the Conference on Social and Racial Justice.
We want to acknowledge the many members and staff who did so much work to prepare for and lead us during the NEA RA — those who planned social events, took minutes, evaluated the new business item proposals, kept us accountable at the meetings, shared our caucus opinions on specific issues and took care of members who unfortunately fell ill.
Here in Orlando, we had the chance to meet with U.S. Secretary of Education Miguel Cardona and make the case for waivers to high-stakes testing so we can develop alternatives to the destructive MCAS regime and to urge that the secretary respond forcefully to the Supreme Court's decision on affirmative action in higher education.
And, we also had a few minutes to meet Derrick Johnson, CEO of the NAACP, which will hold its annual convention in Boston this month. We also heard from President Joe Biden and First Lady Jill Biden via video stream.
To celebrate the Fourth of July, a number of our members shared some excerpts from books that have been banned in Florida. You can record a video or view videos from others here.
MTA Events and Solidarity Actions

Registration is open for the MTA Summer Conference at UMass Amherst, August 6 - 9.
The conference will feature more than 100 workshops and events, not to mention good food, special guest speakers, and dancing and relaxing at our "union educator camp."
Political Education
The Supreme Court decision on affirmative action was terrible.
We urge you to read Justice Ketanji Brown Jackson's dissent, a brilliant review of the history of racial discrimination in the country and a searing indictment of the court's majority for pretending that history does not have continuing impact on the present.
But we also urge you to read this opinion piece in The New York Times, which reminds us that the vast majority of college students attend public colleges and universities or private colleges that are not selective. The real issue is about affordability and students having the supports they need to succeed, including fairly paid staff and faculty.
In solidarity,
Max and Deb