Union News: Marching in community with our LGBTQ+ students, educators and allies
---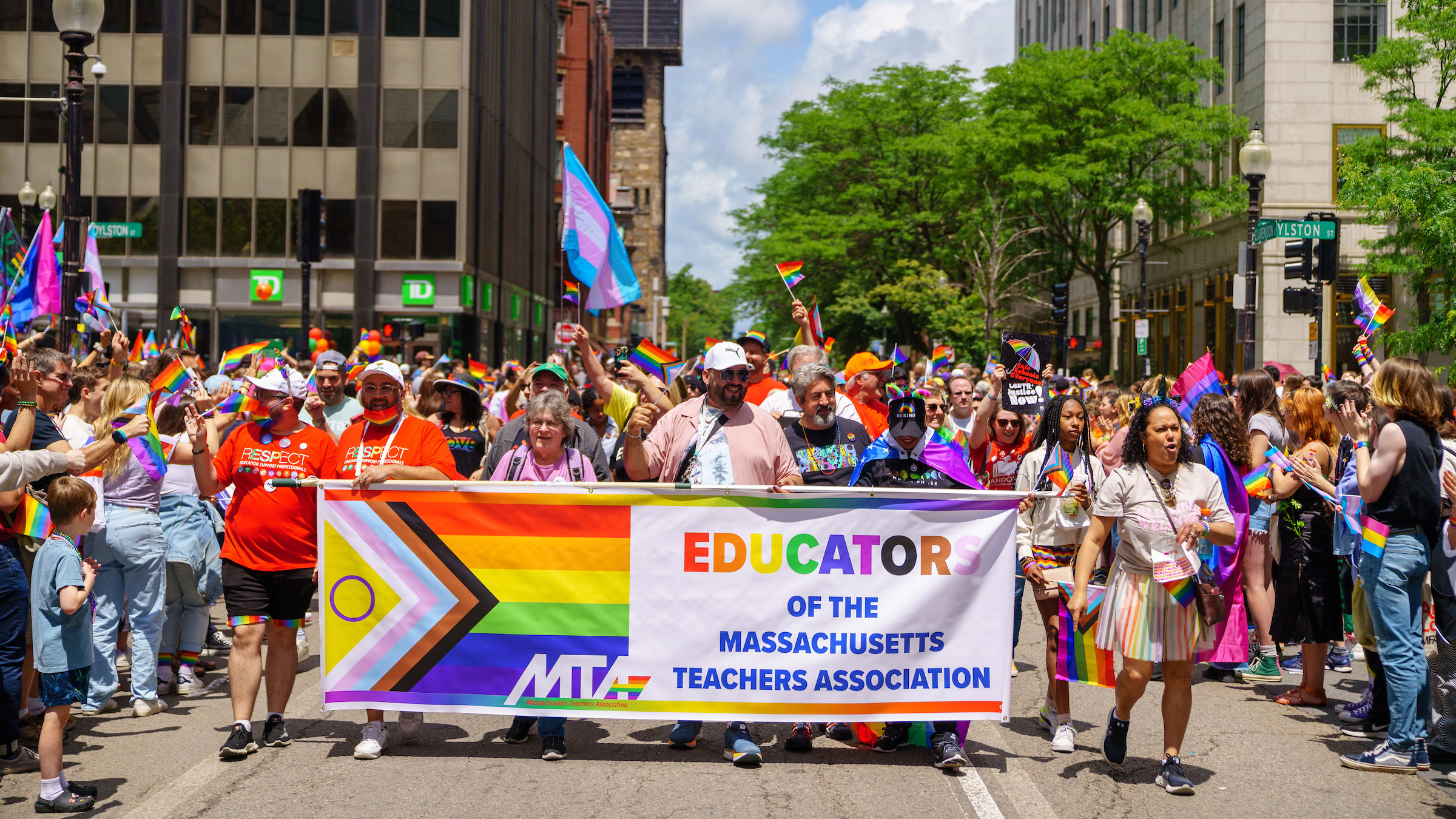 Greetings, MTA members,
"Who do we educate? Everyone! Who do we love? Everyone!"
That was the chant of our boisterous group of MTA marchers during the Pride parade in Boston this past Saturday. And for public school educators, this is no mere rallying cry.
This is fundamental to what we do: We educate every student who walks through the front door of our more than 1,700 schools. We don't charge tuition for K-12. We don't look at immigration papers. We don't interrogate or question students about their preferred gender pronouns. We don't turn them away because they have special needs or low test scores (looking at you, charter schools). We educate and care for every student – period.
And if the roars of appreciation from hundreds of thousands along the parade route meant anything, it is that the public trusts you more than almost any other group – because you welcome all our young people into your schools, you educate all of them, and you love them exactly as they were meant to be.
The parade route took us by one of the most beautiful buildings in Boston, the Boston Public Library in Copley Square. Over the front entrance, carved in stone, is the simplest of messages: "Free to All." Free to all, welcoming to all – this is what we stand for because that sentiment is the building block of a better society.
MTA Events and Solidarity Actions
Support Your Union Siblings
Check out this list of upcoming actions. Please add your own to this form. The more we show up for one another, the greater the power we generate for local and statewide campaigns.
Speak out on mental health solutions
As announced last week, the MTA has collaborated with New Voice Strategies to launch a forum on mental health challenges among students and educators through June 20. Don't miss out! Sign up to participate today.
In addition to strategies you use as educators, we would love to hear from you on your ideas for institutional change. If you were in charge of your school, district or the board of education, what approaches would you implement to improve mental health and well-being for all?
Watch the MTA Forums
We held the first public MTA Forums this past week – one on the destructive impact of high-stakes testing, and another about the need to build multiracial solidarity to achieve the common good, including high-quality, debt-free public higher education. The MCAS forum can be viewed The MCAS forum can be viewed here. The forum on multiracial solidarity with author Heather McGhee is posted on our Facebook page.
Student loan forgiveness
If you have student loan debt (whether it's your own loan or a Parent PLUS loan), you might feel overwhelmed with information about student loan forgiveness. Cambridge Credit Counseling will help break it down for you in a one-hour webinar. If you're eligible for forgiveness, they'll help ensure you take all the necessary steps to have your loans forgiven. But don't wait. While you might be able to get retroactive credit for previously ineligible payments, that allowance is set to expire in December. Register for an upcoming webinar.
Juneteenth
When: Monday, June 19
Where: Polar Park in Worcester
The annual MTA member Juneteenth celebration will be next Monday, June 19, at Polar Park in Worcester. Please register right away for what will be a terrific celebration of this national and MTA holiday marking the end of slavery, which is also a moment to celebrate African-American culture and history.
MTA Summer Conference
When: August 6 - 9
Where: UMass Amherst
Registration for MTA Summer Conference at UMass Amherst, August 6 - 9, is open! The conference will feature more than 100 workshops and events, not to mention good food (best campus food in the country, six years running!), special guest speakers, dancing and relaxing at our "educator camp."
Right to strike debate
When: 4 p.m., Wednesday, June 14
Where: Virtual
Feel free to watch as Max debates Paul Levy, a Newton School Committee member, about the right to strike for educators. The debate begins at 4 p.m. Wednesday and is hosted by the Rappaport Center for Law and Public Policy at Boston College.
Political Education
This coming weekend, MTA board members will be reading this important article by Maurice Mitchell, about how unions and other social justice organizers can overcome internal conflicts and be fully energized around the battles we face in the world. Read it and share it with fellow union members in your local.
Thanks to Elise Robillard, one of our MTA field rep-organizers, for sharing this quote by Félix Leclerc, a French-Canadian singer-songwriter, about the value of investing in making public higher education affordable: "There are countries where the state pays the student and says to him, 'Thank you.'"
In solidarity,
Max and Deb