Union News: Join us Saturday at the Boston Pride Parade
---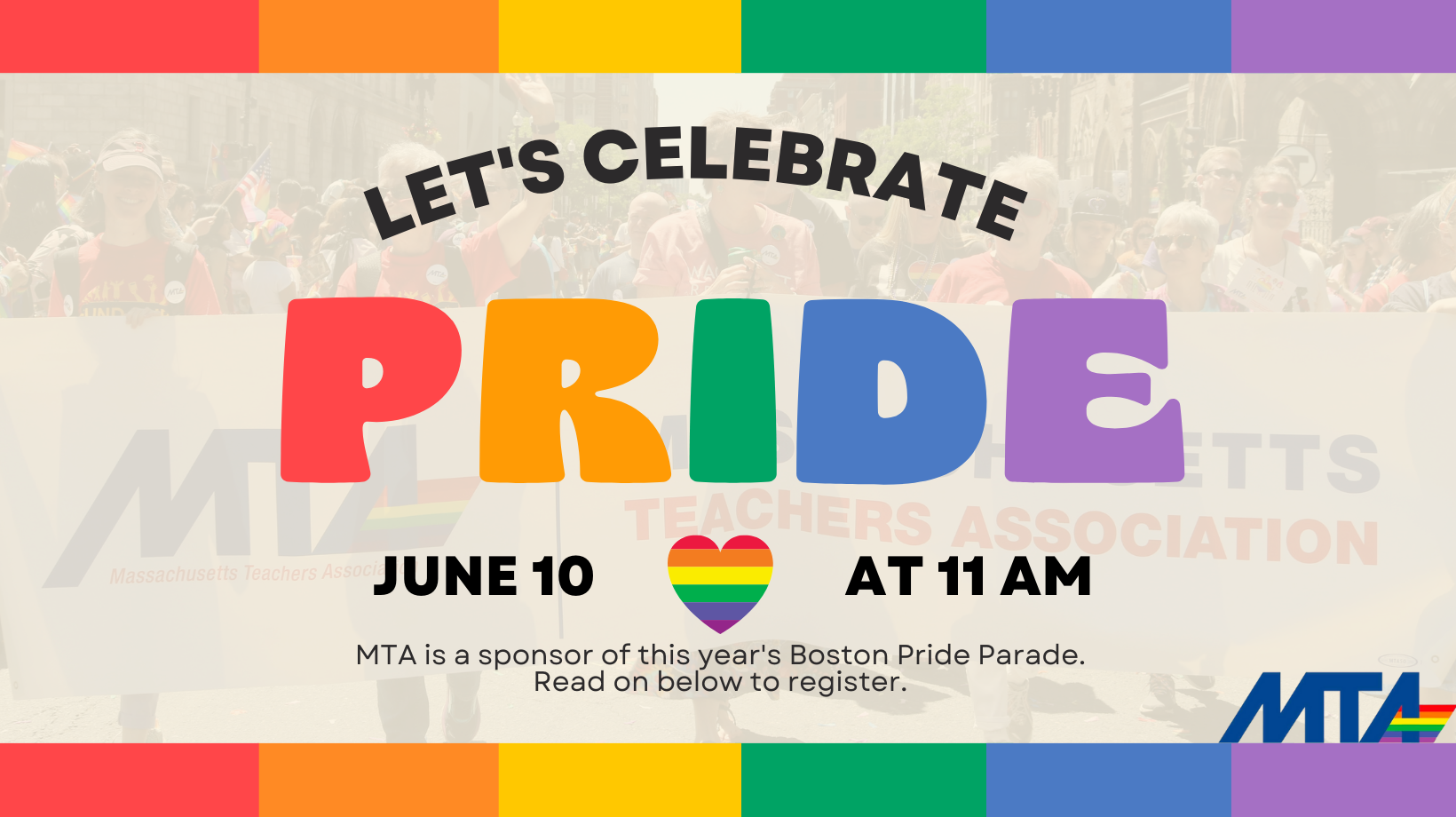 Greetings, MTA members,
This month is Pride Month. We want to encourage MTA members to join together to march in the first Boston Pride for the People Parade in several years. Sign up to let us know you'll join us on Saturday.
With the assault on LGBTQ+ rights across the country, we in the MTA and in Massachusetts have an obligation to stand tall and celebrate our values. In a few weeks, MTA members will head to the NEA's Representative Assembly in Florida, bringing the principles we live by here to a state that is careening rightward and passing one oppressive piece of legislation after the next. We need to be clear that the freedom to be who you are, the freedom to love who you want, and the freedom to learn go hand in hand.
Here are some good resources for educators from the NEA to support LGBTQ+ students, members and allies.
MTA Events and Solidarity Actions
Support Your Union Siblings
Check out this list of upcoming actions. Please add your own to this form. The more we show up for one another, the greater the power we generate for local and statewide campaigns.
Let's get the conversation started on mental health
The MTA is joining forces with New Voice Strategies to launch a WikiWisdom project. We want to hear directly from you, the public school educators working in our classrooms: What's working? What else do we need to enhance mental wellness support in our schools?
After these online discussions, a select group of educators will work closely with the moderator (an MTA member) to turn your collective wisdom into a report with practical ideas for boosting mental wellness throughout Massachusetts. To learn about how WikiWisdom forums work, click on the link above! You will need to sign up on the site to participate.
Register for: MTA Forum on Racial Justice, with author Heather McGhee
When: 3:30 p.m., Wednesday, June 7
Where: Brookline High School
National bestselling author Heather McGhee joins us at Brookline High (and via livestream through MTA's Facebook page) to speak about her book, The Sum Of Us, and hear about the campaign for living wages for paraprofessionals in Brookline.
Join us: Boston Pride for the People Parade
When: 11 a.m., Saturday, June 10
Where: Boylston Street
The Boston Pride Parade is back and the MTA is a sponsor. Learn more about the parade here. Let us know you will join as one of the MTA marchers.
Register: MTA Juneteenth Celebration
When: 10 a.m., Monday, June 19
Where: Polar Park in Worcester
Join the MTA's Ethnic Minority Affairs Committee and MTA members and their families for a Juneteenth celebration at Polar Park in Worcester. Join us for a barbecue, games and activities for children and adults, a DJ, and a commemoration of this important day in history. Register here.
Election for Massachusetts Teachers' Retirement System
After years of lobbying the Legislature, the MTA and the Massachusetts Teachers' Retirement System (MTRS) successfully changed state law to allow many transferees** a one-time opportunity to participate in RetirementPlus (R+). A sign-up form was sent by MTRS in mid-January and late March to those who qualify. The form must be returned by June 30, 2023. If you have not received your form, please email the MTRS at retirementplus@trb.state.ma.us.
** As a point of correction and clarification: transferees are individuals who previously contributed to a Massachusetts city, town, county, regional or state retirement system (other than MTRS) and whose funds from that system transferred over to the MTRS when they began work in an MTRS eligible position. Example: A paraeducator later employed as a teacher is a transferee. Individuals who move from a teaching position in one district to a teaching position in another district are not transferees. Questions can be directed to Bob Whalen, Retired Member Organizer and Field Representative, at RWhalen@massteacher.org or 617.878.8206.
Student loan forgiveness
If you have student loan debt (whether it's your own loan or a Parent PLUS loan), you might feel overwhelmed with information about student loan forgiveness. Cambridge Credit Counseling will help break it down for you in a one-hour webinar. If you're eligible for forgiveness, they'll help ensure you take all the necessary steps to have your loans forgiven. But don't wait. While you might be able to get retroactive credit for previously ineligible payments, that allowance is set to expire in December. Register for an upcoming webinar.
Political Education
Our kids are not okay.
The behavioral challenges you face in your schools and on your campuses stem in part from a growing mental health crisis among young people. We found this podcast especially insightful in discussing at least one of the causes and how we might begin to implement solutions. Give it a listen.
In solidarity,
Max and Deb