Union News: Union solidarity shines at 178th Annual Meeting
---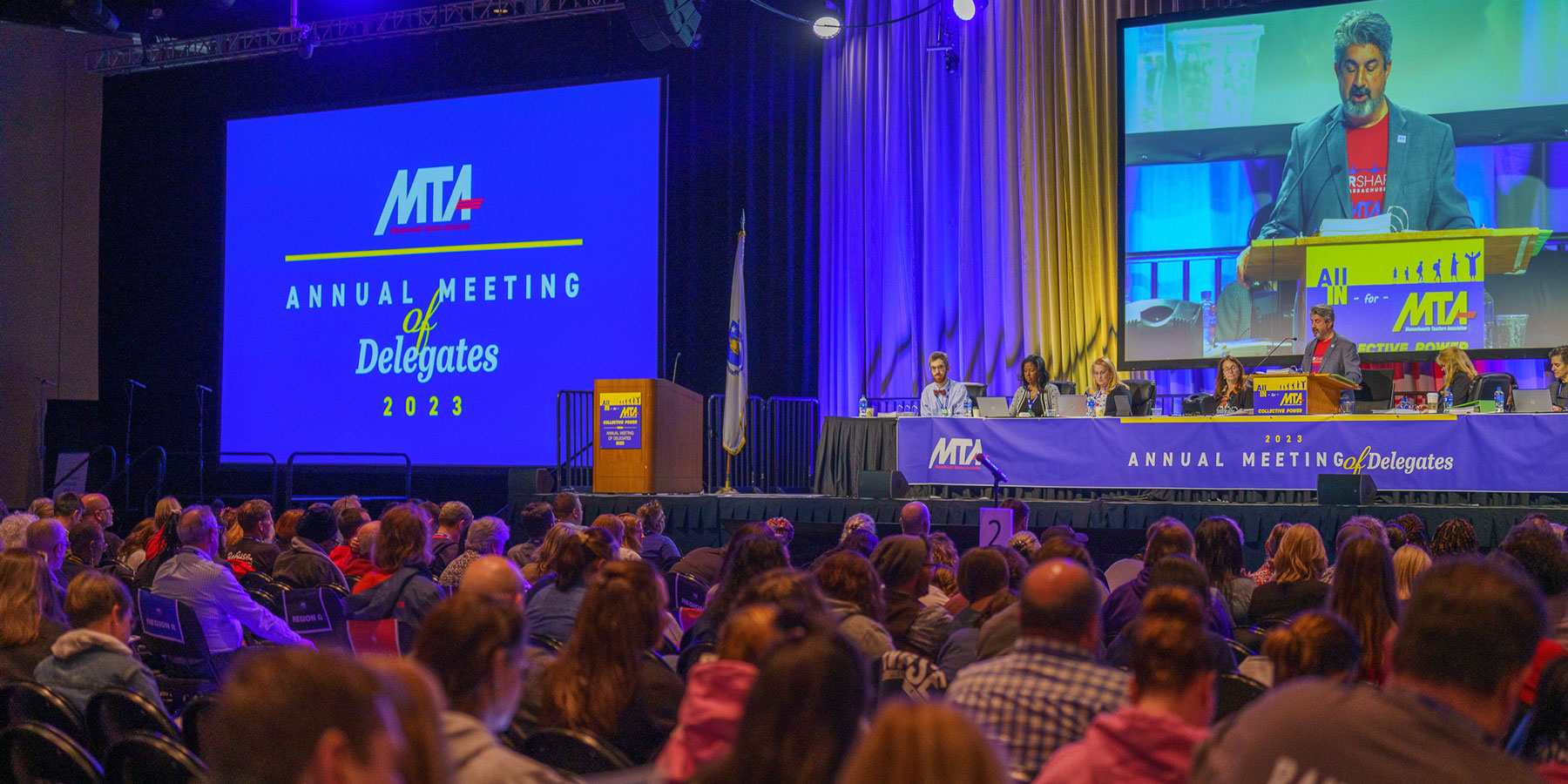 Greetings, MTA members,
Before we share the news of the week, we want to give thanks to all of you for the incredible work that you do every day for our students in schools across Massachusetts. Thank you for all you do! #EducatorAppreciationDay.
MTA Annual Meeting Is in the Books
The 178th Annual Meeting of our union, the largest annual democratic gathering in the Commonwealth, is in the books!
Some 800 members, in person and on Zoom, gathered in Springfield for the first time in our history to pass the budget and new business items, rally in front of City Hall about our priorities, and hear from people and organizations we honored – the Debt Collective, City Life/Vida Urbana, Springfield No One Leaves and U.S. Senator Bernie Sanders. Thank you to all Springfield and western Massachusetts educators for welcoming us to the 413!
We were both so inspired, as we face daily attacks on democracy and on educators (those two attacks always seem to go together), to be a part of a union that has modeled open debate for nearly two centuries. Annual Meeting is what democracy is supposed to look like.
But we were also struck by the repeated celebration – by the two of us, certainly, but also from speaker after speaker – that our power lies in our 115,000 members in 400 locals. Our members have been standing up as never before – and withholding their labor when necessary – to win fair contracts, especially for Education Support Professionals, but also for sufficient prep time, for paid parental leave and fair pay for adjunct faculty.
Stronger locals have led to stronger statewide campaigns, including our historic victory in passing the Fair Share Amendment. Our work continues as we try to make sure that the $2 billion we won for the Commonwealth – every year, for the next century and beyond – is spent in the ways we want. We encourage you to take action.
In the coming weeks, we will share more details and videos from Annual Meeting.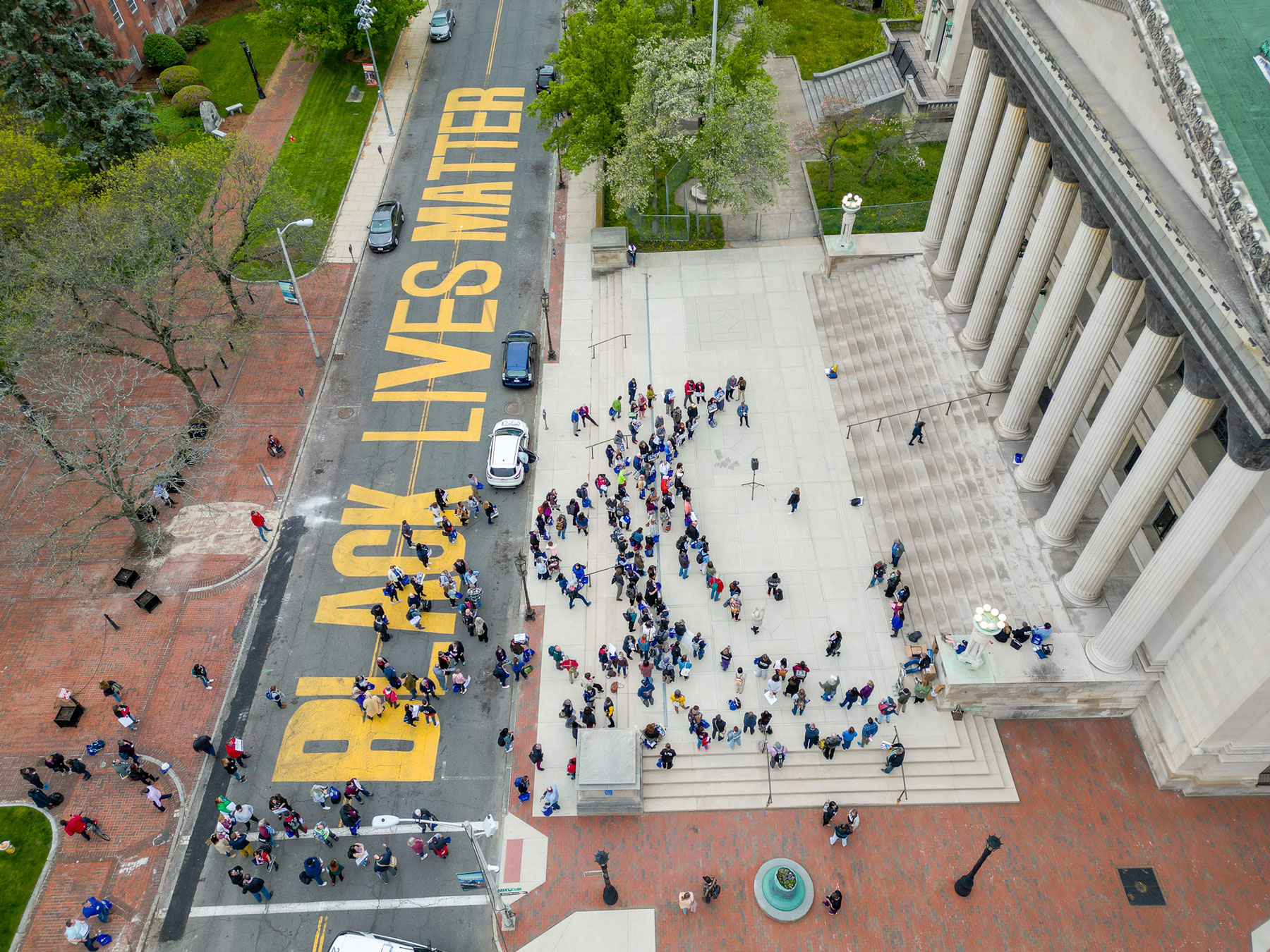 MTA Events and Solidarity Actions
Support Your Union Siblings: Check out this list of upcoming actions. Please add your own to this form. The more we show up for one another, the greater the power we generate for local and statewide campaigns.
Congratulations to Hingham Educators
As part of ongoing living wage and contract campaigns, educators in Hingham fought for and won an override last Saturday, securing an additional $4 million in school funding. Hingham, where average home prices have soared to $1.2 million a year and the effective tax rate lags behind surrounding towns at a dismal 10 percent, was crying poor and threatening to lay off more than 40 educators due to a COVID-19 related fiscal cliff.
Others, including in Amherst, are awaiting results of overrides and debt exclusion acts. Those victories depend upon our members speaking to their neighbors to invest in our schools.
Higher Ed For All: Speak Out
When: Noon, Wednesday, May 3
Where: State House steps
As lawmakers consider the Cherish Act (S.816; H.1260) and Debt-Free Public Higher Education bill (S.823; H.1265), we must use our collective voice and call for debt-free public higher education, increased student supports, better wages and working conditions and green/healthy buildings.
Let's celebrate graduates and ensure that debt-free public higher ed is an option for future generations! Join us on the State House steps and share your testimony alongside graduates, students, faculty, librarians, staff and community from across the Commonwealth.
MTA's Ad Campaign for Thrive and Cherish Acts
We are helping to advance the Thrive Act and Cherish Act as part of our legislative agenda this session. Ads that target key state legislators are posted on social media and video ads will roll out in upcoming weeks.
Be sure to amplify and spread our messages on social media! Here's one for Thrive Act, another that goes into our conviction that we must support the whole child and an ad for Higher Ed For All.
2023 MTA Summer Conference
When: August 6 - 9
Where: UMass Amherst
This summer, we are offering a conference that allows you the flexibility to engage in areas that best meet your needs while prioritizing our collectively defined goals as a union and our major campaigns. Programs on all aspects of union skills, leadership development, professional learning and anti-oppression education will be offered. Popular, member-led PDP workshops will also be offered this summer, both online and in person. Registration for these programs will launch in June. Watch for this information at massteacher.org/tpl.
Fighting back against Florida legislature's discrimination against young people
In anticipation of the Florida legislature's approval of SB1320 (Don't Say LGBTQ Expansion), SB1674 (Trans Bathroom Ban) and SB254 (Gender Affirming Care Ban), Rindala Alajaji, state and local policy manager for GLSEN (Gay, Lesbian and Straight Education Network), is requesting LGBTQ+ allied mayors to issue "Rise Up For LGBTQ+ Youth" proclamations in response.
In partnership with GLSEN, allies are requesting these proclamations from mayoral offices in Tampa, St Petersburg, Orlando, Miami-Dade, Ft Lauderdale, Wilton Manors, Miami Beach, and Oakland Park, among others, and are requesting any support in joining this Florida effort if capacity allows.
Educators are encouraged to review this comprehensive toolkit on the Rise Up campaign.
MTA New Member Liaisons
The application to be a New Member Liaison for 2023-2024 is now open. This program is integral to the success of recruiting new hires to join and engage with their union by having a role dedicated to early career educators and staff. The first 100 New Member Liaisons who are appointed are guaranteed a $350 stipend for the year.
To learn more about the role, please review the New Member Liaison job description. To appoint a New Member Liaison, please submit this form. Any questions or concerns may be directed to the MTA's New Member Organizer, Josh Levit, at jlevit@massteacher.org.
Bernie Sanders' Town Hall
When: 8 p.m., Wednesday, May 3
Where: Virtual On Wednesday, U.S. Senator Bernie Sanders – who was the recipient of the MTA's Friend of Labor Award this year – will hold a virtual town hall with graduate students who are taking on greed and winning. To participate, visit live.berniesanders.com at 8 p.m. Wednesday.
MTA Environmental Health and Safety Committee Summit
When: 9 a.m. to 1 p.m., Saturday, May 20
Where: MTA's Worcester office
MTA members who have been Health and Safety Committee members in their locals, who functioned as a health and safety point person, or who want to get involved in protecting the health and safety of their members, will meet in the inaugural Environmental Health and Safety Committee Summit from 9 a.m. to 1 p.m., May 20, in Worcester. Please register by May 19.
Political Education
We've been reading Elite Capture, by Olúfẹ́mi O. Táíwò, about how society's elites manage to capture and soften political critiques meant to challenge the status quo. It's a short, powerful read. Here is an article by Táíwò that summarizes the core argument.
Here's an excerpt:
"Instead of forging alliances across difference, some have chosen to weaponize identity politics, closing ranks ̶ especially on social media ̶ around ever-narrower conceptions of group interests rather than building solidarity. Identity politics itself isn't at fault. The trouble is that, like so many other things, identity politics is the victim of elite capture ̶ deployed by political, social and economic elites in the service of their own interests, rather than in the service of the vulnerable people they often claim to represent."
In solidarity,
Max and Deb