MTA Union News A week of highs and lows
---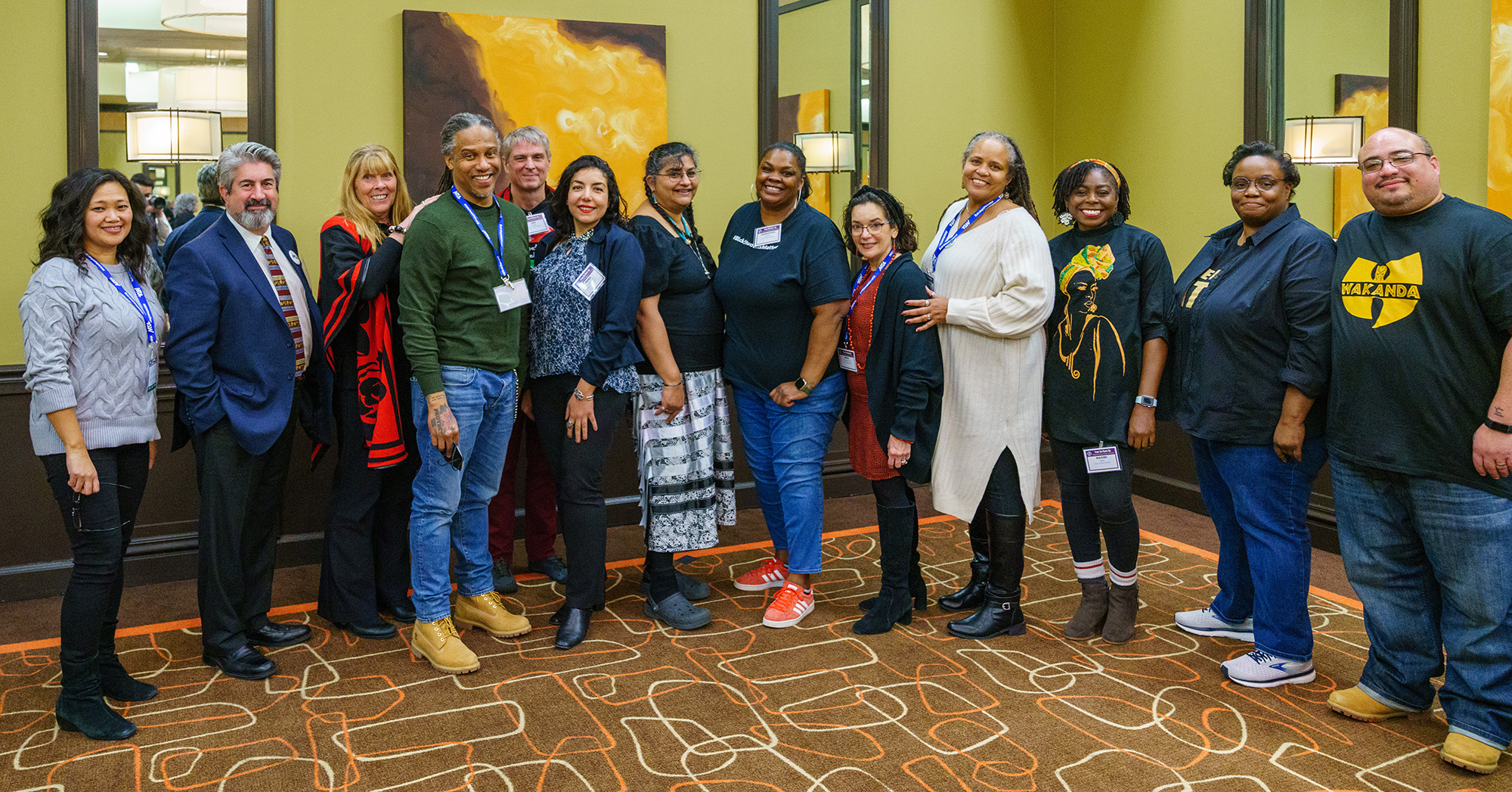 Greetings, MTA members,
It has been a week of highs and lows.
We are still smiling from a terrific Ethnic Minority Affairs Committee Conference this past Friday and Saturday, with more than 125 members in attendance, learning and debating and dancing. See below for some links to the speeches and writings of our incredible keynote speaker, David Stovall, a University of Chicago professor. Congratulations to EMAC and our Training and Professional Learning staff for putting on a great event.
We are, alas, not smiling about the near total betrayal of our union siblings in the railroad industry by the Democrats in Congress and by President Biden, all of whom forced a contract on union members who had rejected a tentative agreement because the settlement included no sick days. Yes, no sick days. Why would that be? Because the corporate owners have pursued ever more profits, and achieved them by getting rid of 40,000 jobs and then exploiting the remaining workers by forcing them to be on call constantly. Being sick apparently is not allowed when corporate profits are on the line.
Given the near total abandonment by the party allegedly friendly to unions, it is worth noting that Senator Elizabeth Warren was the only Massachusetts congressperson to vote against the deal – and therefore with workers and their unions.
Back on the good news, MTA and its allies in the Higher Ed for All coalition held the largest gathering in the State House in three years, with a powerful legislative and press briefing last week. Read some of the coverage.
This week, on Thursday, Dec. 8, at 2 p.m., we'll be back at the State House to unveil the rest of the MTA Board-approved legislative agenda, which includes funding for public higher education and PreK-12 schools, an end to the MCAS high-stakes testing regime, a return of the right to strike for public workers, and a dignified retirement for our retired members. Read our full legislative agenda. And register to sign up for the briefing.
MTA Events and Solidarity Actions
An ongoing list of solidarity actions: A regular feature of our weekly email from now on will be this list, where you can view upcoming actions. And add your own with this form. The more we show up for one another, the greater the power we generate for local and statewide campaigns.
Regional and Retired Ethnic Minority Delegates to the 2023 Annual Meeting of Delegates: MTA affirms its commitment to the goal of maximizing ethnic minority participation in all levels of organizational governance. One way that is fulfilled is through the allocation of ethnic minority delegate seats to Annual Meeting. This delegate allocation is equal to the number of district directors from each MTA electoral region, plus two such delegate seats for the Retired membership. An election will be held to fill the seats among the nominations received. We encourage ethnic minority members to self-nominate to fill these positions. The nomination deadline is 5 p.m. on Friday, January 13, 2023, and the online nomination form is available here.
The Massachusetts Appleseed Center for Law & Justice, in partnership with the Training & Professional Learning Division and the Center for Education Policy & Practice, is hosting a two-day event exploring discriminatory and punitive school discipline, especially as they relate to girls of color. On Dec. 14, from 5 to 6 p.m., view the film screening of "Pushed Out - The Criminalization of Black Girls in School. On Dec. 15, from 5 to 6 p.m., take part in a presentation of the "I Just Want to Learn Report" followed by a Q&A. Questions regarding the student discipline statute in Massachusetts are also welcome. Register in advance for this meeting.
Starbucks workers are having a celebration of the first-year anniversary of the first store unionization in Buffalo, New York: Now there are over 250! Boston-area Starbucks workers will celebrate their successes and strategize about the next steps against corporate harassment this Friday, Dec. 9, from 6-8 p.m., at SEIU Local 32BJ, Soriano Hall, 2nd floor, 26 West Street in downtown Boston.
Even if you can't attend this event, you can take action: Spread the word to your school communities that "union busting is bullying." Since Starbucks keeps bullying its workers, parents should not purchase Starbucks gift cards for MTA members as holiday presents. Share the Starbucks Workers United "no gift card" meme, and the hashtag #NoContractNoGiftCards.
Political Education
Those who attended the EMAC Conference this past Friday night and Saturday were treated to a riveting and inspiring presentation by David Stovall, a professor of Black Studies and Criminology, Law, and Justice, at the University of Illinois Chicago. Check out his book on critical race studies, and here is one of his previous lectures.
Inflationary Woes: Have you ever wondered why the only apparent public responses to steep inflation seem to be policies designed to throw workers out of their jobs? For a different view, listen to this podcast.
Campus Debt: Last week, Richard Levy, and MTA member and Salem State University professor emeritus, spoke on Radio Boston about campus debt. Levy and Gayathri Raja, a junior at UMass Lowell, spoke about their involvement with the Massachusetts Campus Debt Reveal Project and their recent comprehensive statewide report on institutional debt.
Sincerely,
Max and Deb