Delegates Elect Page as Next MTA President
---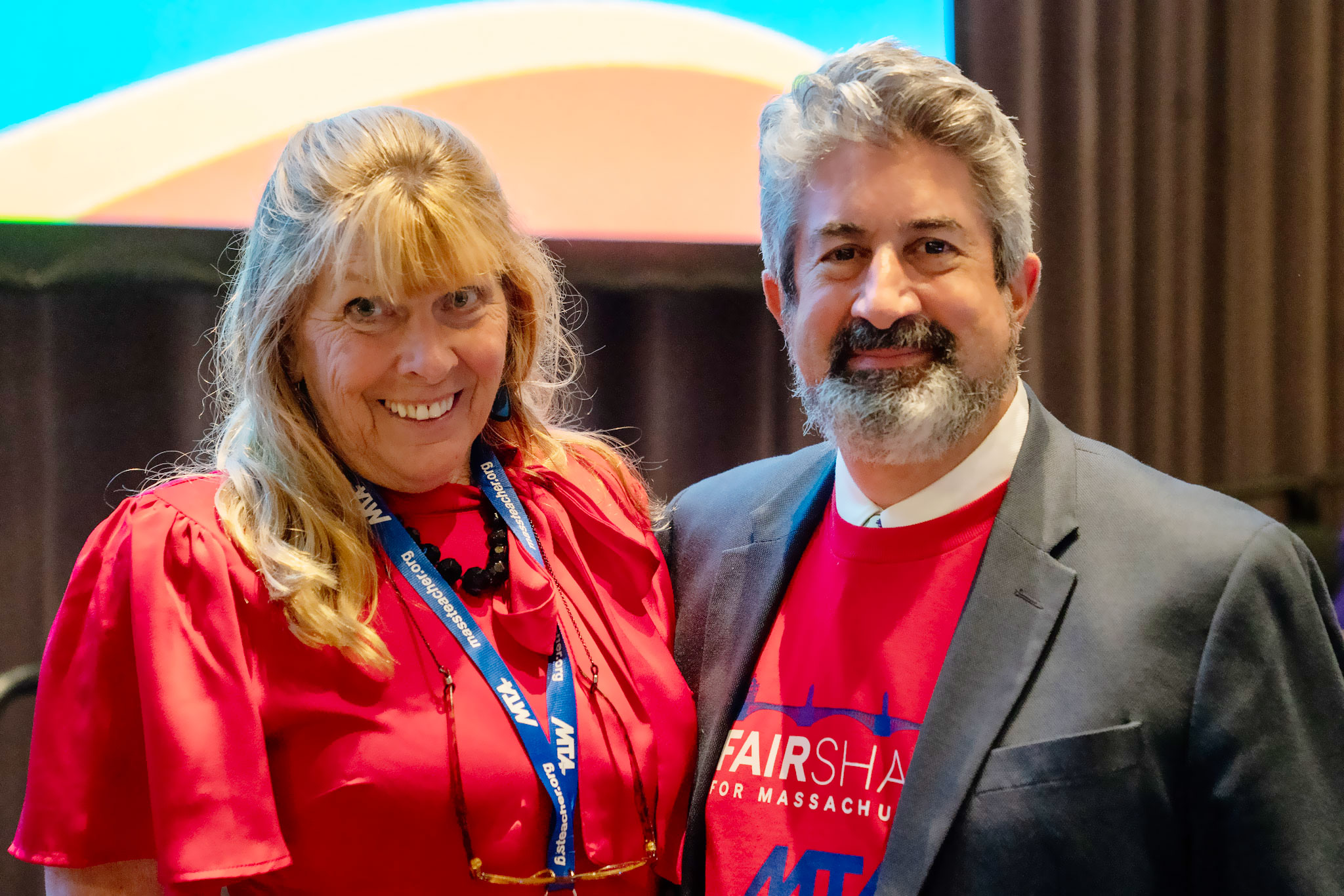 Max Page, a professor of architecture at UMass Amherst and the union's current vice president, has been elected to be the next president of the Massachusetts Teachers Association.
Page will succeed current MTA President Merrie Najimy, who is completing her second and final term, on July 15.
Page, a former president of the Massachusetts Society of Professors, received 735 votes out of 1,192 cast on Saturday during the association's 177th Annual Meeting of Delegates. Two other candidates for president, former MTA Vice President Erik J. Champy and Lamikco (Meka) Magee, president of the Amherst-Pelham Education Association, received 306 votes and 151 votes, respectively.
Deb McCarthy, a longtime leader in Hull, won the contest for vice president with 813 votes out of 1,190 cast. Donna Grady, the local association president in Franklin, received 377 votes.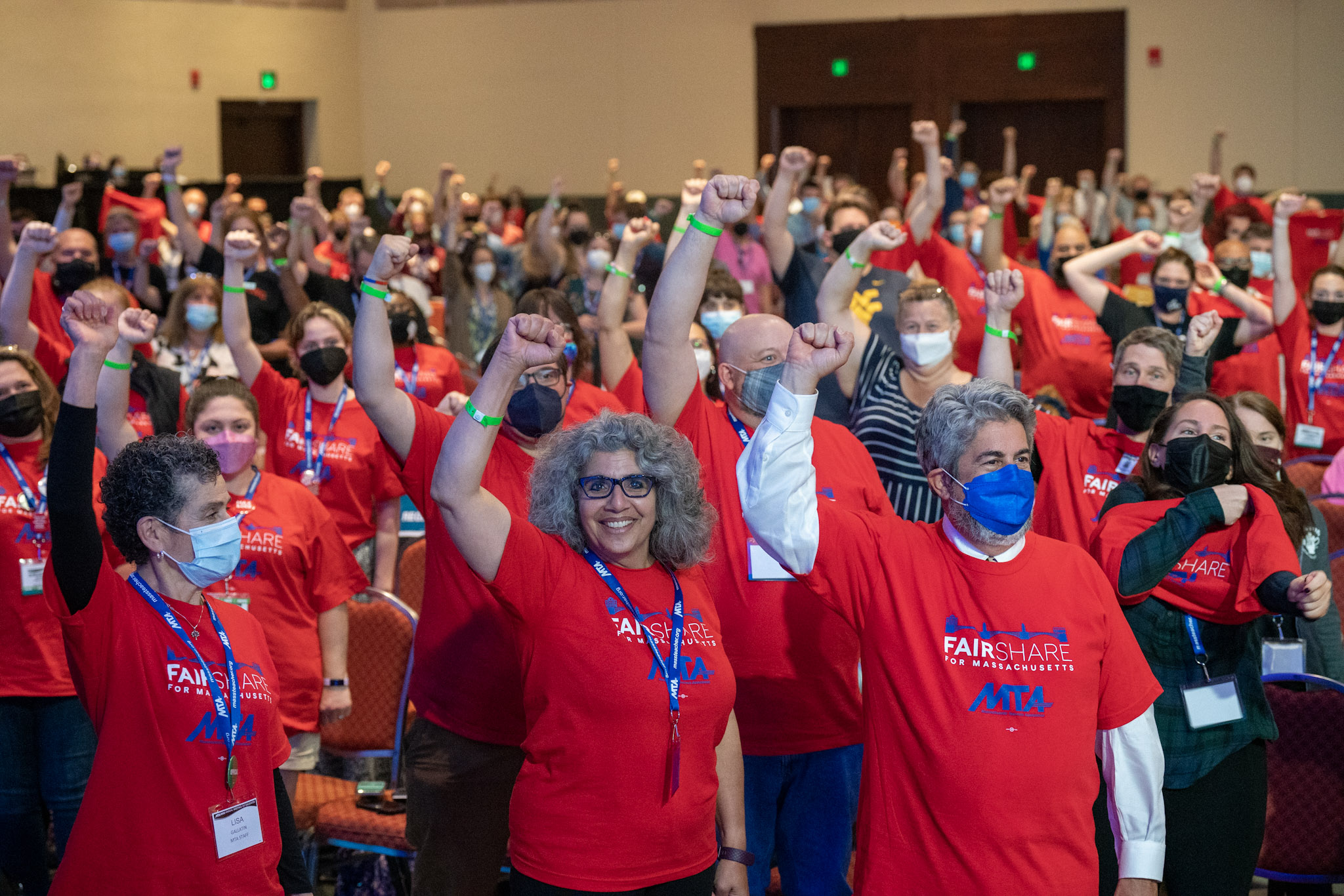 For the first time since 2019, the Annual Meeting was held in person. The event – at the Hynes Convention Center in Boston – also had a well-attended virtual component for delegates who preferred to not attend the in-person gathering because of the COVID-19 pandemic. To promote safety for those attending the meeting in Boston, proof of vaccination and testing was required, along with face masks.
In addition to voting for union officers, delegates honored award winners, acted on a number of new business items, and passed an operating budget of $50,066,992 for the fiscal year that begins July 1. They also approved a Public Relations/Organizing Campaign budget of $1,790,120. There will be no increase in MTA dues.
On Friday evening, MTA educators, in solidarity with Boston building trade unions, rallied outside the Hynes. The action demanded fair treatment and fair contracts for all workers.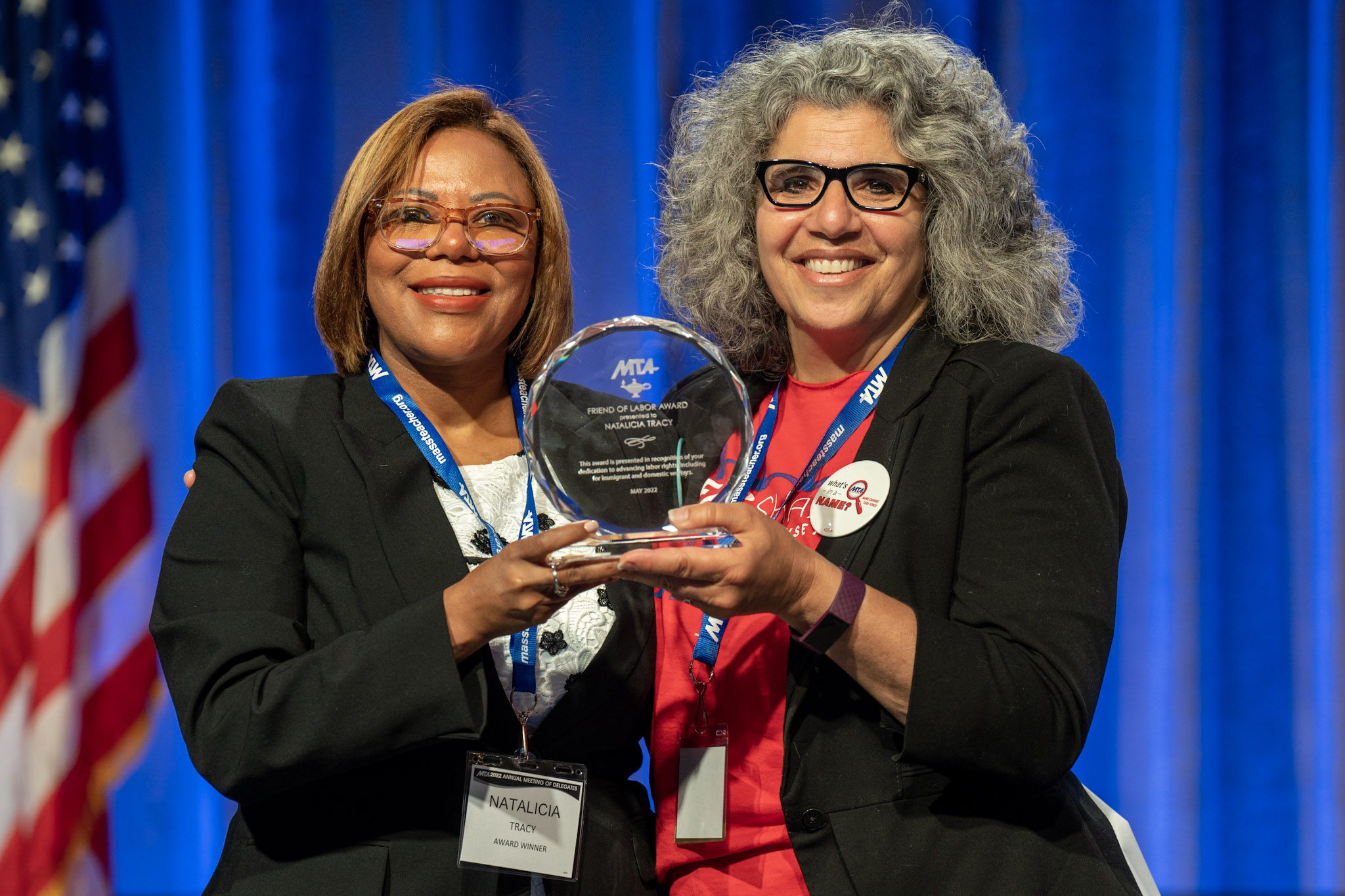 Page, taking the stage after the election results were announced, thanked the delegates for placing their trust in him. He said the election was a mandate for the platform that he and McCarthy had run on – including a commitment to ensure that Education Support Professionals are paid a living wage and a continued fight for debt-free public higher education.
"You are incredible activists for public education," he said.
"This mighty MTA is the vehicle by which we will change the world," Page added. "I can't wait to get to work with Deb and all of you."
McCarthy said her win was a tribute to her support for all education workers, including ESPs and adjunct faculty members.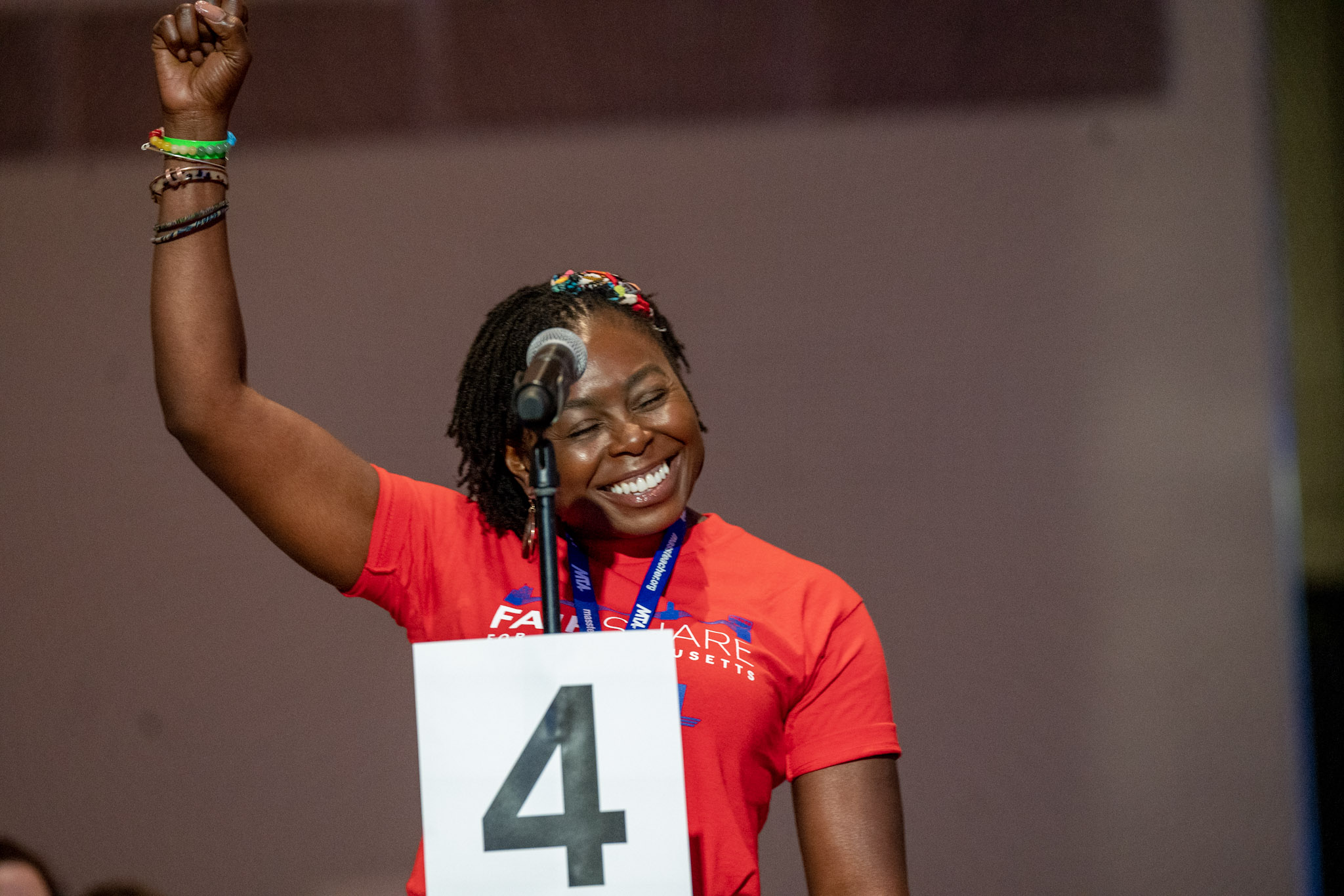 Interviewed before her acceptance speech, she credited the victory in part to her staunch opposition to high-stakes standardized testing.
"My election is an affirmation of the support to dismantle the high-stakes, racist testing regime," McCarthy said.
Najimy, during a farewell speech to the delegates, looked back over the past four years.
"It has truly been an honor to be your president," she said. "The union we have become – it's because of your organizing and fighting."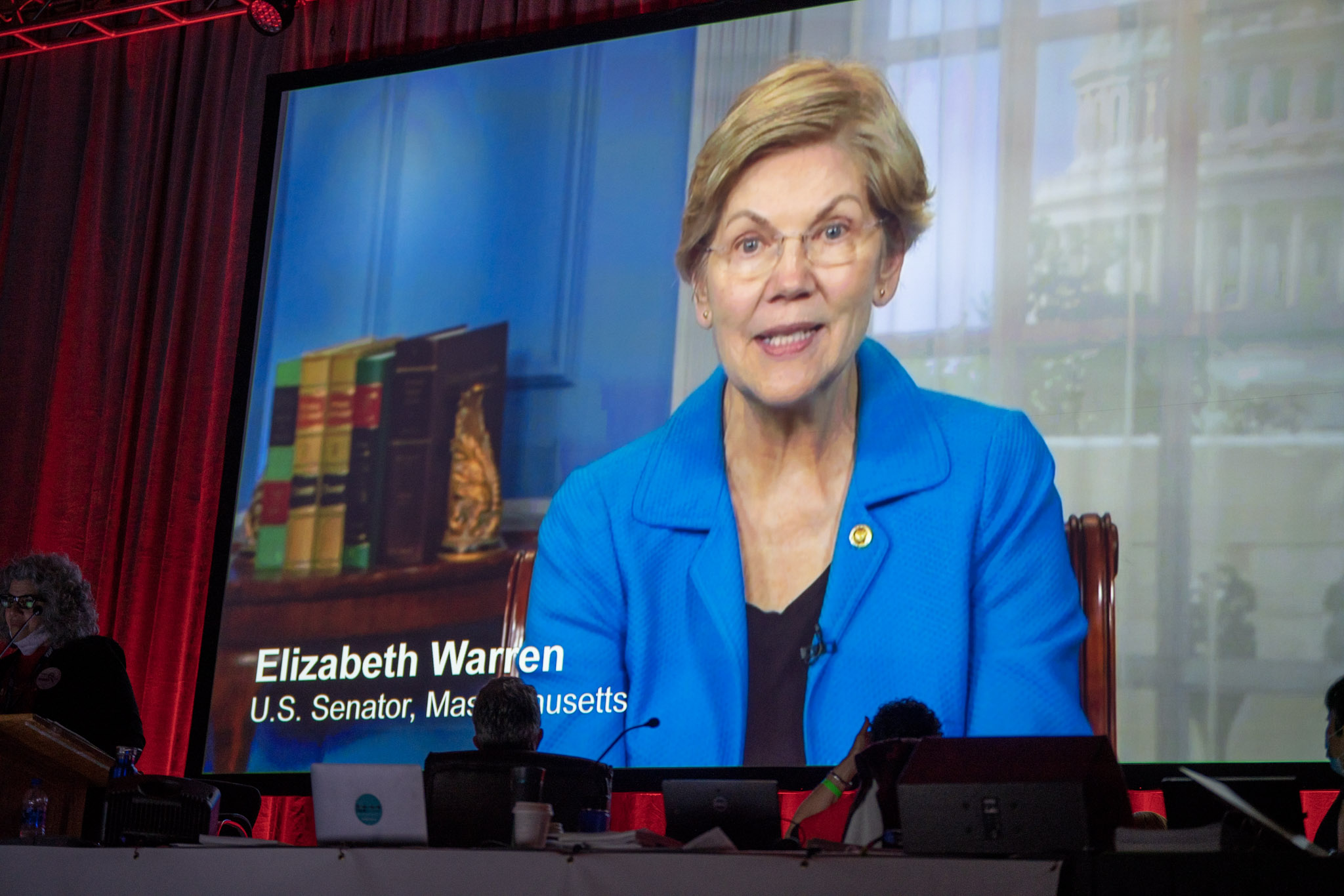 Najimy's speech followed a parade of accolades, with many delegates thanking her for her leadership and for democratizing the union, as well as for empowering educators of color.
During the two-day meeting, the delegates repeatedly expressed support and determination for passing the Fair Share Amendment, which will appear on the statewide ballot in November.
The delegates decided to start a process of moving the MTA toward decarbonizing its operations by 2030 and took action on reproductive rights, fossil fuels, and antiracism, among other issues.
In action on the new business items, the delegates:
Required the MTA to establish a task force of members and staff to develop a plan to decarbonize its operations by 2023 and report back to the next Annual Meeting.
Approved calling for funds managed by the Pension Reserves Investment Management Board to be divested from fossil fuel companies and from businesses that finance such investments.
Lengthened the sunset date to June 2024 for the Task Force on Special Education to allow it to continue its work developing materials, conducting research and holding workshops for families.
Directed the MTA president to write to President Joe Biden, with copies of the letter sent to the congressional delegation, urging him to sign an executive order to cancel all federal student loan debt before the expiration of a moratorium on Aug. 31.
Directed the MTA Investment Committee to determine whether the association has any direct or indirect investments in nuclear weapons and undertake any relevant divestment action.
Voted to establish a Task Force on Reproductive Rights to operate from July 1 through Dec. 31. The task force will reach out to reproductive rights organizations in Massachusetts and other states to become informed as to how best the MTA can support people from other states who are seeking reproductive health care in Massachusetts.
Agreed to sunset the 2015 Task Force on Race and replace it with a Task Force on Anti-Racism. For a duration of three years, the task force will conduct outreach to local presidents and hold discussion groups to allow members to come together and discuss strategies around antiracism.
The recognition portion of the meeting on Saturday morning included presentations to two national figures, U.S. Representative Ayanna Pressley and U.S. Senator Elizabeth Warren, who both received the 2022 MTA Friend of Education Award.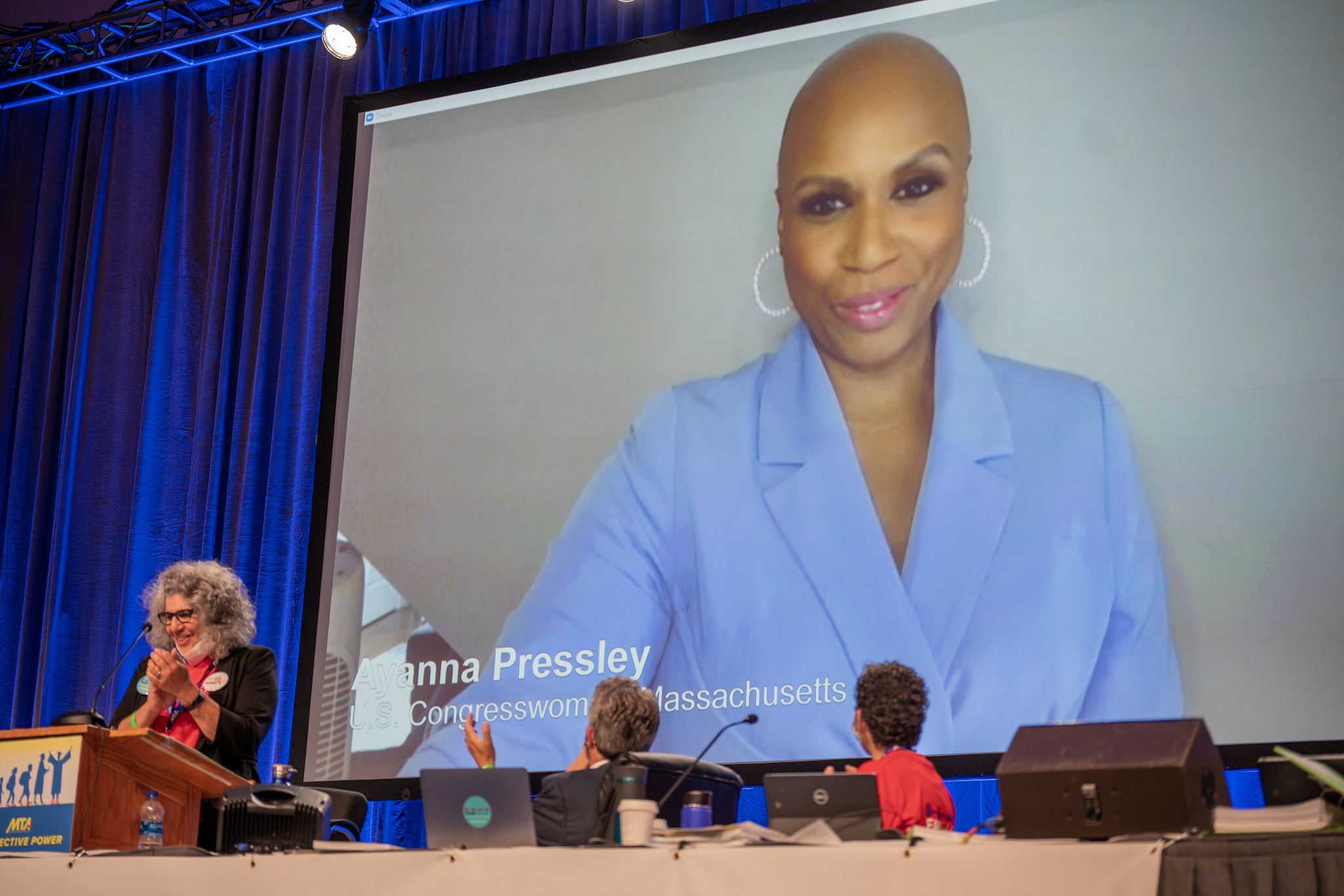 Pressley, who represents the highly diverse 7th Congressional District, is an activist for social and racial justice and a former member of the Boston City Council. During her time on the council, Pressley was heavily involved in working on education issues, and she has been a steadfast ally of public educators.
Pressley thanked educators for the award in a live video stream. "I value more than your labor; I value you," she told the delegates.
Warren, who was elected to a second term in the Senate in November 2018, is a leading voice for progressive policies and a fierce advocate for consumers and the middle class. As a senator, she has helped secure $750 million in debt relief for students who were misled by predatory for-profit colleges. Warren sent a video addressing the delegates and saying she was honored to receive the award.
The 2022 MTA Education Support Professional of the Year, Naomi Akan, also was recognized. Akan is an Applied Behavior Analysis Tutor who has worked at an elementary school in Canton for the past six years.
Akan received a standing ovation and spoke briefly after her recognition. "Diversity is a fact. Equity is a choice. Inclusion is an action. Belonging is the outcome," she said.
Natalicia Tracy, a senior policy advisor at the U.S. Department of Labor's Occupational Safety and Health Administration, attended the meeting to accept the 2022 MTA Friend of Labor Award. She expressed her gratitude for the honor. Tracy previously served as the executive director of the Brazilian Worker Center in Boston, was a professor at UMass Boston and co-founded the Massachusetts Coalition for Domestic Workers.
The President's Award was bestowed on Gladys Vega, executive director of the Chelsea nonprofit La Colaborativa, a community organization that works with residents of several cities to build economic empowerment, health, education, and food and housing security. Vega became the executive director after a lengthy tenure as a community organizer.
In other action during the meeting, the delegates elected members to the Board of Directors and the Retired Members Committee.