Study shows investment in public higher ed will boost economy
---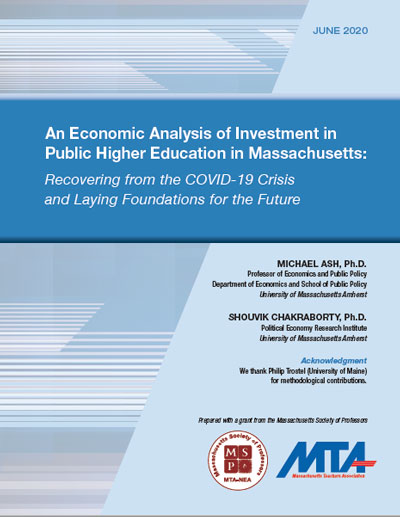 A recently completed study urges state leaders to increase spending on public higher education to address the immediate financial crisis accompanying the COVID-19 pandemic and to build a more just and equitable economy in the Commonwealth.
"It would be difficult to identify investment, public or private, that offers greater short-run and long-run benefits," writes University of Massachusetts Amherst professor Michael Ash in "An Economic Analysis of Investment in Public Higher Education in Massachusetts: Recovering from the COVID-19 Crisis and Laying Foundations for the Future."
Ash, a professor of economics and public policy, and Shouvik Chakraborty of the Political Economy Research Institute at UMass Amherst, prepared the report with support from the Massachusetts Society of Professors and the Massachusetts Teachers Association. The study's key findings include:
Increasing investment in public higher education will create more jobs in the short term compared to other sectors with comparable levels of spending such as casino construction and operation, public road construction, and other public construction projects.
In the absence of significant federal stimulus, a progressive tax plan in Massachusetts will equitably fund the greater investment in public higher education, and that investment will yield better returns than other types of spending. While it costs approximately $69,000 to educate someone in a public college or university in Massachusetts, that person ends up contributing $146,000 in taxes.
By making public education more accessible and increasing enrollment, the state will have a larger tax base of people with better-paying jobs.
When wealth is more equitably spread across the Commonwealth, there will be a reduction in the need for spending on public welfare, Medicaid and other social safety net programs.
"As we face down the effects of a global pandemic and the convulsions of systemic racism, it is time to recognize the vital role that public education plays in creating a more just society," said MTA President Merrie Najimy. "Any state leader who suggests that now is the time to cut spending on public education is acting irresponsibly. This research shows that investment is possible and will yield concrete financial returns. But more importantly, it points to the invaluable social benefits our state will generate by making our public colleges and universities more accessible."
The study shows that money put into public higher education has a significant multiplier effect. Employment connected to public higher education includes many well-paying jobs, which circulates more money in local communities. And boosting the number of college graduates generates more well-paying jobs within our communities.
"This study should convince policymakers and the public that investment in public higher education is precisely the medicine we need to help cure to the economic crisis that has followed the COVID-19 health crisis," said MTA Vice President Max Page. "Support for public higher education is the ladder out of this terrible economic collapse."