Advocates call on state to reinvest in public higher education
Scott McLennan, Communications Specialist

---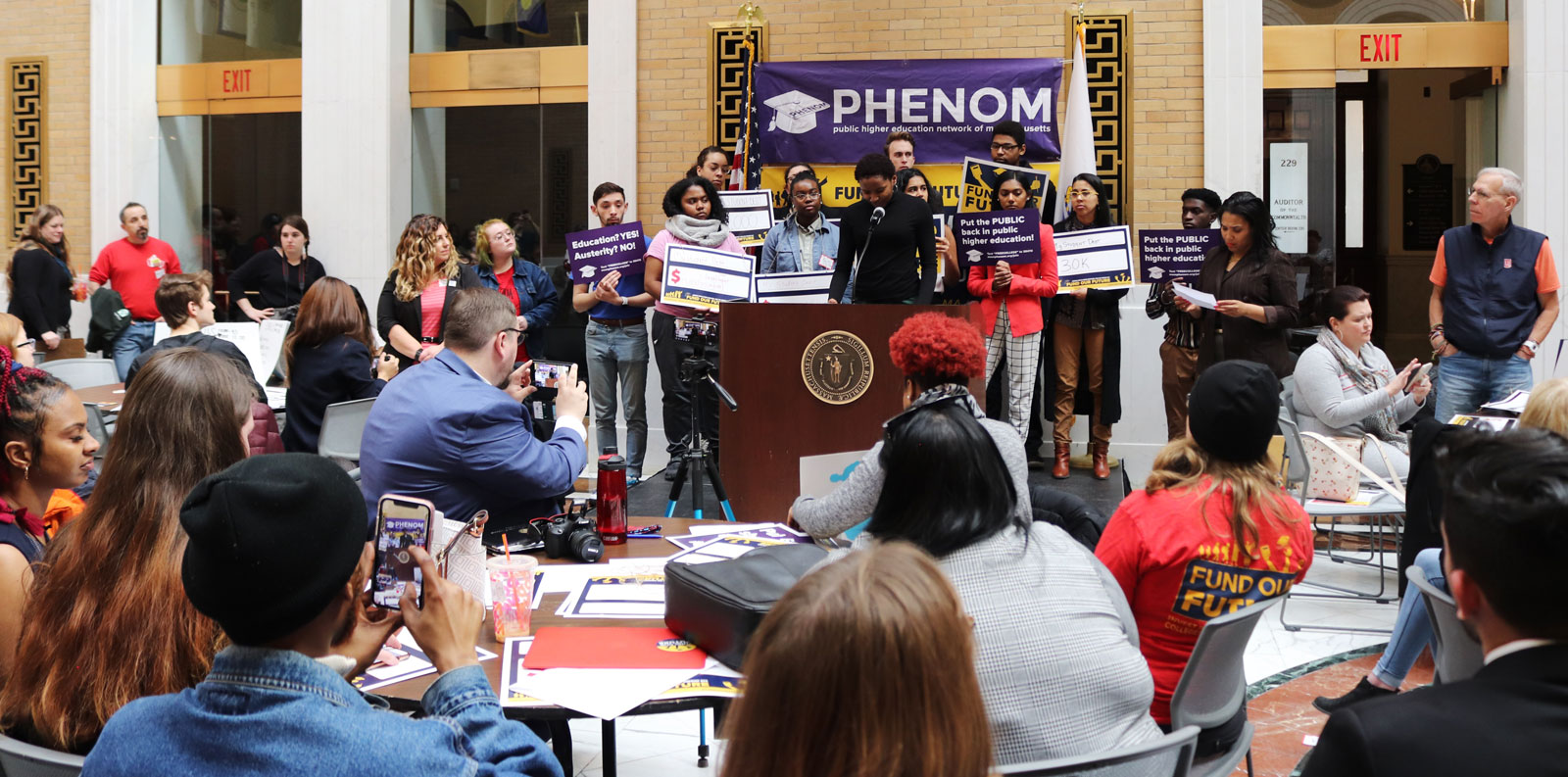 Holyoke High School senior Selena Garcia Rodriguez worries that in the eyes of state leaders, her right to a public education will end once she receives her diploma later this spring.
"I'm only important to them until I walk across that stage. Then I'm on my own," Garcia Rodriguez said during Public Higher Education Advocacy Day, which was held today at the State House.
Hundreds of students, faculty members and campus staff packed the Hall of Flags for a rally-style gathering before heading off to meet with legislators and explain why the state must reinvest in its public colleges and universities — and recognize public education as a continuum extending from prekindergarten through college.
As part of the event, participants marched through the State House chanting such slogans as "No cuts, no fees — education should be free." The MTA also held a briefing for its members and state legislators.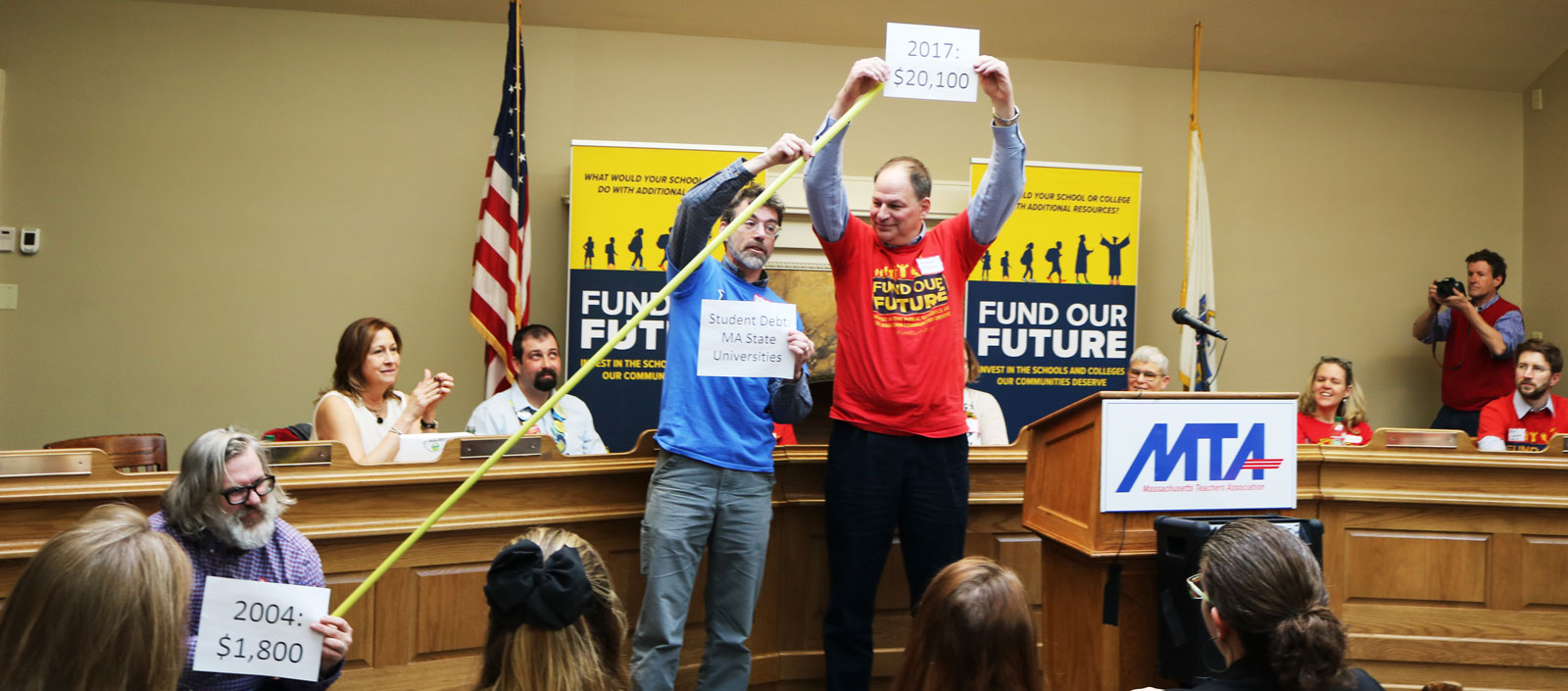 Speakers addressed the impacts of student debt and how it limits students' opportunities when it comes to deciding where to attend college and how they participate in their college experiences.
Campus staff members spoke of crumbling, outdated facilities.
Adjunct faculty members — who on some Massachusetts campuses teach more than two-thirds of the courses — outlined how little they receive in terms of compensation, how many of them have no access to health benefits, and how hard they work.
The activists had three main asks of legislators:
Pass a fiscal 2021 state budget that includes $120 million in new money — the first installment set forth in the Cherish Act of additional funding for public higher education.
Pass the Cherish Act, which adds $600 million to public higher education funding over the next five years, restoring the state to fiscal 2001 funding levels.
Pass the Debt Free Future Act.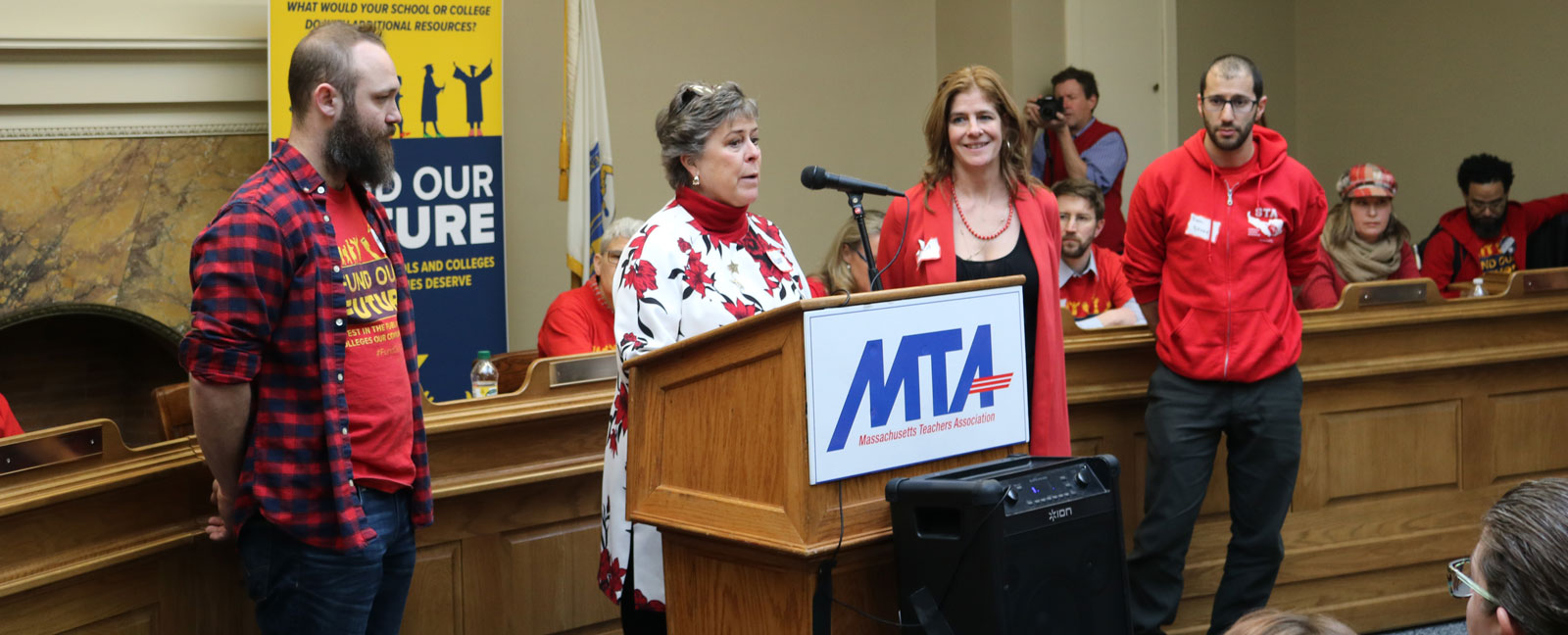 "Right now, people can't afford to go to a public college in the richest state in the richest country in the world. We can change that," said Zac Bears, executive director of the Public Higher Education Network of Massachusetts, which took the lead in organizing the advocacy day along with the Fund Our Future coalition. "We shouldn't have to go into debt to get the education we need to succeed."
Many MTA leaders from preK-12 locals attended this year's advocacy day, asserting that following passage of the historic Student Opportunity Act last year, it is time for state leaders to fully fund public higher education and not leave students stranded upon high school graduation.
"This is not just a higher ed issue," said MTA Vice President Max Page. "This is a statewide issue."
Students spoke about the difficulty of working multiple jobs while trying to carry a full course load. They said the problem is compounded as the portion of college budgets devoted to student services shrinks and vital supports are disappearing.
"Many systems are broken, and they are broken on purpose," said MTA President Merrie Najimy, explaining that privatization forces are as keyed in on public higher education as they are on preK-12 public schools.
"We are here today building bridges that connect all of public education," Najimy continued. "Education justice is education funding."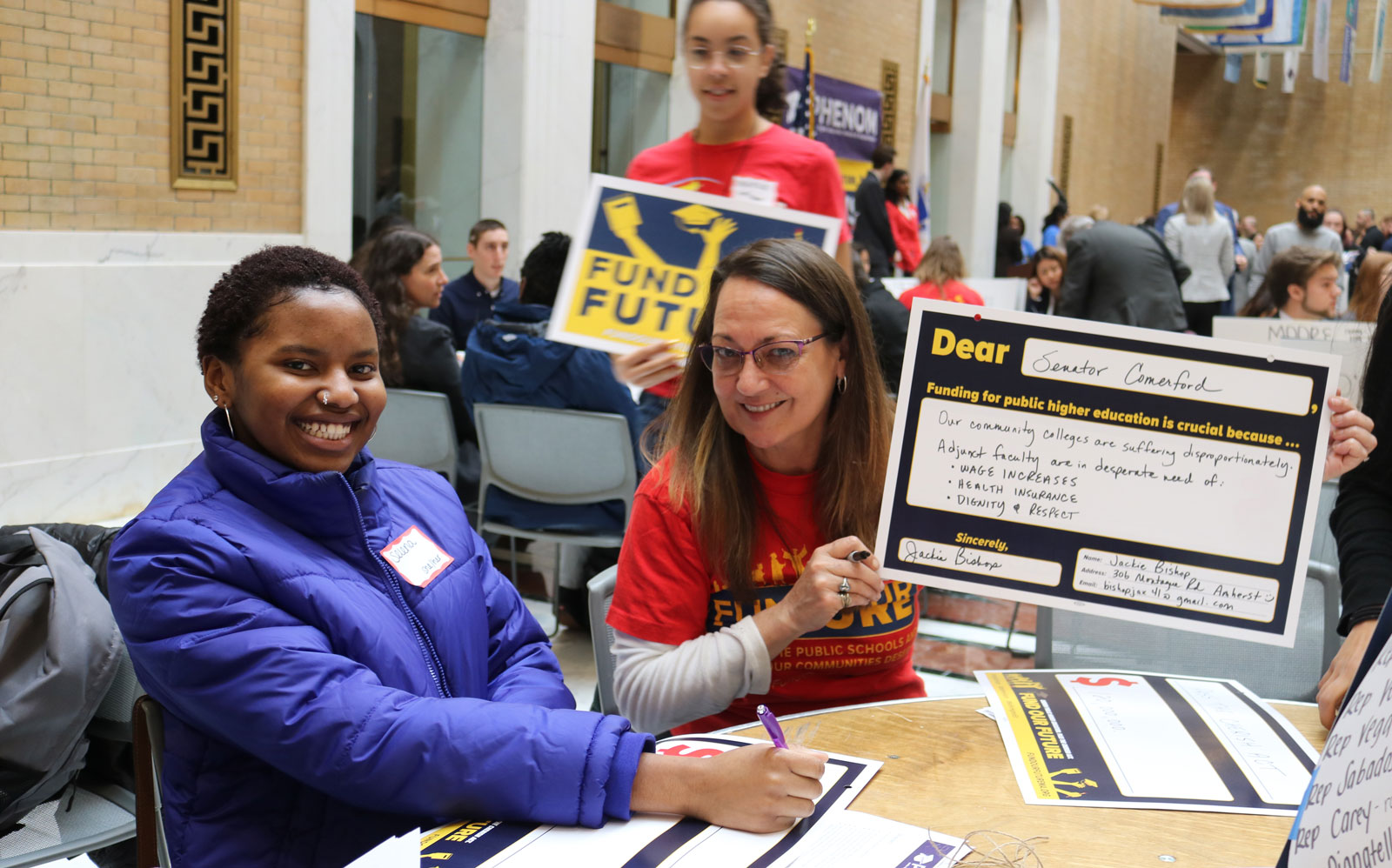 The coalition of activists at the State House emphasized that when it comes to eliminating debt for students, improving campus facilities and treating staff fairly and with dignity, the common enemy is underfunding by the state.
Cameron Costa, a student at Bristol Community College, explained how he had done everything he possibly could to be a standout high school student in New Bedford — and how his mother did everything she could to support his pursuit of a college degree. But he also shared the disheartening news that the portion of tuition and fees that colleges expected him to cover far exceeded what was realistic given his family's income.
"I did my part as a student. My mom did her part as a parent," Costa said. "It's time for the Legislature to do its part."