New Bedford educator named 2020 Massachusetts Teacher of the Year
---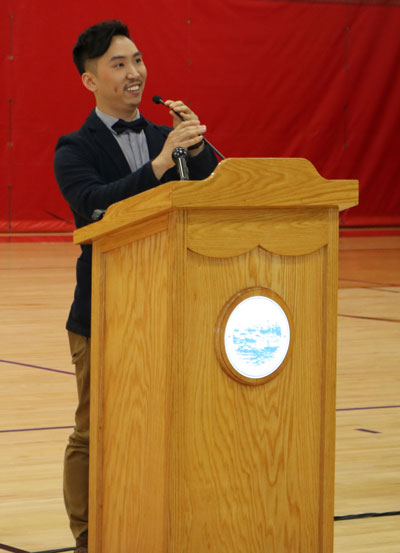 Hundreds of students and fellow educators were on hand today as Takeru Nagayoshi, an English teacher at New Bedford High School and a member of the New Bedford Educators Association, was named the 2020 Massachusetts Teacher of the Year.
Amid an air of anticipation, students filed into the school's gymnasium shortly after 9 a.m. State Education Commissioner Jeffrey Riley introduced Nagayoshi, saying that in honor of Teacher Appreciation Week, which ran from May 6 through May 10, all of the more than 70,000 teachers in Massachusetts deserved a round of applause.
"But today," he continued, "we are here to celebrate just one." Riley said that Nagayoshi works hard to prepare his students for their studies and for life — "helping them do research into the subjects that matter to them and helping them learn from each other."
Nagayoshi, now in his fifth year of teaching, works mainly with students in the high school's Academy of Honors. His Advanced Placement classes include a seminar in which more than 92 percent of his students — all freshmen — have earned qualifying scores of 3 or above out of 5.
A graduate of Brown University, Nagayoshi also holds a master's degree in education from Boston University. He is the 58th Massachusetts Teacher of the Year, and he automatically becomes the state's candidate for National Teacher of the Year.
"I want to make it clear: This is the place where you will find the most resilient, most passionate students that our community has to offer."Takeru Nagayoshi, 2020 Teacher of the Year
Joshua Correia, a former student of Nagayoshi's who is now a graduating senior, praised his former teacher, telling the crowd that one of the things that most impressed him about Nagayoshi was that he created a survey for his students to ask them how he could improve.
"I was impressed that I was being listened to," Correia said. "I had never encountered a teacher who was asking me for criticism. In that process I began to realize what a truly great teacher was."
Nagayoshi thanked the students in front of him, mostly members of the Class of 2022, saying that their example shows that "the school is in good hands."
"By no means am I the best or the brightest teacher in the state of Massachusetts," he said. "That is not what this is about."
But he said he is happy to accept the award for the city of New Bedford.
Nagayoshi said that when he first came to New Bedford, he saw that the city was facing many challenges.
"And while I saw the hard work, the love, the dedication, the excellence that my students and my fellow colleagues put into their work, I know that this perspective wasn't something that was always shared by those outside of our community," he said. "So this award means a lot to me, not just because of its prestige, but because it sends a message to the rest of Massachusetts that you don't need to look to the more affluent districts to find excellence. That excellence, in all shapes, in all forms, already exists in places like New Bedford."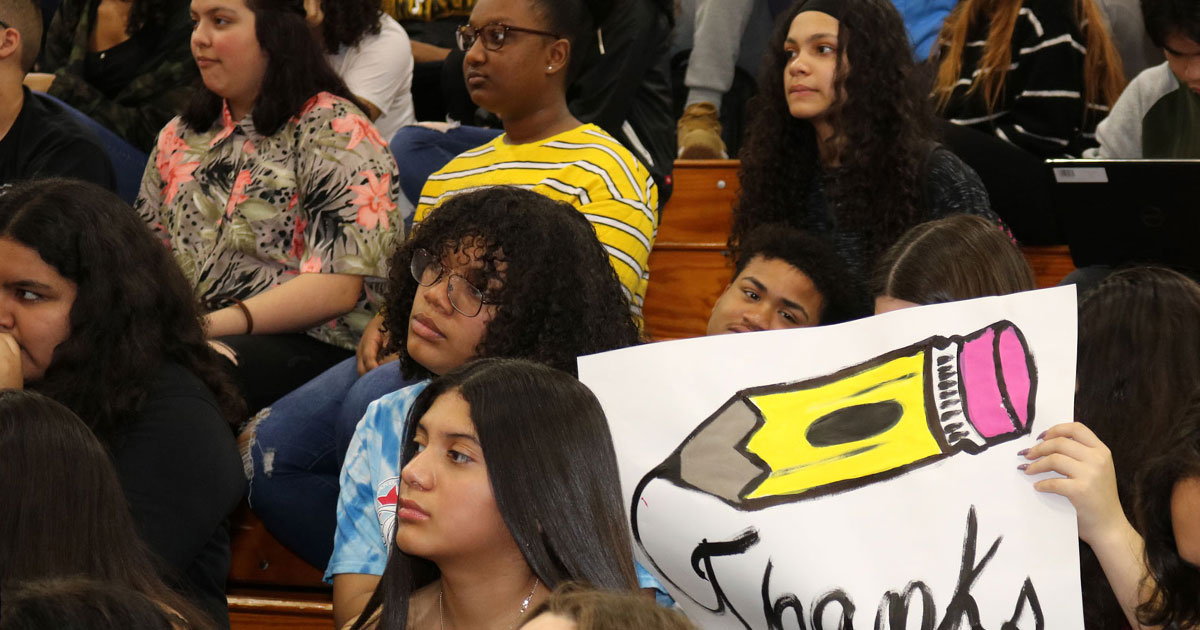 He pointed to arts, athletic and academic honors won recently by students at the high school, adding, "All of us rise to the occasion every day."
As Teacher of the Year, Nagayoshi will emphasize the excellence of New Bedford's public schools. "I want to make it clear: This is the place where you will find the most resilient, most passionate students that our community has to offer," he said.
After the ceremony, Nagayoshi said that the issue of charter school expansion in the community can make for difficult conversations, but that his focus remains on emphasizing the excellence found in the public schools.
"My students, and the gains that we were able to make academically and socially, are a testament to the fact that a lot of energy, a lot of resources, should still be kept in our public school systems," he said.
The other finalists for this year's award, all MTA members, were Kevin Dua, a high school history teacher at Cambridge Rindge & Latin School; Marissa Gumas, a math teacher at Blake Middle School in Medfield; and Jenney Pascarelli, a physical education teacher at Memorial Elementary School in Natick.