Educators oppose expansion of 'empowerment zones'
---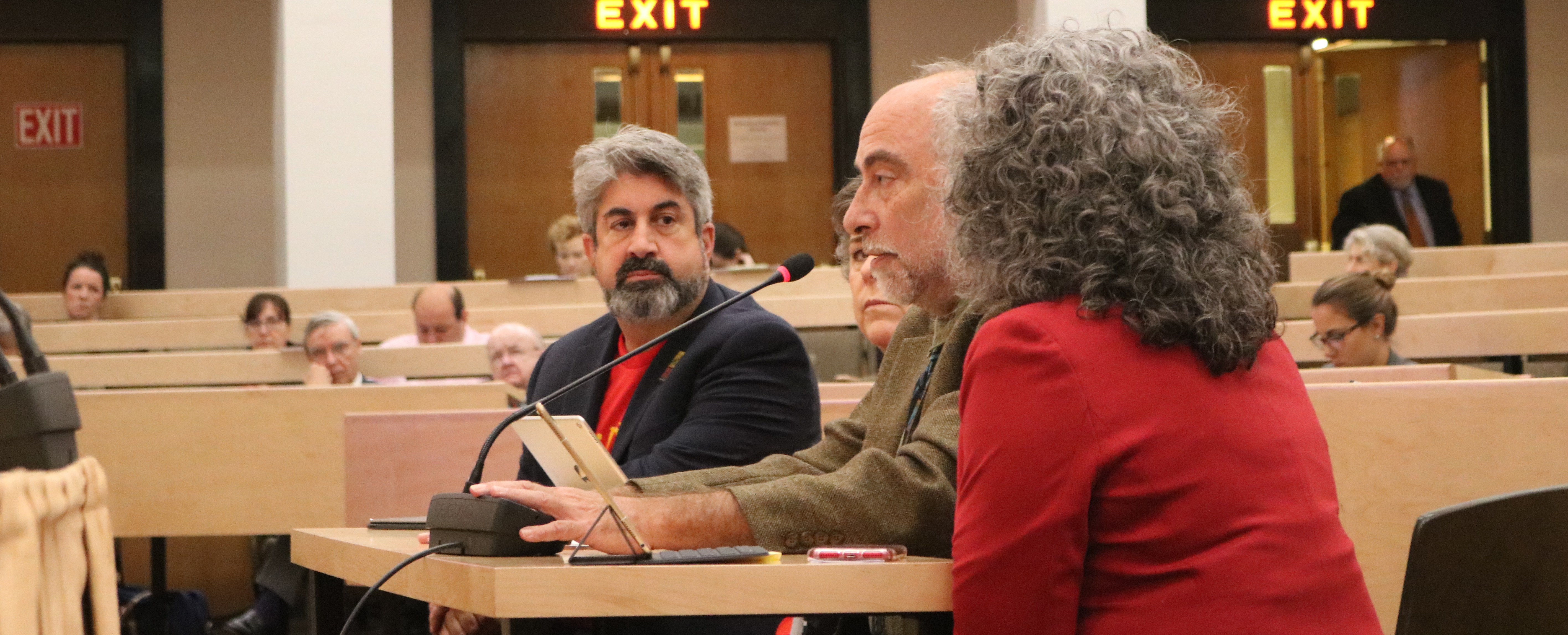 Legislation seeking to expand the use of so-called "empowerment zones" in school districts met with opposition at the State House today from educators already experiencing the effects of state turnaround plans.
Southbridge Education Association President David Williams and Springfield Education Association President Maureen Colgan Posner joined MTA President Merrie Najimy and Vice President Max Page on a panel that laid out why schools need adequate funding – not empowerment zones or additional state mandates.
"If you truly believe that the now-unfunded mandates are necessary, let the Legislature put its money where its mouth is and provide the funding needed to carry them out, and you don't need legislation for the zones. All you need is respect for teachers as professionals. Let them do their job and you will organically create zones."—Springfield Education Association President Maureen Colgan Posner
The MTA panel spoke in opposition to House Bill 555, An Act relative to establishing flexibilities for school districts, and House Bill 3622, An Act to enable the establishment of Innovation Partnership Zones, which was filed by Governor Charlie Baker.
The establishment of zones removes schools from a district's control. Instead, an appointed board oversees schools in the zone. Educators retain some collective bargaining rights, but the zone does not receive any additional funding to carry out plans. In order to fund extended days at empowerment zone schools in Springfield, for example, other resources, such as licensed librarians, were cut.
Secretary of Education James Peyser and Commissioner of Education Jeff Riley testified in favor of the bills before the Legislature's Joint Committee on Education.
Senator Jason Lewis, co-chair of the committee, questioned why the legislation was needed, as an empowerment zone partnership already exists in Springfield. Lewis posed that same question to the Springfield schools superintendent, who struggled to provide a response.
Posner pointed out after the hearing that Springfield accepted an empowerment zone partnership in 2014 in lieu of having a state takeover of the district.
In her testimony, she made sure the committee understood that the schools within the zone struggle to provide resources for students. Too much money is being diverted from the classroom in order to satisfy data-collection mandates, she said.
"Students feel like nobody thinks that they are worth it, receivership has had the opposite of its intended effect, and we are worse off now."—Southbridge Education Association President David Williams
Williams, who works in a district that the state took over three years ago, said that in the absence of adequate funding, all attempts to generate a turnaround leading to student success have failed. He pointed out that districts like his do not suffer from poor teaching; rather, they suffer from incredibly high levels of poverty.
When Southbridge residents and educators expressed themselves in meetings about what the schools needed under a receiver-driven turnaround, they advocated for expanded prekindergaten classes and for more mental health programs, as well as stable leadership of the district.
Southbridge has received none of that, he said.
"We actually have fewer resources now," Williams told the committee. "Before the takeover, we had three counselors at the high school. Now we have zero."
Williams also noted the high level of teacher turnover now plaguing the district.
"Students feel like nobody thinks that they are worth it," Williams said. "Receivership has had the opposite of its intended effect," he added, "and we are worse off now."
Najimy told the committee that it is not true that the amount of money spent on students is less important than how it is spent. Removing schools from community control and placing them in the hands of a private board will not improve educational opportunities for students, she added.
"We know the solutions. First and foremost, pass the Promise Act," she said, referring to legislation that would meaningfully update the Commonwealth's public school funding formula for the first time. "Restore true autonomy, academic freedom and self-determination to both educators and students. Create real, sustainable community schools run by the district, not private entities."
Page said the 25-year history of "education reform" in the state has not achieved its intended goals; it has only served to pile state mandates onto already overburdened schools.
"So, how about we try full funding for the next quarter-century?" he asked the committee. "We'll all reconvene in 2044 and see how we did. This year, we should fix the funding crisis that has gone on for far too long. No poison pills. No failed ideas. No recycled ed reform."