Promise Act stars at legislative hearing
---
If today's packed legislative hearing on school funding had been the Oscars of education policy, the Promise Act — supported by the MTA and the rest of the Fund Our Future coalition — would have won awards in all of the key categories.
On the merits, it was the only bill to fully meet all of the recommendations of the Foundation Budget Review Commission. It would generate three times more new state education aid than Governor Charlie Baker's funding bill without adding new top-down mandates.
On narrative, it generated the most compelling stories — stories of overcrowded and overheated classrooms with cracked chairs and leaking ceilings, of schools with half the recommended number of counselors and instructional aides, and of huge disparities between the resources provided to students in high-income districts versus those in the state's Gateway Cities.
On star power, it won hands down when four prominent African-American members of the New England Patriots entered the room and spoke from the heart in favor of the Promise Act, saying it is the best bill for making sure that low-income children of color have opportunities to succeed.
A vital message to the members of the Joint Committee on Education, who listened to more than eight hours of testimony on competing funding plans, was delivered by Massachusetts AFL-CIO President Steve Tolman: "Be bold and be quick. We can't let another year go by."
MTA President Merrie Najimy gave forceful testimony identifying "structural racism" as the root cause of funding inequities. Speaking on a panel with other labor leaders, she said, "We are all united in our belief that equitable school funding is an issue of racial and economic justice — for communities of color are historically and profoundly underfunded."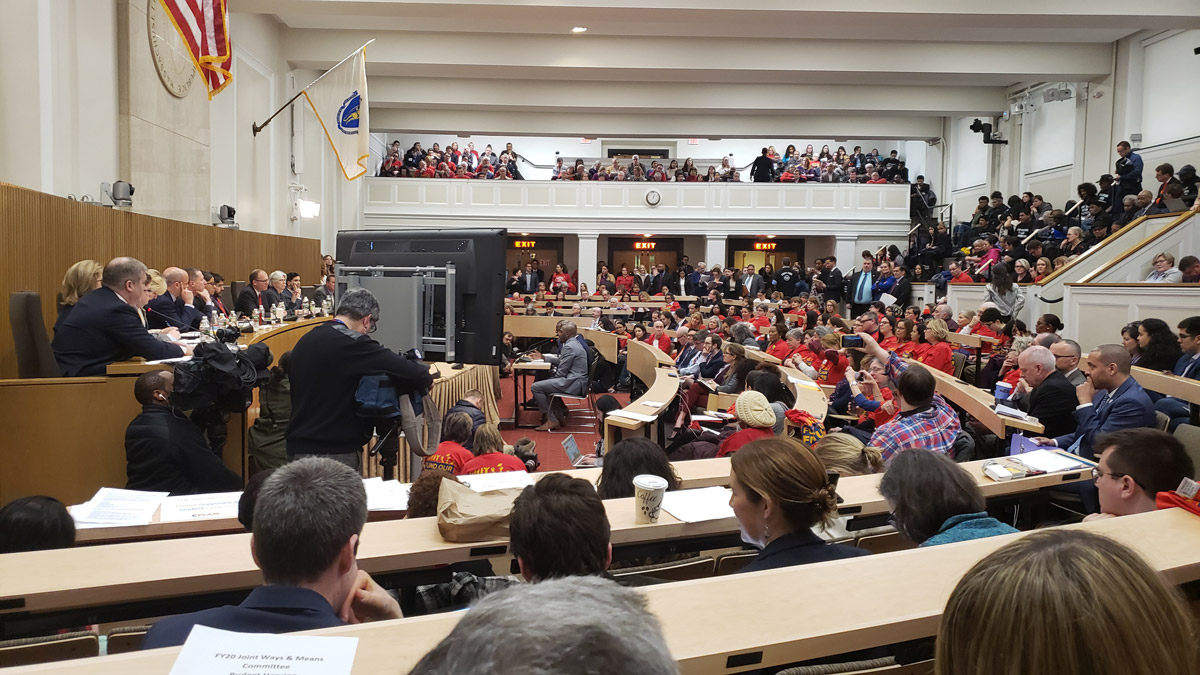 Laura Demakis, president of the Chicopee Education Association, said that more than half of the students in her district are students of color. In her 18 years as a teacher, she testified, "the poverty level of my students has drastically increased, the number special education students has increased and the number of English learner students has increased. But the formula has stayed the same."
"Be bold and be quick. We can't let another year go by."Massachusetts AFL-CIO President Steve Tolman
The inadequate funding has a direct impact on students and educators alike, she said. During MCAS testing last year, some buildings reached 90 degrees. In addition, Demakis said, "Many of our buildings cannot test at the same time because the internet would be too slow or there would be power issues. We have so few computers that we needed to use our library to test and had to shut it down in many buildings to accommodate testing instead of learning."
Inadequate funding also means inadequate pay for educators, which in turn drives some excellent prospective educators away from the profession and makes it harder to recruit and retain teachers of color, she told the legislators.
Funding is both inadequate and inequitably distributed. Dr. Kathleen Smith, superintendent of the Brockton Public Schools, said that her district spends one dollar per pupil on school supplies — while Weston spends $275. Brockton is one of the districts that has been threatening to file a school funding lawsuit if the Legislature doesn't act this year.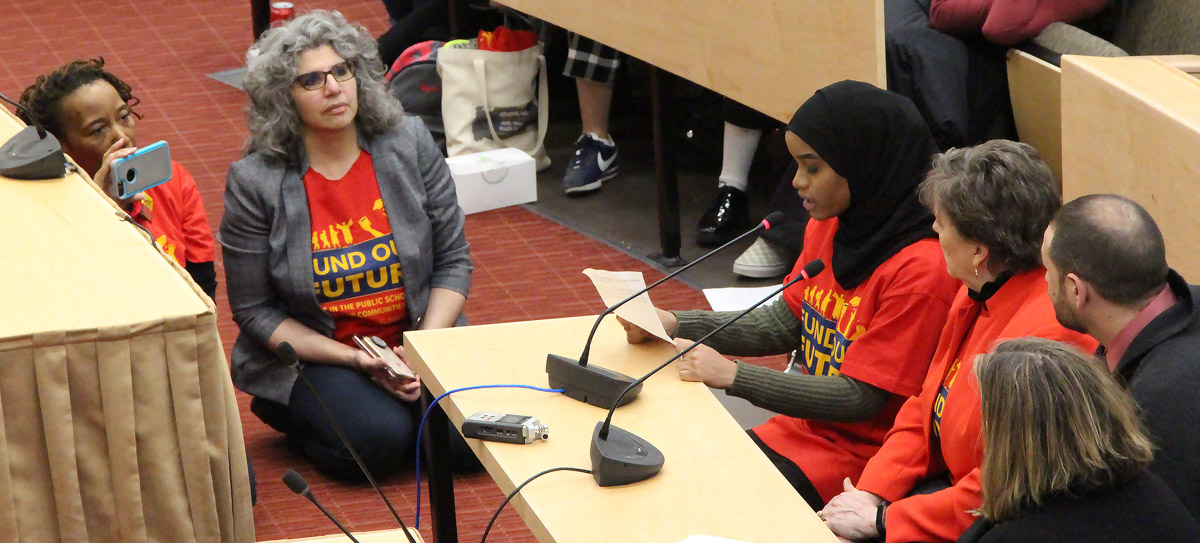 The reason for large disparities among districts is that public education is financed by a combination of state Chapter 70 funding and local municipal resources. While the state does provide more funds to lower-income districts, wealthy communities can afford to spend much more than required by increasing their property taxes.
The Promise Act would not eliminate disparities, but would lessen them by providing more funding to educate low-income students, special education students and English learners, while also allocating more funding for employee and retiree health insurance.
The bill calls for a much larger increase in aid for educating low-income students than the governor's proposal. If each bill was phased in over seven years, the difference in the results would be stark. In the final year, the Promise Act would provide $1.5 billion more in state aid for public schools than if there were no change in the law, while the amount under the Baker bill would be an additional $500 million.
Senator Jason Lewis (D-Winchester), co-chair of the Education Committee, asked Baker to explain why his plan provides so much less. Baker responded, "When the state makes a big investment, it comes with a whole bunch of additional accountability."
Baker did not explain why that would be necessary, given that the state already has a massive accountability system that includes MCAS testing, school and district ratings, school and district takeover provisions and a complex educator evaluation system. He did not acknowledge that schools need more resources — rather than more bureaucratic red tape.
Massachusetts Parents United, the pro-charter group that bused a group of parents to the hearing, also contended that any new funding should be accompanied by new accountability measures, claiming that to do otherwise would be providing districts with a "blank check." However, local elected school committees decide how to allocate funds; they are held accountable at the ballot box in a way that appointed state education officials are not.
The MTA maintains that, in fact, classroom educators and districts need fewer top-down mandates from the state and more funding to implement reforms that educators, parents and local elected officials know would help the students in their communities.
Several legislators on the committee seemed inclined to support the Promise Act based on the questions they asked and the comments they made, including Lewis, a co-sponsor of the bill. Not so Representative Alice Peisch (D-Wellesley), the House chair of the committee. Peisch repeatedly asked speakers to keep an "open mind" about which funding plan to follow and whether it should include new accountability provisions. Her comments signaled that the battle is far from over.
The MTA maintains that, in fact, classroom educators and districts need fewer top-down mandates from the state and more funding to implement reforms that educators, parents and local elected officials know would help the students in their communities.
Last year, a bill similar to the Promise Act — also filed by Senator Sonia Chang-Díaz (D-Boston), who filed the measure in this session — passed in the Senate but failed in the House. At that time, Peisch had supported a much smaller bill — one similar to the governor's plan.
During today's hearing, Chang-Díaz challenged the committee to act favorably on her bill, the more ambitious proposal, saying that we stand at a "crossroads." She then quoted Horace Mann, often considered the father of public education: "Let us not be content to wait and see what will happen, but give us the determination to make the right things happen."