Program helps ESPs build union skills
Jean Conley, Editor/Writer

---
MTA ESP Leadership Weekends offer a way for members to become more active in the MTA
Another set of MTA ESP Leadership Weekends will soon get underway, responding to education support professionals' demand for more training in that area amid growing attacks on unions.
Interest in the program, which is modeled on the National Education Association's Leaders for Tomorrow effort, spiked in the aftermath of the U.S. Supreme Court's decision last summer in the Janus v. AFSCME case. Registration for this year is full, illustrating the high interest in leadership training among ESPs. And participants are looking forward to the sessions.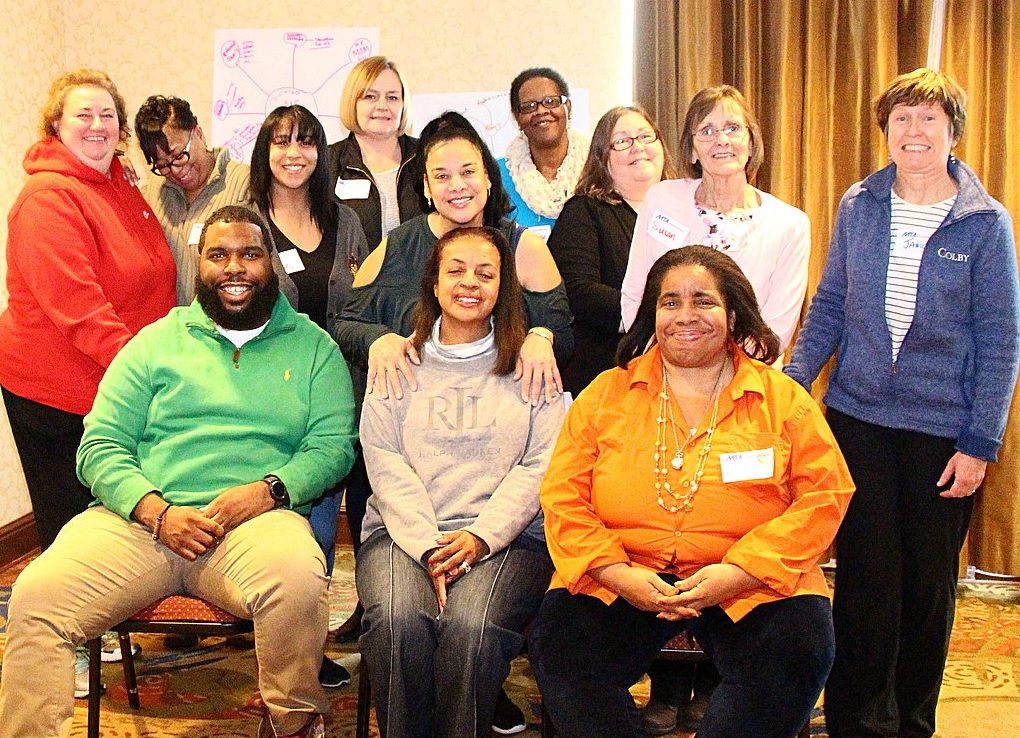 Joni Cederholm, vice president of the Weymouth Educators' Association and a paraprofessional for 23 years in the Weymouth Public Schools, will be a participant this year. She said she attended post-Janus training at the MTA Summer Conference and decided that the leadership weekends would help prepare her for contract negotiations set to begin next fall.
"I want to be prepared," she said. "Ready to go."
Along with professional development and union skills workshops developed specifically for ESPs, the leadership program offers a way for members to become more active in the MTA.
The program brings together ESPs over three weekends in November, January and April and covesr a wide range of topics that include developing assertiveness, overcoming fear, building confidence in one's ability to lead and strengthening interpersonal skills.
Shaleah Rather, vice president of the Classified Staff Union at UMass Boston and a longtime MTA activist, served as a facilitator in last year's program. She will do so again this year. Rather said that she is thrilled at the strides being made by the group of 12 participants who "graduated" at the 2018 Education Support Professionals Conference and that she was especially gratified to see several of those members working on the All In initiative this past summer.
The initiative, which focuses on one-to-one conversations between members as a way of building union power, will play an even bigger part in the program this year, Rather said.
The leadership weekends "helped participants foster the leadership skills they needed in order to get out there and knock on doors," she said. "They all talked about the program being a really great experience and said they would not have been active in All In conversations over the summer had they not gone through it."
Janice McKeown, a paraeducator at the Runkle School in Brookline, graduated last spring along with two fellow members of the Brookline Educators Union — Roylene Hunte and Wendy MacMillan.
McKeown said she found the experience to be invaluable preparation for the current school year, as her local faces a new set of challenges.
"The camaraderie — meeting other people from other communities, listening to what they are going through and learning from that — helps to motivate you."

Brookline Paraprofessional Janice McKeown
McKeown added that her relationship with MacMillan and Hunte grew significantly during the program.
"You probably wouldn't find three more different people going through the program," she said. "And as an educator, you can feel very alone at times. But now we are comrades-in-arms. We are all at different schools and we have had different life experiences. But the program gave me, Wendy and Roylene a common base to work from."
McKeown said she found so much value in the program that she would consider attending a followup course.
"You can never have these trainings too often," she added. "Being in the same room with other people who are going through similar situations is just uplifting. It reinforces and supports you and gives you a boost. This program is about self-esteem, speaking up, and exploring your true values. No matter where someone is in their life or career, I think we all benefit from continued practice and growth in these areas."
Despite Cederholm's many years as an activist — before becoming an officer in her local, she was a building representative, a member of the negotiating team and a member of the WEA Executive Board — she looks forward to strengthening her skills.
She also wants to be a model for other up-and-coming members of her association.
"My hope and desire is to show other members how important it is that they become involved. It is important to not be afraid — to have a voice. In numbers, we have strength."
This story appeared in the Fall edition of MTA Today.