Teacher of the Year imparts love of math
Jean Conley, Editor/Writer

---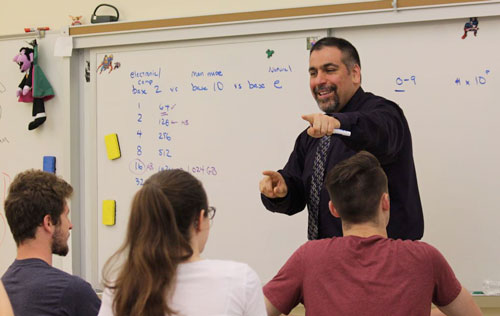 Jamil Siddiqui has a knack for making those around him feel comfortable — not just with math, the subject he teaches at East Bridgewater Junior/Senior High School, but with the learning process itself.
On National Teacher Day last May, Siddiqui was named the 2019 Massachusetts Teacher of the Year — not just because he is an extremely effective teacher, but because he has the added gift of helping students fall in love with a subject they never thought would become their passion.
The students cheered wildly during a surprise assembly in the school auditorium when they learned that their popular and dedicated teacher had been chosen for the award. The honor automatically makes Siddiqui a candidate to become the next National Teacher of the Year.
Among those who lined up on stage with Siddiqui at the assembly were 10 of his former students — all of whom are currently teaching math at the high school or college level. Not everyone could make it that day, but at last count, 15 of his former students were working as math teachers, Siddiqui said.
Bill Pellegrino, who nominated Siddiqui for the award, was a student of Siddiqui's for three years and later became a colleague, working as an academic support specialist in East Bridgewater before he became a math teacher himself at Southeastern regional Vocational Technical High School.
"Success comes when both sides realize that they need to work together."

Jamil Siddiqui, Teacher of the Year
Pellegrino said that on his first day in class as a sophomore, Siddiqui encouraged the students to gather around.
"'Come closer to the knowledge,'" Pellegrino remembered Siddiqui saying. "And he said it with a smile on his face," Pellegrino said. "He was so genuine. He wasn't challenging us — he was encouraging us. I moved to the front, and from then on I was a front-of-the-room person."
Pellegrino said he nominated Siddiqui for one simple reason: "He is the greatest teacher I've ever met."
Siddiqui "taught things in a really different way," Pellegrino added. "He never focused on grades. He never focused on giving tests and quizzes and homework assignments. That was not what was important to him."
Instead, Pellegrino said, Siddiqui's teaching "was always about a discussion, and I had never had anybody teach me math through discussion and getting at the core idea before. It really changed my opinion. I fell in love with math."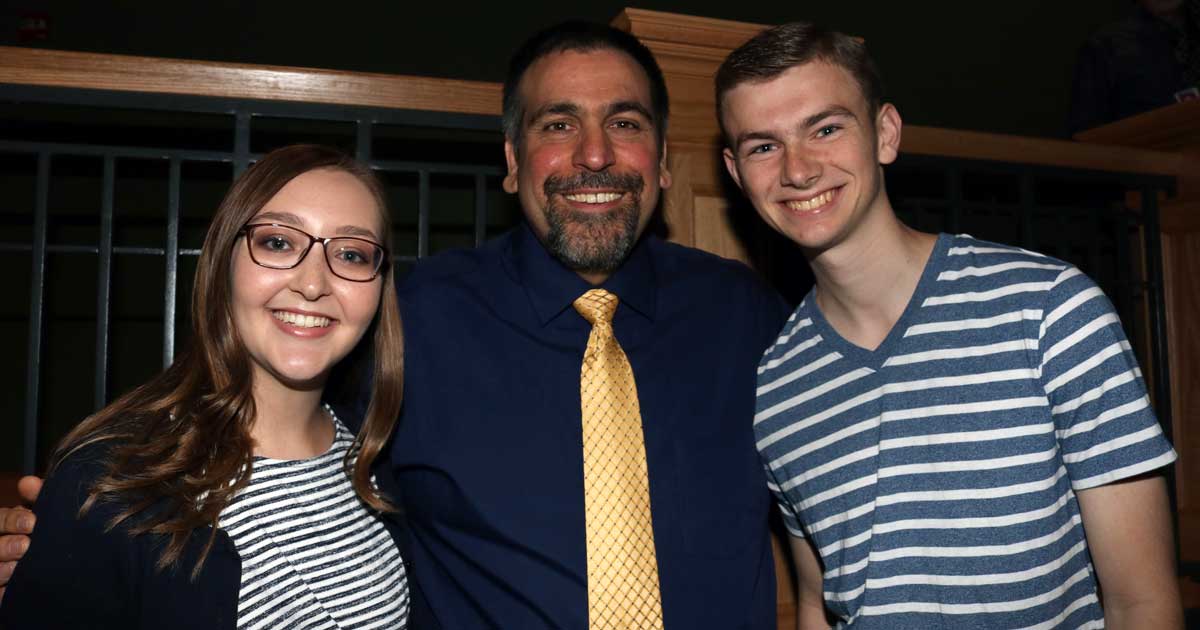 Plymouth South High School math teacher Brad Leal was also a student of Siddiqui's. At the assembly, Leal told the students that he was "the most average student this school had."
"But Jamil took me in with open arms and he changed my life," Leal said. "I had no plans to be a teacher up until that senior year with him. He really did it all."
Siddiqui grew up in Caribou, Maine, in the far northeast corner of the state. "It was a city where you knew everyone and they knew you," he said. That small-town feel created closeness and a culture of shared responsibility, a quality that his busy working mother encouraged in Siddiqui and his brothers. They came to see working hard in school as holding up their end of the bargain.
After receiving a bachelor's degree in biomedical engineering and a master's degree in education from Boston University in the 1990s, Siddiqui applied for 25 teaching positions around Massachusetts. He received 24 rejection letters.
Just one district offered encouragement and an interview: East Bridgewater. In September, he began his 25th year there as a teacher.
Siddiqui brings his commitment to shared responsibility to his teaching style. "You've got to be there to support the kids, both inside and outside your classroom," he said.
When he was fairly new to teaching, Siddiqui decided to delve into school and town activities.
"I wanted to see every event, so I made sure I went to the sporting events, the marching band events, the plays, and the school musical. I tried to really see what the school was all about. The kids noticed me, and they saw that I was interested in them."
He said that by being free with his time early on, he laid the groundwork for mutual respect between student and teacher.
"Success comes when both sides realize that they need to work together," he said. "Once you establish that relationship, the teaching part is easy. It's getting them to buy in and want to do the work for you."
Siddiqui has been the faculty advisor for five different graduating classes. He coached the math team for 21 years and acted as the faculty advisor for the yearbook committee for three years. He is the school's student activities coordinator, advises the Student Senate and is the lead teacher in his department.
Only in the past year and a half, since the birth of his son, Jacob, have Siddiqui's school activities become somewhat less numerous. Siddiqui's wife, Rebecca, is a teacher of U.S. history at the school, and both are members of the East Bridgewater Education Association.
Siddiqui said that for years he left the business of the union to others with more experience. He said he decided to become more involved when one day he woke up and realized, "Now, I'm the old man!"
In September, Siddiqui began his second year on the EBEA negotiating team. Bargaining for a new contract was set to begin in October.
As the school year wrapped up for seniors in Siddiqui's AP calculus class last May, Patrick Silva sat with the other students clustered at the front of the room.
"From the first day you sit down in class, Mr. Siddiqui prepares you to do well," Silva said. "He adapts to our learning styles. He is so friendly and responsive."
As the class began, Siddiqui reviewed the year with his students.
The scope of the discussion ranged from the relevance of different number bases to scientific notation, from bank interest to the limitless applications of math in the natural world. Siddiqui deftly wove in fractals, including the "Koch snowflake" and the "Sierpinski triangle," leaving the students with a parting gift: the intrinsic beauty of math.
But as Siddiqui knows well, he'll see at least a few of these students again. They will be back to visit, as so many have in the past. And some may even decide to make his life's work theirs as well.