Standing together in the fight against union-busters
Laura Barrett, Communications Specialist

---

MTA local affiliates are standing up with one another as the All In effort enters a new and exciting phase of mutual support. A few examples:
Members from Cambridge, Lexington, Malden, Marshfield, Haverhill, Medford, Andover, Burlington and Danvers — along with locked-out National Grid gas workers, students, parents and community activists — turned out at an Everett School Committee meeting on Oct. 1 to support the Everett Teachers Association. Jessica Haralson, a Malden teacher and Everett resident, said she came to the meeting after learning that teachers are "living in a culture of fear."
Local associations in Springfield, Agawam, Northampton, Easthampton, South Hadley, Belchertown and Chicopee have formed the Western Mass Educator Action Network — WeMEAN — to support one another's efforts to win passage of Fund Our Future resolutions and other initiatives. School committees in Western Massachusetts that have already passed resolutions include Berkshire Hills, Chicopee, Springfield and Amherst-Pelham. Locals in the Northeast have formed a similar loose coalition, with Haverhill taking the initiative.
The MTA and other public-sector unions rallied on Sept. 24 outside an event sponsored by the Pioneer Institute, an affiliate of an anti-union network whose goal is to "defund and defang" public-sector unions. Governor Charlie Baker was a speaker at the event. The protesters chanted, "Hey hey, ho ho, Charlie Baker has got to go!" He is under fire for supporting privatization of public services and for holding up the funding of public higher education contracts, among other issues.
"Being in a union means that you are joining forces to build solidarity with your co-workers and grow collective power."

MTA President Merrie Najimy
"Being in a union means that you are joining forces to build solidarity with your co-workers and grow collective power to create the workplaces, schools and colleges we all deserve," said MTA President Merrie Najimy. "Being All In takes this to a whole new level. It also means joining with employees from other buildings, districts, campuses, towns and unions to defend the rights and interests of all working people."
In the case of Everett, that solidarity has manifested itself in creative ways. Members of nearby local associations were outraged when they learned through social media about an incident outside the Parlin School on Sept. 25. Kim Auger, president of the Everett Teachers Association, had invited Najimy and MTA Vice President Max Page to share coffee and doughnuts with Parlin teachers on their way into school. The idea was to give the beleaguered members a chance to share their concerns with the union, and for the union to show it has their backs.
Before long, three Everett police officers arrived and told the union leaders that the school administration had claimed they were picketing — which was obviously false — and that they had to disperse. Najimy posted the story on social media and in short order, union leaders in Burlington and elsewhere organized their own coffee-fueled conversations with members and posted images declaring their solidarity with Everett's teachers.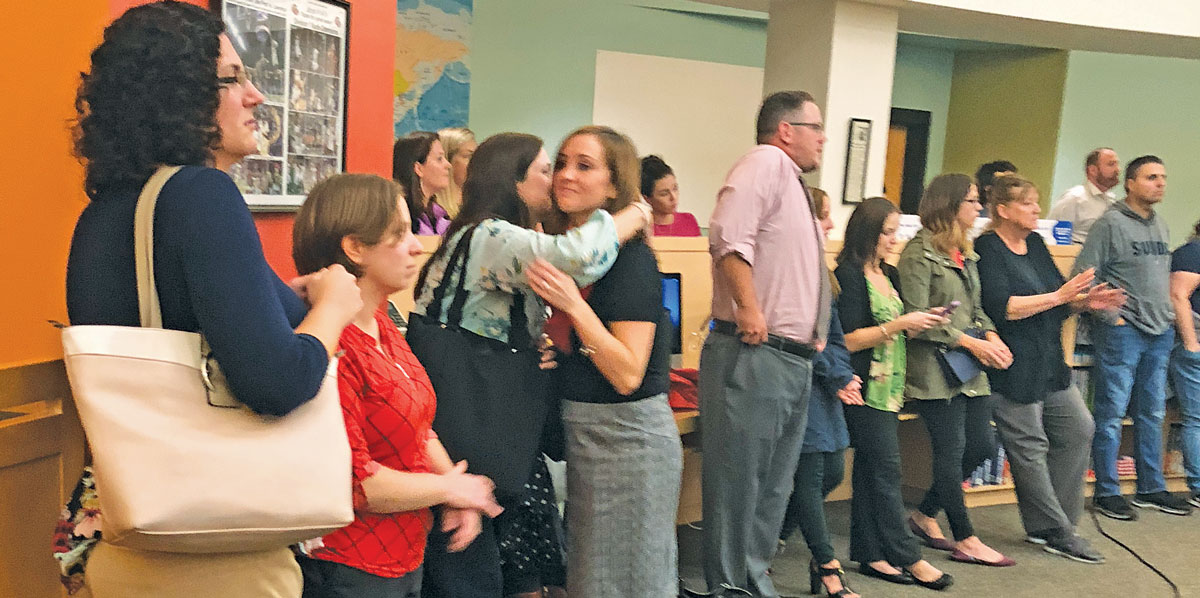 While the Janus v. AFSCME U.S. Supreme Court decision handed down on June 27 was a test for public-sector unions, the Everett story is one example of how the MTA has remained strong.
In the Janus case, the court upended a 41-yearold precedent and ruled 5-4 that unions can no longer charge nonmembers an agency fee to offset the costs of bargaining and maintaining the contracts under which they work.
Anticipating that ruling, the MTA and other public-sector unions braced for the possibility that a significant number of members — especially newcomers — might be persuaded to save a few dollars in dues by dropping their membership. MTA administrative staff were trained in how to respond to drop requests. But the deluge never arrived. As of mid-October, only a handful of MTA's 110,000 members had dropped their membership. It's as if a big storm was forecast and sandbags had been piled high, but the storm blew out to sea.
The MTA is taking nothing for granted, however. The All In experience has reinforced the philosophy that members, local leaders and staff must have ongoing conversations with one another about what they want from their union and how to accomplish their goals.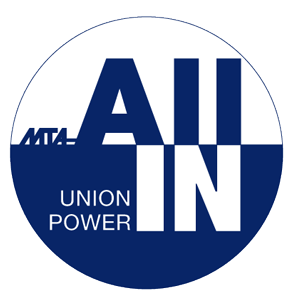 During the school year, locals are building on efforts begun over the summer by 84 summer member-organizers working with preK-12 locals and another 18 with public higher education members.
Gary A. Maestas, a summer organizer and middle school science teacher in New Bedford, explained why he was drawn to the mission.
"Public employees, especially educators, need unions," he said. "The collective bargaining agreement is central to our existence as educators. It's about so much more than how much we are paid. It's about how long you have to prepare for your classes and how much time you are given to eat lunch. It's everything."
"Our union is strong and getting stronger," said Page. "All of the conversations we've been having in our locals have helped a lot. Even more, members become committed when they take part in actions — when they stand up for themselves and their students."
Sticking With Our Union
The corporate interests behind the anti-union efforts must be disappointed. They have spent a small fortune sending propaganda to union members in states across the country, including Massachusetts.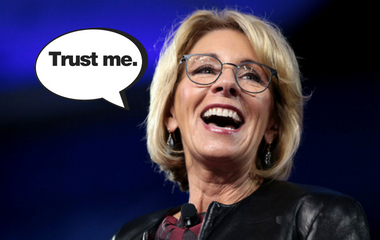 One group behind this outreach is the Mackinac Center in Michigan, a pro-privatization organization that receives substantial funds from the family of U.S. Education Secretary Betsy DeVos.
The day after the Janus decision was handed down, the Mackinac Center flooded the inboxes of MTA members' school emails. Many never reached their targets because they were caught by district spam filters. In any case, school was already out for the year.
The center also mailed letters to the homes of some members. At the MTA's All Presidents' Meeting on Sept. 15, Scott Beaulieu, president of the South Hadley Education Association, showed what he thought of the letter by feeding it into a paper shredder.
Other members cut up their letters, wrote a message that they are "sticking with the union" on a piece of paper, and mailed the whole mess to the MTA.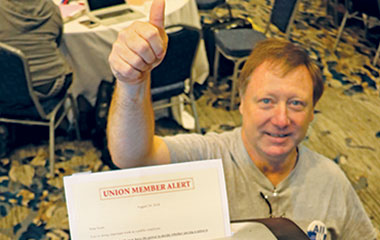 Why? Because some of the letters came with postage-paid envelopes, so it seemed fitting that Mackinac should have to pay for a pro-union mailing. "If anything, the letters and emails just angered our members," said Najimy. "They understand that unions are the force needed to stop the privatization of public education, to prevent scam colleges like Trump University from operating with impunity and to compel the wealthy to pay their fair share of taxes that fund public schools and services for all of us."