Critical thinking beats censorship in Newton
Laura Barrett, Communications Specialist

---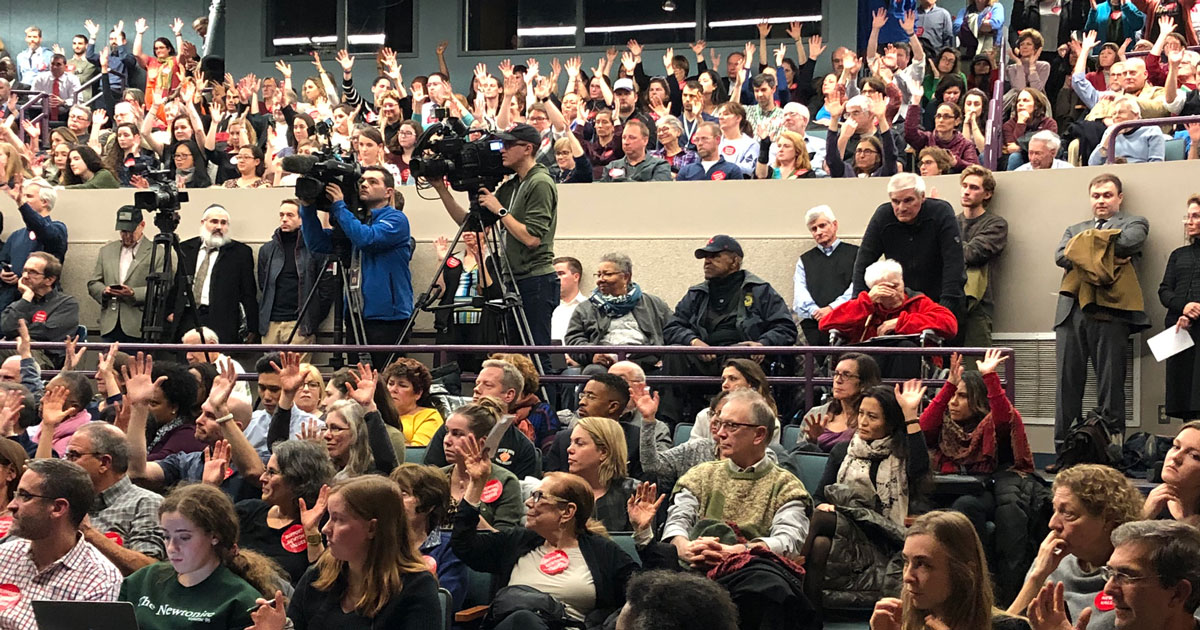 When a right-wing fringe group attacked teachers in Newton for daring to teach multiple perspectives on the Arab-Israeli conflict, it was as if the Enlightenment itself was on trial.
On Tuesday night, Nov. 27, the Enlightenment won.
Speaking at a School Committee hearing before a crowd of nearly 400 teachers, parents, students, religious leaders and elected officials, Newton North High School history teacher David Bedar said, "Teachers provide a safe classroom setting for students to grapple with difficult topics. We facilitate debates and discussions, which sometimes get heated, but are thoughtful and productive. We encourage students to empathize with points of view that are different from their own. We spark in them curiosity about their country and the world. This, for me, is what teaching is all about."
Bedar, a target of the attack, also said: "We won't let baseless charges intimidate us into providing anything less than the very best education for our students."
After the four-hour hearing before an audience that was overwhelmingly in support of the teachers and the district, the Newton School Committee voted unanimously against a petition seeking to force the district to fire the school superintendent and two teachers and to alter its curriculum.
The debate over that petition is over for now, but the groups seeking to stifle academic freedom in the district are not expected to go away.
"We won't let baseless charges intimidate us into providing anything less than the very best education for our students."

David Bedar
Newton North High School history teacher
The main organization goes by the Orwellian name "Americans for Peace and Tolerance." APT has been embroiled in controversies for years because of the organization's attacks on Muslim organizations. In 2010, APT leader Charles Jacobs was condemned in an open letter signed by more than 70 Boston-area rabbis and was urged to "discontinue his destructive campaign against Boston's Muslim community."
APT has been publicly critical of the Newton Public Schools for years, claiming that the district fosters anti-Semitism. The charges are particularly striking since Newton's school superintendent, school committee chair and a large percentage of both teachers and students in the district are Jewish. APT cites as an example of alleged anti-Semitism that Bedar's history class covering the Arab-Israeli conflict includes primary sources from both perspectives. They dispute the legitimacy of the Palestinian views expressed in those sources.
APT published Bedar's school email address, and the controversy led to a story on "Fox & Friends," a national talk show that is closely allied with President Donald Trump. After that, Bedar said, he received "angry, violent and vile messages" on social media and via his school email address.
APT has also filed extensive public records requests demanding all emails written by teachers containing key words the group has identified — including "Trump," "Obama," "Israel" and "Jews." One teacher testified that the attacks were having a "chilling effect" on teachers putting their ideas in writing for fear they will be distorted and taken out of context.
But the teachers decided as a group not to be intimidated into silence.
Michael Zilles, president of the Newton Teachers Association, credited teachers at Newton North for leading the organizing in defense of critical thinking in their school, and, by extension, in the district as a whole. One of the leaders of that effort, John Fitzgerald, said that the organizing was organic and grew over time.
"We've been under attack for seven years," Fitzgerald said. "At first we all just hoped it would go away, but it didn't work out that way. After members at Newton North started getting hate email, we decided we needed to call a meeting. Forty members showed up to that first meeting. The energy was amazing."
Regular meetings were held and growing numbers became involved. Many who took part had never been active in the union before, said Mike Schlegelmilch, one of the other leading organizers at Newton North.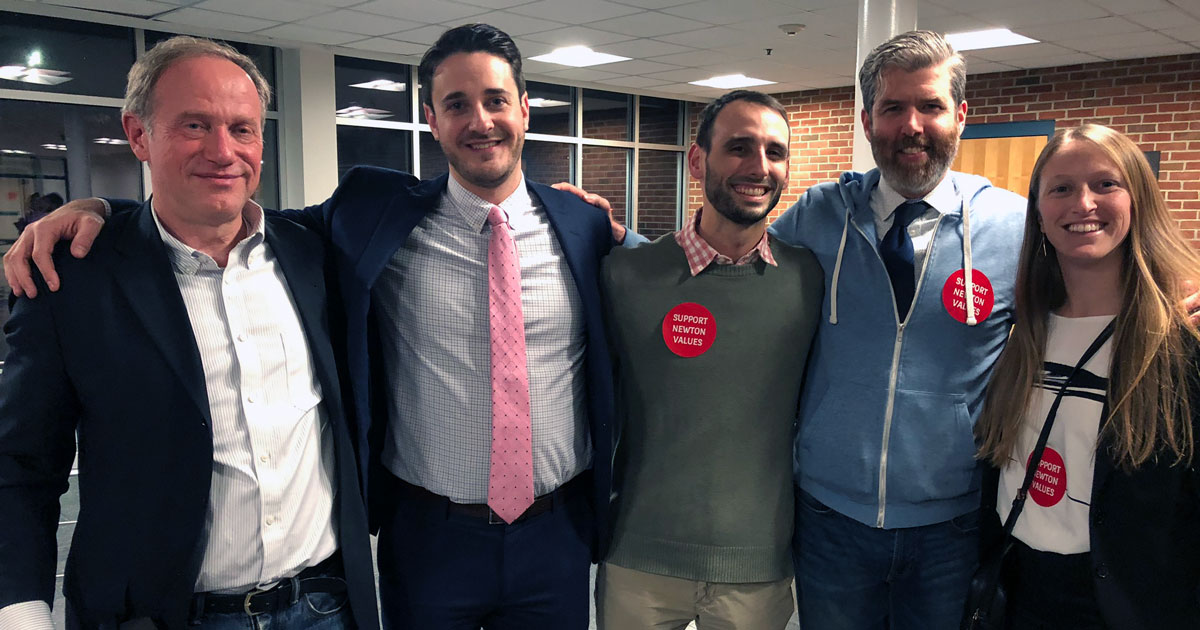 Before long, Fitzgerald said, they organized a standout that attracted about 260 of the 280 NTA members at the high school. Educators held signs with messages such as "Defend teachers. Defeat hate."
As the issue gained more coverage in the local media, parents and other community residents became involved. A group of community supporters formed. That group and the teacher group often worked together.
Among those testifying for the teachers on Tuesday were a Baptist minister and Rabbi Eric Gurvis, who said, "As a parent, resident, taxpayer, rabbi and Jewish member of this community, I do not believe the curriculum nor the faculty of our schools promote anti-Semitism."
More than 400 Newton North alumni had signed a letter that was presented to the School Committee. The letter said, in part, that the curriculum taught students to "think critically and cross-reference with independent sources." Two recent Newton North graduates gave compelling testimony, saying they were conservatives in a predominantly liberal city, yet their views were treated with respect by students and staff alike.
"Teachers should not avoid teaching challenging subjects or be intimidated into watering down their curriculum," Bedar said in his closing remarks. "Students need to see the adults in their lives model what it means to stand for what they believe in."
And with that, he asked everyone who agreed with him to stand up. All but a handful of the participants in the packed room stood up. The audience members had been asked not to applaud, so they waved their hands in the air to signify their support and quietly left the room.
Outside the auditorium, Zilles was beaming. He said that some of the testimony had brought tears to his eyes. And he said he was gratified at how civil, intelligent and thoughtful the teachers and their supporters were.
"The district was supportive of us but didn't want to take an assertive approach," he said. "But we knew this group had to be confronted. And tonight, we beat them."