'Fund Our Future' campaign begins
---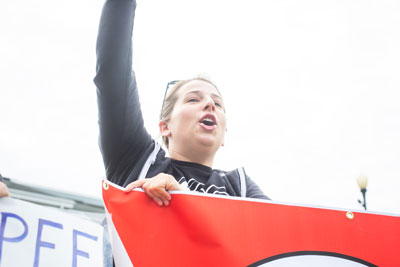 As MTA President Merrie Najimy likes to say, "In the words of Twisted Sister, 'We're not going to take it anymore!'" The "it" in this case is the chronic underfunding of public education, from prekindergarten through higher education.
Najimy quoted that line at an All Presidents' Meeting on Sept. 15, launching MTA's ambitious campaign named "Fund Our Future: Invest in the Schools and Colleges Our Communities Deserve." More than 200 local leaders attended the meeting, which was held in Newton.
The campaign goal is to win significant new funding in the Legislature for both preK-12 schools and public higher education. For schools, the proposal builds off a plan to update the foundation budget formula that made progress in the Legislature in the last session but ultimately failed to pass.
The formula sets minimum school spending requirements for each district. In 2015, the nonpartisan Foundation Budget Review Commission determined that the formula is woefully out of date, providing too little state aid to cities and towns to meet their constitutional obligation to "cherish" the state's public schools. The current formula underestimates costs in four major areas: educating students who have disabilities, are English learners, or are from low-income families; and providing health insurance to staff.
The MTA-backed plan would address those shortcomings and guarantee all districts new resources. In total, it would provide cities and towns with $1.1 billion in new Chapter 70 school aid per year once fully phased in.
The MTA proposal also would increase state funding for public colleges and universities by a projected $574 million a year. That is the level needed to bring state funding back to where it was in 2001, in inflation-adjusted dollars, and is in line with the recommendations made by the Higher Education Finance Commission in 2014.
The MTA will be working on the campaign with the Massachusetts Education Justice Alliance and other groups representing parents, students and other community residents, including many of the same organizations that joined the MTA in defeating Question 2, the charter school expansion ballot initiative, in 2016. "The Fund Our Future campaign is for students, for educators and for our communities," Najimy said. "We must be all in with this effort if we are going to win." MTA locals have already begun to take action.
Early steps include asking school committees to pass funding resolutions, distributing leaflets, participating in marches and holding member meetings to envision what could be accomplished for students with additional funds. To guide those conversations, the MTA has simulated how much each district would receive if the MTA-backed proposal is passed and phased in over five years.
Those projected totals are available on an interactive map on the MTA website.
The numbers cannot be calculated in the same way for public higher education, but all 29 campuses would benefit and student debt would be reduced if state funding were increased by $574 million a year.
Maureen Colgan Posner, president of the Springfield Education Association, used the figure projected for Springfield – $94,614,747 – when testifying in support of a school funding resolution on Sept. 20. Dozens of Springfield educators packed the School Committee chamber to cheer her on.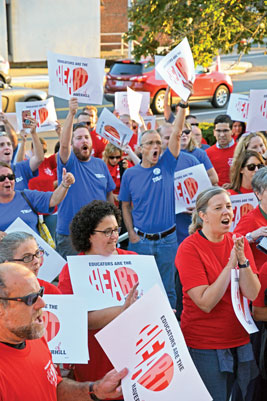 Colgan Posner said it was "incomprehensible" to her that legislators failed to approve the foundation budget bill last spring, which is why educators are now taking the lead in trying to pass a new bill before the end of the school year.
"When you are talking about Springfield, what does $94 million mean?" she asked.
"Imagine what we could do with that money," she said. "We could have art and music back in all of our schools. We could have foreign languages back in our middle schools. We could have after-school programs, more special education support, more English learner support, small class sizes, etc. The possibilities are 94-million-dollars-unlimited. We need to demand that this money come back to this community." To loud applause, the School Committee voted unanimously in favor of the resolution and agreed to send a copy of it to the city's legislative delegation, the speaker of the House, the Senate president and the governor.
Other locals, including the Haverhill Education Association, are incorporating the funding message into contract fights. At a March for Respect on Sept.
13, HEA President Ted Kempinski told the crowd, "The City of Haverhill is failing to provide its children with the resources needed to achieve a 21st-century education. There are no computer teachers in our elementary and middle schools across the city.
And there are not enough computers in more than three-quarters of the elementary and middle school classrooms."
Referring to the heat wave at the beginning of the school year, Kempinski added, "I was in the Pentucket Lake Elementary School when it was 91 degrees with 66 percent humidity. Even with a teacher-paid-for air conditioner in the room it was still 91 degrees. Those are both student learning conditions and teacher working conditions." The march was held in part to celebrate having settled a one-year contract and in part to call for more funding. Even with the recent raise, Haverhill's teachers will be among the lowest paid in the state, and the turnover rate in the district is one of the highest. One in four teachers leaves the district every year.
Prior to the march, Kempinski had organized a meeting at which he asked local association leaders in the region for their support. In return, he pledged to bring HEA members to their districts if needed. Tewksbury sent a contingent of members. Their blue T-shirts stood out in the sea of red shirts worn by HEA members.
Cathy Bilodeau, former co-president of the Tewksbury Teachers Association, explained why she marched. "We all have been in difficult situations ourselves," she said. "Teachers support one another no matter what. When a colleague asks for help, we show up."
Faculty and staff at public higher education campuses have been grappling with funding issues for decades.
Per-student funding for campuses has declined by one-third since 2001 when adjusted for inflation, and scholarships for students have declined by a comparable amount.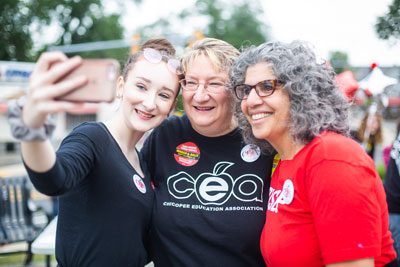 As a result, student debt has skyrocketed, staff have been laid off, many full-time faculty members have been replaced by poorly paid adjunct faculty, and some buildings are in poor repair.
These issues are all present at the University of Massachusetts Boston campus, which has been rocked by funding woes ever since corruption led to shoddy and costly construction work in the 1970s. Speaking at the All Presidents' Meeting, Anneta Argyres, president of the Professional Staff Union at UMB, said, "Austerity has been our life." She talked about the layoff of 100 adjuncts two years ago and additional layoffs this year. The campus-based day care center, used by students and staff alike, has been closed. And the administration is planning to significantly increase parking fees.
"The administration is saying we have to raise fees rather than demanding that the state do what it is supposed to do," she said. "Our share of $574 million in new money could go a long way." Advocating for funding for higher education will be a continued focus of the Public Higher Education Network of Massachusetts — PHENOM — which includes college and university students as well as MTA members and other staff.
Speaking about the campaign at the All Presidents' Meeting, MTA Vice President Max Page paraphrased a famous saying, asking, "If not now, when? If not us, then who?" He then answered his own question. "The MTA represents the community of educators who will make this happen."