Fight for adequate funding continues
Scott McLennan, Communications Specialist

---
The fight for greater investment in public higher education drew hundreds of students and faculty and staff members from campuses across the state to Beacon Hill on March 5 for Public Higher Education Advocacy Day.
The activists arrived from community colleges, state universities and UMass campuses to meet with senators and representatives from their home districts. In those meetings, advocates sought support for so-called "Finish Line" grants that would cover one full year of tuition and fees at public colleges and universities; passage of a "borrower's bill of rights" to protect those with student debt; and support for legislation improving the working conditions of adjunct instructors.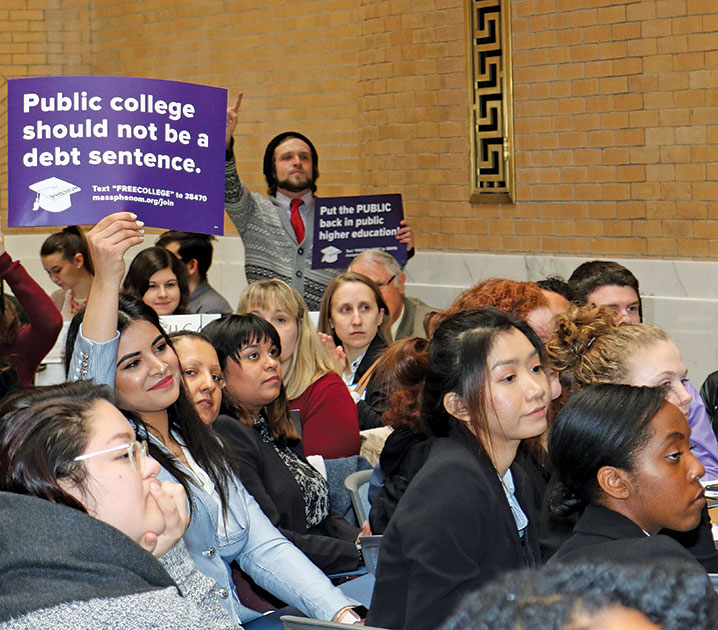 The activists also urged legislators to support passage of the Fair Share Amendment on the ballot in November. The amendment would add a 4 percent tax to annual income over $1 million to fund public schools, public higher education and transportation.
Of the estimated $2 billion in revenues expected if the amendment passes, public higher education supporters are pressing for $500 million to be invested in public colleges and universities.
The Commonwealth has drastically reduced spending on public higher education even as student enrollment has climbed. Compared to the peak investment year of 2001, the state spends 32 percent less today per student attending a public college or university.
As a result, students are taking on far more debt to attend public colleges in Massachusetts and campuses are faced with austerity measures such as laying off faculty and staff and holding off on maintenance of buildings and facilities.
One sign succinctly summed up the advocacy day's messages: "Public college should not be a debt sentence."
One sign succinctly summed up the advocacy day's messages: "Public college should not be a debt sentence."
The Public Higher Education Network of Massachusetts organized the annual event.
"When young people lead, young people win," PHENOM Executive Director Zac Bears told the audience, made up largely of student advocates.
"We need a debt-free future for students and their families," he said, noting that many public higher ed students in Massachusetts are finishing their programs with about $30,000 in debt — not much less than the average debt carried by private college and university graduates.
UMass Amherst student Nathalie Amazan said that the state has an obligation to fund public higher education because it is a public good.
MTA President Barbara Madeloni shared that sentiment, saying that public colleges and universities should offer a broad and deep liberal arts education that supports the ideals of democracy — something impossible to achieve "if people are going deeply into debt to get an education."
Madeloni told students not to stop at debt-free college, but to keep fighting for the goal of free public higher education.
"To properly educate yourselves and become good citizens, you need the capacity to go to college and form relationships with faculty and staff. Higher education is not about online learning, and it's not about having faculty who work out of their cars," she said. "It's all connected with that vision of having free access to higher education. We can get there when we win the Fair Share ballot question."
This story initially appeared in the Spring 2018 edition of MTA Today.