Collective Action Brings Victories
Scott McLennan, Communications Specialist

---
MTA Today Spring 2018
The anti-union forces behind the Janus case before the U.S. Supreme Court are trying to convince workers that joining a labor union is not in their best interest.
Throughout the MTA, however, members are demonstrating that strong unions benefit not only educators, but students and communities as well. The All In campaign amplifies the work that locals are involved in and encourages members to become active in ways they feel most comfortable.
"Members of labor unions are fighting back against the assault launched by the Koch brothers and other billionaires and CEOs trying to take away our rights and silence our voices," said MTA President Barbara Madeloni. "When educators have the power to shape their working conditions, students have better learning conditions and communities have schools that meet their needs — not the needs of the test-and-punish regimen."
The MTA is part of a coalition in Massachusetts that is preparing to meet head-on whatever unionbusting campaigns follow the court decision in Janus v. AFSCME, which is expected before the end of June.
Most observers are expecting an unfavorable outcome in the case, which challenges the right of unions to collect so-called "agency fees" from those in the bargaining unit who enjoy contract protections but choose not to become members.
The MTA has brought on a team of organizers to assist local leaders with plans to strengthen and engage educators through one-to-one conversations between members. The MTA is also planning to hire members across the state to participate in a summer program aimed at expanding and continuing those conversations.
Yet even amid the climate surrounding the Janus case, workers are organizing new bargaining units and recognizing the influence they gain by working collectively. Tutors in Marshfield organized recently and settled their first contract. School tutors in Concord and Carlisle also have organized, as have early childhood educators in Melrose.
Department chairs at UMass Boston settled an inaugural contract in late January, capping a drive to have what unit president Erin O'Brien described as a "seat at the table."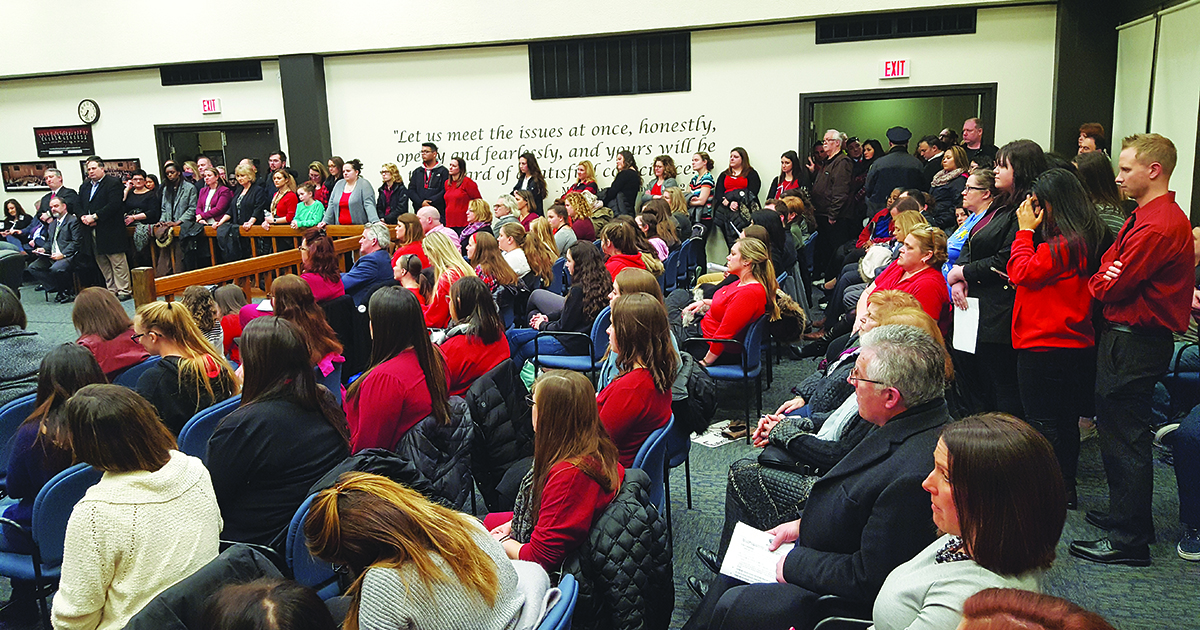 "We felt that administration did not understand how big the job had gotten and how poorly compensated people were for doing the job," O'Brien said.
Disputes between the faculty and the administration typically end up in the hands of the department chairs, who, in addition to teaching, have several administrative duties even though they are not managers. O'Brien said that the 37-member Department Chair Unit functions as a sister unit to the larger Faculty Staff Union at UMass Boston.
Establishing clarity around responsibilities and job expectations was a big win in the contract negotiations, and stipends went up for the chairs.
"We are a small unit with a large voice now," O'Brien said.
On the other hand, the Fall River Educators' Association is large, with more than 800 members. FREA President Rebecca Cusick wanted to create opportunities for members to recognize how they are connected — not only to the other educators they work with every day but to their broad network of union colleagues across the city.
The FREA devised Spirit Week in March, which featured daily events ranging from gathering socially to advocating on behalf of a municipal ballot question to build a new high school — which passed with the wholehearted support of educators.
"Spirit Week reminded us that when we talk about the union, we are talking about ourselves," Cusick said.
The events of that week proved valuable in strengthening the local's communication structure — a key goal of the All In effort — as well as bringing together FREA members in social settings.
"I understand that crisis is often seen as opportunity for unions, but our members deal with stress and negativity enough. We thought they'd appreciate the chance to lift each other up."
"I understand that crisis is often seen as opportunity for unions, but our members deal with stress and negativity enough. We thought they'd appreciate the chance to lift each other up," Cusick said.
In Everett, members of the community faced a crisis that sparked quick organizing and effective activism on the part of the local association.
In early February, the School Department proposed addressing a budget crisis by immediately laying off more than 100 educators working in the Everett Public Schools, meaning massive disruption for students and deep cuts to many crucial programs.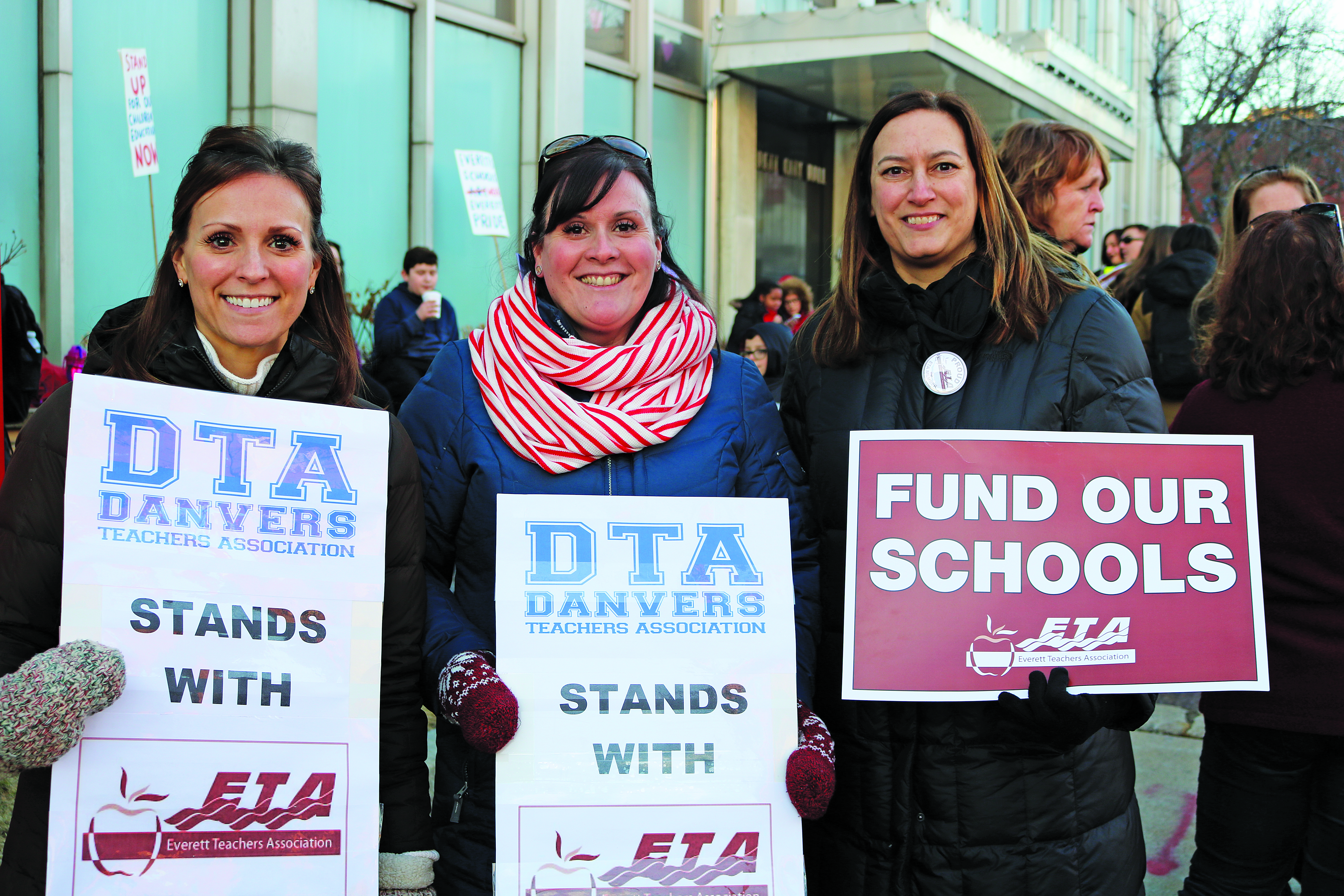 The Everett Teachers Association first made the case against the cuts at a School Committee meeting and then organized a rally on Feb. 12 that was attended by students, parents, community members and educators from many MTA local associations outside of Everett.
A mass of students wearing red and waving "Everett Pride" signs marched from Everett High School to City Hall. Hundreds gathered outside as the City Council met.
During the meeting, students and parents spoke passionately about the lengths to which educators go to help students succeed, and educators spelled out how devastating the mid-year cuts would be.
ETA President Kim Auger succinctly told the council, "Students will suffer under these cuts."
The cuts were ultimately averted for this year.
Following the meeting, Auger sent a message of thanks to ETA members, other public school employees, parents and community members — and especially the students who rallied for their schools. "What an amazing show of solidarity," she wrote.
Read more about the Fair Share initiative here.