Appreciate Teachers by Passing Funding Bill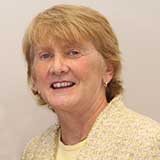 Barbara Madeloni, President

---
Greetings:
It is Teacher Appreciation Week. Let's start with a list of ways that politicians and policymakers can show their appreciation.
Fully fund the Foundation Budget Review Commission's recommendations. The Senate made progress in that direction yesterday!
End the use of high-stakes standardized tests.
Fully fund our public colleges and universities.
Untie our hands and support full professional autonomy and respect.
That would be a great start, right?
In the meantime, watch this video of MTA Friend of Labor award winner Lydia Edwards as she accepts her award and thanks her teachers at last week's MTA Annual Meeting. It is a moving testament to educators and to Ms. Edwards, a member of the Boston City Council.
MTA Elects New Leadership
Delegates to the MTA Annual Meeting on May 4 and 5 elected Merrie Najimy (Concord teacher) as president and Max Page (UMass Amherst professor) as vice president. They will take office on July 15. I am delighted to be passing the torch to these two powerful union leaders, committed educators and fighters for social justice. The MTA will be in good hands as we continue to bring members together to talk, identify issues, develop our understanding of the broader social and political context, and organize for power. Congratulations.
And congratulations to all of the candidates for office. It takes courage to run. I am proud of how many contested elections we have in MTA. This is a sign of a vibrant democratic union.
Delegates Vote to Fund the Fair Share Campaign
The MTA delegates also voted to strongly support the campaign to win the Fair Share Amendment. When we win this on the ballot in November, it will bring up to $2 billion a year to public education and transportation by instituting a 4 percent tax on income over $1 million a year. The vote was overwhelmingly in support of funding the campaign at the recommended level, as delegates understood that winning new resources for public schools and colleges is critical to their teaching conditions and student learning conditions. With this vote, MTA members join educators across the country in identifying school funding as a critical organizing tool.
Malden Forum on School Funding on May 17
Our demands to fully fund our schools must be understood at the local, state and national levels. The Malden Education Association is making those connections at a forum from 5:30 to 7 p.m. next Thursday, May 17, at Malden High School. Go here for details. I will be joining NEA Secretary-Treasurer Princess Moss and state Senator Jason Lewis to talk about the myth of austerity and how we can win the Fair Share Amendment in support of our vision of public education. Join us.
Senate Passes School Funding Bill: Time for the House to Step Up
In a unanimous vote, the Massachusetts Senate passed S. 2506 to establish a schedule for funding the recommendations of the Foundation Budget Review Commission. It has been a long struggle since I first sat on the commission and we made our recommendations in 2015, but we have made huge progress with this vote. Now we need to go back to the House and insist that, with 88 co-sponsors, representatives pass their version of this bill. Stay alert for calls to action. And thank you, Senators Mike Rush and Sonia Chang-Díaz, for your work moving this bill forward.
Save the Date: Massachusetts Education Justice Convening
The Massachusetts Education Justice Alliance - made up of the people who built the coalition to win No On 2 - is holding a statewide convening on Saturday, June 23, in Worcester to bring together educators, students, parents, labor and community members to identify local and statewide issues and plan the campaign to fully fund our public schools. More information will be coming soon, but I wanted you to have it on your radar.
Enjoy the arrival of spring - at last. As Lydia Edwards said in her Annual Meeting speech, there was an Arab Spring, a Black Lives Matter Spring and now this year we're having a Teachers' Spring, as educators across the country rise up and demand respect. As we continue to organize, we look forward to having an Educators' Fall, Winter and Year as well.
Solidarity,
Barbara