Workers 'stick with the union' as court hears Janus arguments
---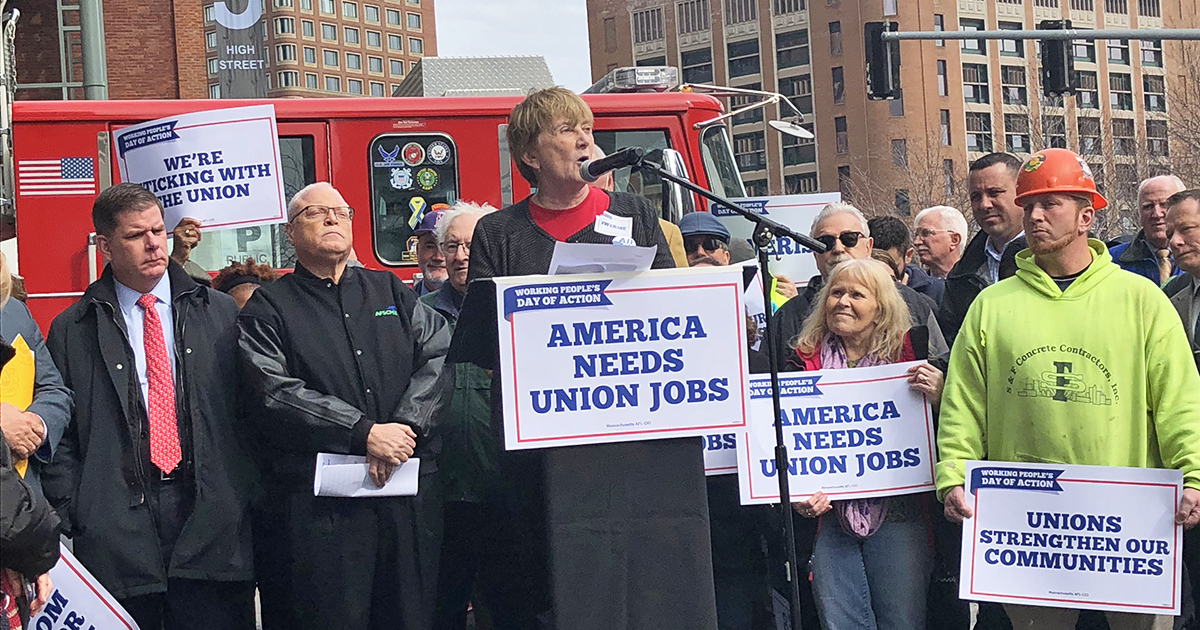 Workers took to the streets in cities across Massachusetts — and thousands more wore pro-union stickers at their worksites — to show solidarity today as the U.S. Supreme Court heard arguments in Janus v. AFSCME, a case backed by wealthy special interests intent on weakening the power of public employee unions.
Several hundred unionized workers crowded together in front of the fire station on Purchase Street in Boston shortly after noon and listened to impassioned speeches delivered before a phalanx of television cameras.
Steven Tolman, president of the Massachusetts AFL-CIO, roared, "This is an attack on working people! They're trying to divide us. We're going to work hard to make sure that's not the case."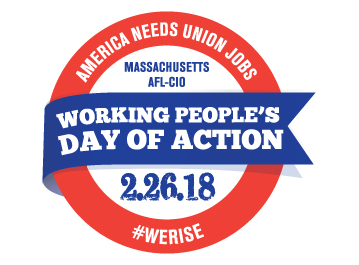 Other community-based events were scheduled today for communities including New Bedford, Greenfield, Springfield, Worcester, Fall River and Somerville. Employees on the UMass campuses in Boston, Lowell and Amherst also planned pro-union events.
"Sisters and brothers in labor, we are gathering today to show the world that we are going to stay strong and stick with the union no matter what billionaires like the Koch brothers and the backers of the State Policy Network or our own Pioneer Institute throw at us," said MTA President Barbara Madeloni, who introduced U.S. Senator Elizabeth Warren in Boston. "We know our power is in our solidarity."
The Janus case challenges a 40-year-old unanimous Supreme Court decision that gave unions the right to collect "agency" or "fair share" fees from public employees who receive benefits and protections under union contracts even if they decide not to become members.
The court is widely expected to rule against public employee unions along ideological lines, with President Donald Trump's appointee Justice Neil Gorsuch casting the deciding vote. Senator Warren said that the very day the Supreme Court announced it would take up the Janus case, Gorsuch was the keynote speaker at an event financed by David and Charles Koch and the Bradley Foundation, all notoriously anti-union.
"That's a blatant conflict of interest," Warren said. "But we're here today because we have not given up. We are fighting back. We are here to fight for the right to bargain for pay.
"Are we for that?" she asked, drawing loud cheers from the crowd.
"We are here to fight for the right to negotiate for benefits," Warren continued. "Are we for that? And we are here to fight for the right for workers to be treated with basic dignity. Are we for that?"
"This case is about those who have wealth and power in this country. They want more wealth and power at the expense of all of you."
– Lee Saunders
AFSCME national president
Deb Gesualdo, president of the Malden Education Association, said she came to the Boston rally because she wanted to "stand in solidarity with all my other union brothers and sisters." She left feeling inspired.
"When I woke up this morning, I was feeling the stress of the day, knowing it was Janus v. AFSCME day," she said. "After I went to the rally, I felt so much better. It was awesome. The energy was so good. To see so many different people, so many different lines of work represented and so many different unions was wonderful."
Since most MTA members couldn't make it to the events that were scheduled during the day, they were asked to wear stickers that bore messages such as: "#WeRise," "America Needs Union Jobs" and "We're Sticking with the Union."
Lee Saunders, national president of AFSCME — the American Federation of State, County and Municipal Employees — flew up this morning from Washington, D.C., to speak at the Boston rally. He summed up the fighting spirit of the day.
"This case isn't about free speech," he said. "This case is about political power. This case is about those who have wealth and power in this country. They want more wealth and power at the expense of all of you. They can go straight to hell, because we're fighting back."