Workers stand in solidarity for union rights
---
The following statement was issued today by Massachusetts Teachers Association President Barbara Madeloni on Janus v. AFSCME and the Working People's Day of Action.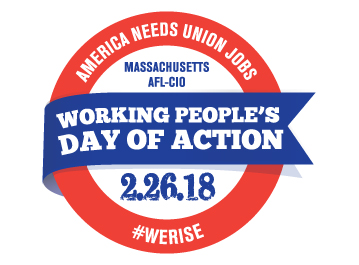 The U.S. Supreme Court is hearing arguments today in Janus v. AFSCME, a case intended to undermine the power of working men and women to organize, bargain collectively, and fight for a better life for themselves, their families and our communities.
We are standing in solidarity with workers across the country to support the right to join and build unions to give workers a collective voice to be used on behalf of the public good. In Massachusetts, we are calling February 26 the Working People's Day of Action.
The Janus case is backed by the same forces that brought us Question 2 and are continuing their efforts to cut funding for and privatize public education and other services. Janus supporters include the Koch brothers, the Waltons and the State Policy Network, a well-funded group of right-wing think tanks whose primary goal is to "defund and defang" public employee unions.
We stand in opposition to their agenda and in solidarity with all unions.
All workers benefit from unions because compensation rises and working conditions improve for everyone when unions are able to negotiate for improved conditions on the job.
Families and communities benefit because unions advocate for laws and policies that help everyone, including health and safety regulations, retirement security, employer-supported health insurance, due process rights, equal pay for equal work, paid family and medical leave, and racial and economic justice.
Students benefit from educators' unions. That is because educators' working conditions are students' learning conditions. For example, unions advocate for small class sizes since educators can meet individual student needs better in smaller classes — benefiting both educators and students. It's no surprise that studies show that student performance is higher in states with high rates of educator unionization than it is in so-called "Right to Work" states.
However the Supreme Court rules in this case, our union is strong and will remain so. We will keep fighting for our members and the common good no matter what obstacles are thrown in our path.